Post by elfin on Jul 2, 2018 5:58:11 GMT
Liberty Lives # 12
Silverlake, Mayor - Honeybee aka Snidor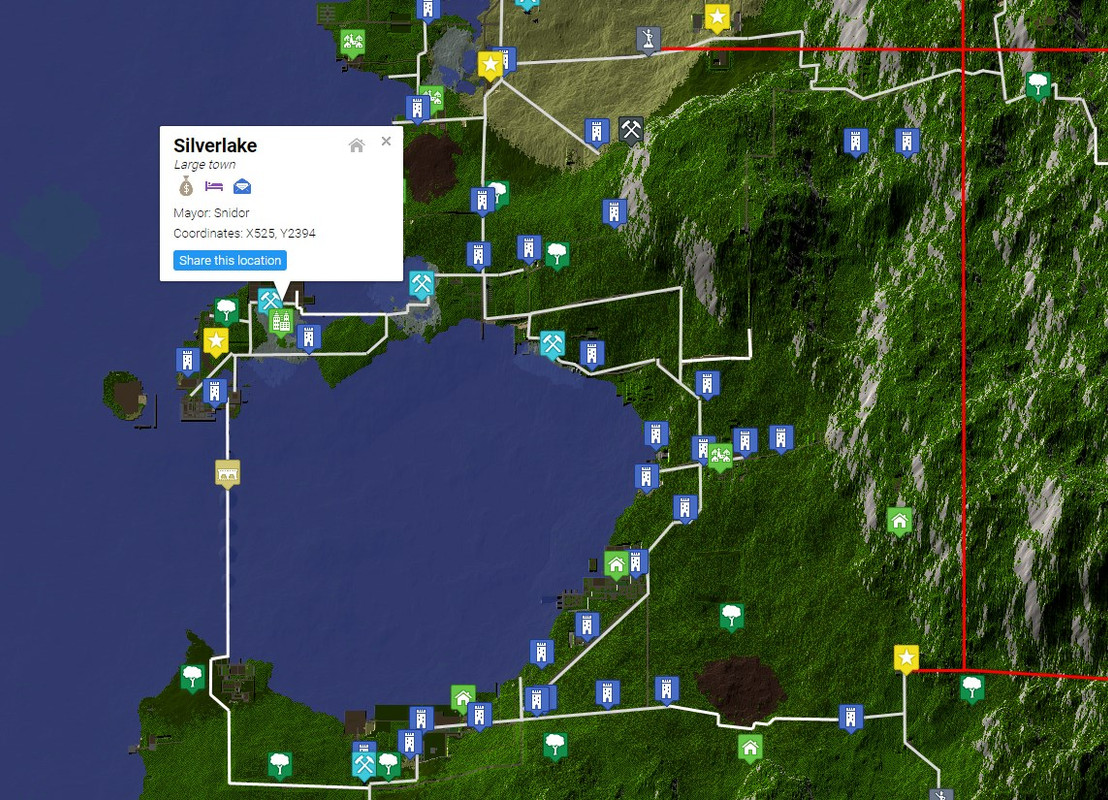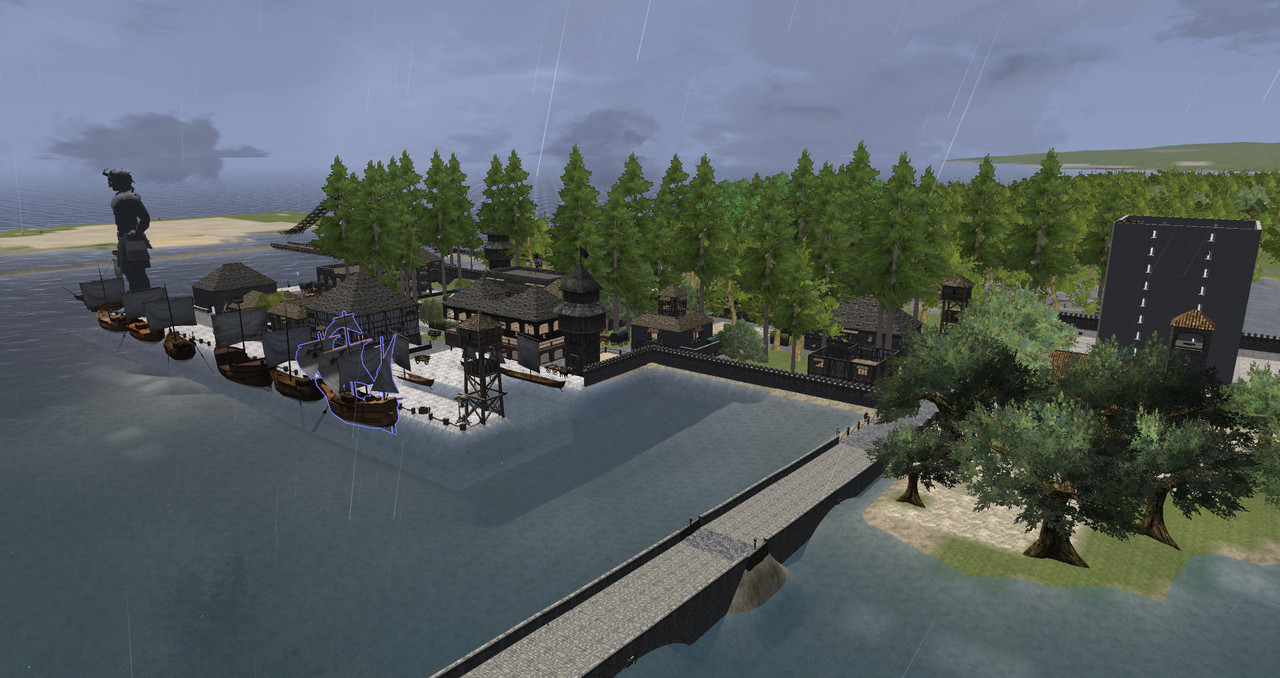 Snidor lives in Switzerland where best views are of the mountains. His main language is Swiss-German, he also speaks and understands German and a little French, Italian and English. In Switzerland there are four languages, German, French, Italian and Romansh. The dialects vary from village to village.
He trained as a forester in high school and worked in that career until an accident when he slipped in steep country, rolling into a tree stump and badly injuring his back. This forced a change of career and he is now a computer scientist and works in software development.
Playing floor ball, a very popular sport in Scandinavia, was Snidor's life and passion until the accident, then the doctors warned him not to play. Now he coaches and plans to do more, organizing home games etc. Other ways that he relaxes are playing video games and modding.
I first met Snidor in-game when out hunting. I would come across him and his good friend Opene busily building roads and guard towers across the Sklotopolis land.
Snidor first began to play when Wurm Unlimited was released in October 2015. He had not planned to buy or play, it was only Opene's nagging that persuaded him to try it.
Opene was already playing on a Wurm server with several other players. They had to cut down a lot of apple trees. Over 95% of the forests were apple trees. Sadly that server proved to have an error in the data base and finally it crashed.
Snidor then decided to take a break from playing Wurm and play other games such as Arma 3.
Opene found Sklotopolis and settled with a small deed. Six months later he asked Snidor to join him again, planning to only play now and then. Snidor did join him, spawning in New Town where Opene picked him up in "his very slow" large cart. Their deed was out on the coast near a small silver lake and thus named Silverlake.
They started with a simple basic wooden house and a few fields to grow crops in. There were several other deeds around them. Snidor was hunting and Opene cooking. The fighting style in Wurm was similar to that in Daoc and only took him a short time to become familiar with. When he went out he killed all that he saw. With the help of tower guards he got a lot of meat for Opene to cook. After a few days he had earned enough coin to buy a two-handed sword which made a huge difference.
Snidor made many things, he would do anything except cooking or smithing, Opene did those. However, Snidor now has a fairly high cooking skill which has come from butchering when he is hunting. Initially he would bring all the corpses back to deed for Opene to butcher so his cooking skill would improve.
He loved to explore and with a wagon and four one-speed horses he went out fighting and exploring most days. From time-to-time he would come across a disbanded deed and found many nice things. He then began to gather materials and resources. Now that the skills archaeology and restoration have been added to Wurm exploring the disbanded deeds makes even more sense.
Initially they needed highway to the north for safe travel to and from the deed. This was a good way to earn coins as well. To the south someone had made a deed around the bay, this made travelling south difficult and very slow. They decided to build a bridge to give them fast access to the south. This was a HUGE project and took many hours of play, over one million dirt and many, many bricks and mortar. Initially they had a lot of dirt and thought it would take a short time to build but by the time they were building the fourth pillar they realized what a major undertaking it was and they had used all the dirt. The deepest pillar needed 300k of dirt alone. The whole bridge took over one million dirt. It took them over half a year to build. Snidor wants to thank the Sklotopolis GM's for many times they rescued their stuck wagons and carts. The wagon was always falling into the bridge. There was a big celebration when the bridge was finished.
Sirmenez joined their village and helped with the bridge build. He did not have a lot of time but gave two to three months. Many other players supplied dirt and helped out. Opene seems to have become a causality, becoming burnt out from playing for hours doing nothing but bridge building. Snidor misses him a lot.
Snidor really enjoys playing Wurm as it is cozy and he can do everything. He also plays other games such as Arma and finds this is a good balance in his game playing. He finds the community in Sklotopolis awesome. His only sadness comes from the fact that some good players stop playing. Some take a break and others just disappear.
Snidor has many plans for Silverlake. He finds that the days are too short. The castle keep is still under construction, the farmhouse is to be finished. There's the new bridge to the island, so ships can sail between the island and the mainland. Also a connection to the BG Tunnel and a monastery to be built on the island.
Once Snidor was high up a mountain opening a treasure chest when a black dragon hatchling said hello. This began Snidor,s hunting and trapping of uniques in Sklotopolis. He ran down the mountain and jumped on his wagon - after grabbing the treasure. He lured the hatchling over half a map to trap it in their Silverlake mine. Around the same time a new player named David joined their village and innocently went to mine and ended up dying as the dragon escaped. Snidor was off-line and received a message from Opene, "Alarm level red dragon is out". Half asleep he logged in and drove out to the mine to find that it was a major event and the whole of Liberty had raced to re-trap the dragon again. After that Dominikk put up a sign not to release the dragon. The crisis was over.
Snidor really enjoyed the recent scavenger hunts in Sklotopolis. He would like to see more of them.
The Tour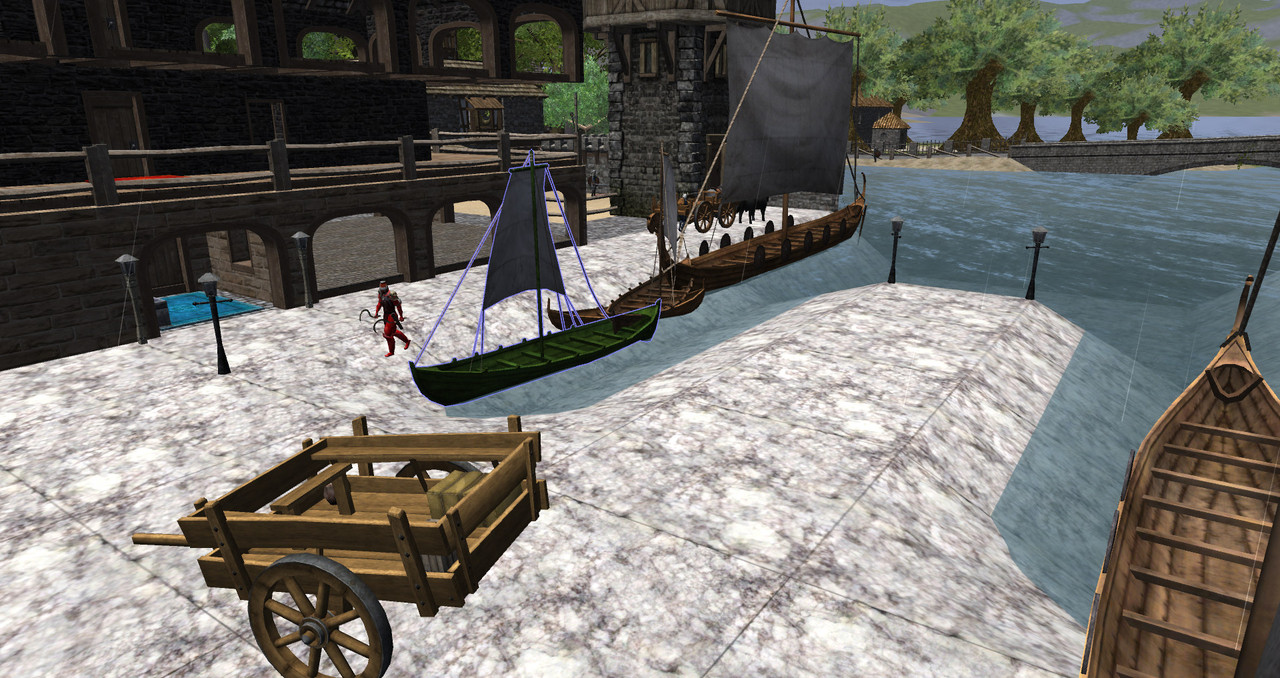 Snidor and Elfin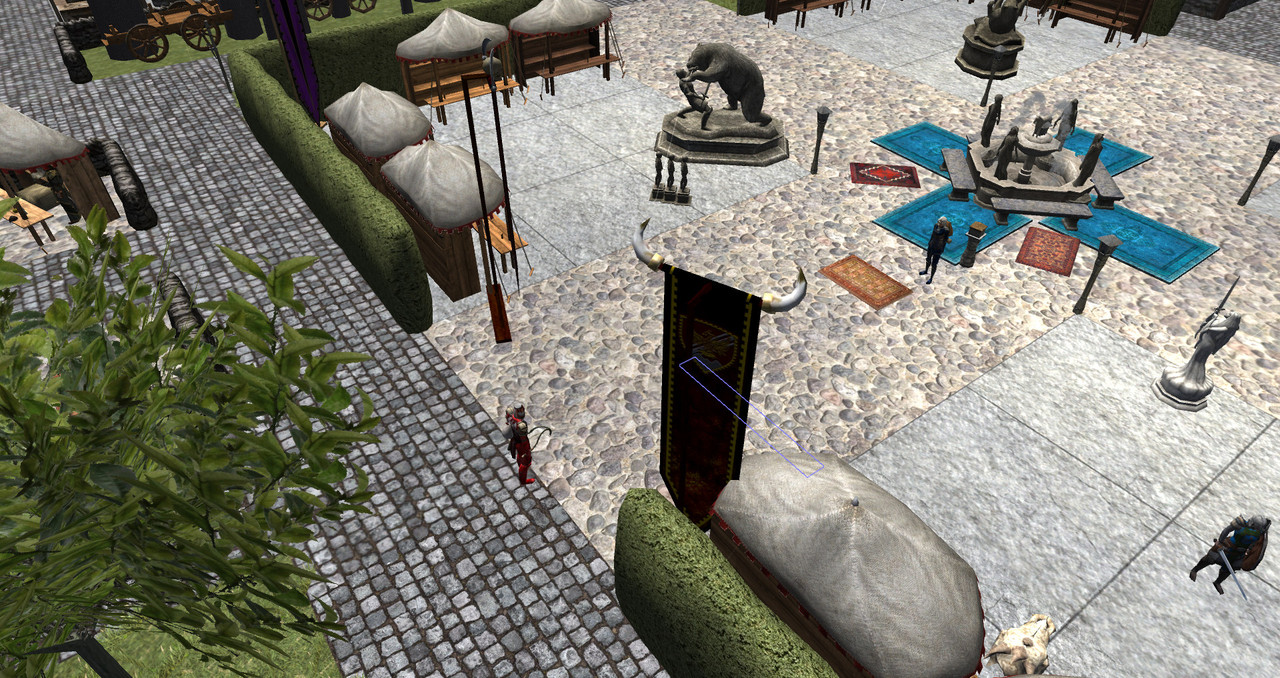 Snidor: "Ok, this is the market place. Unfortunately a little empty, but I've no time to be selling anything."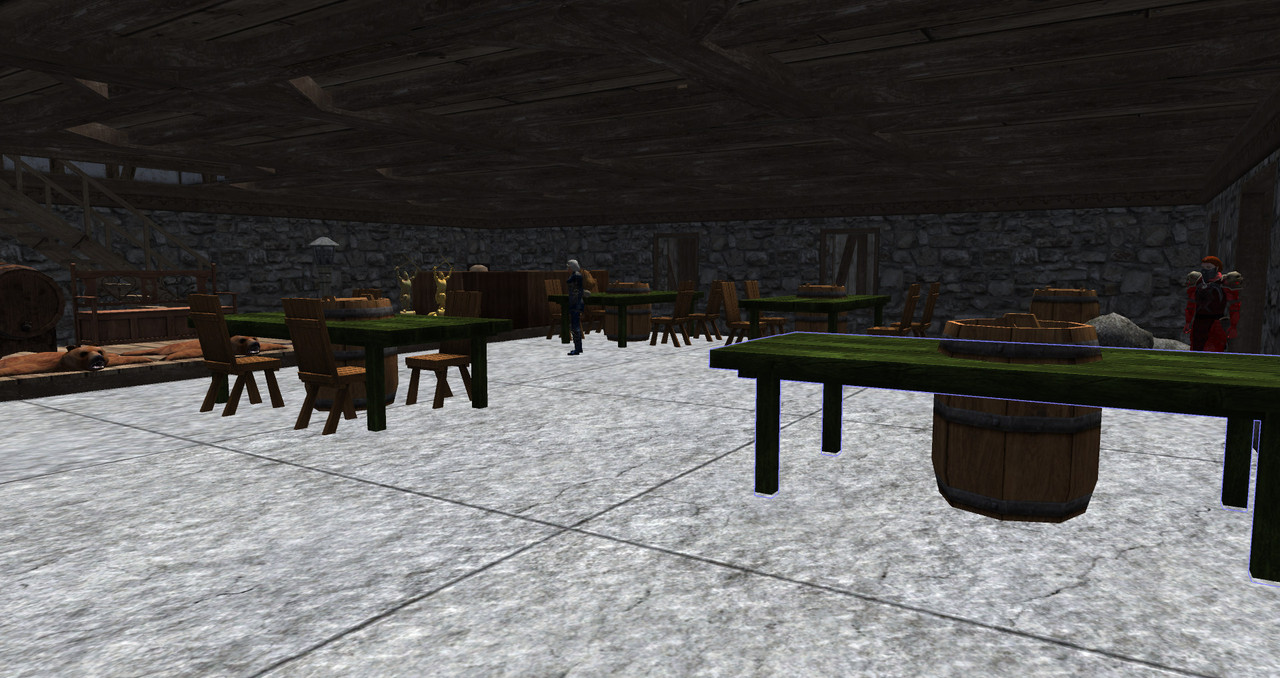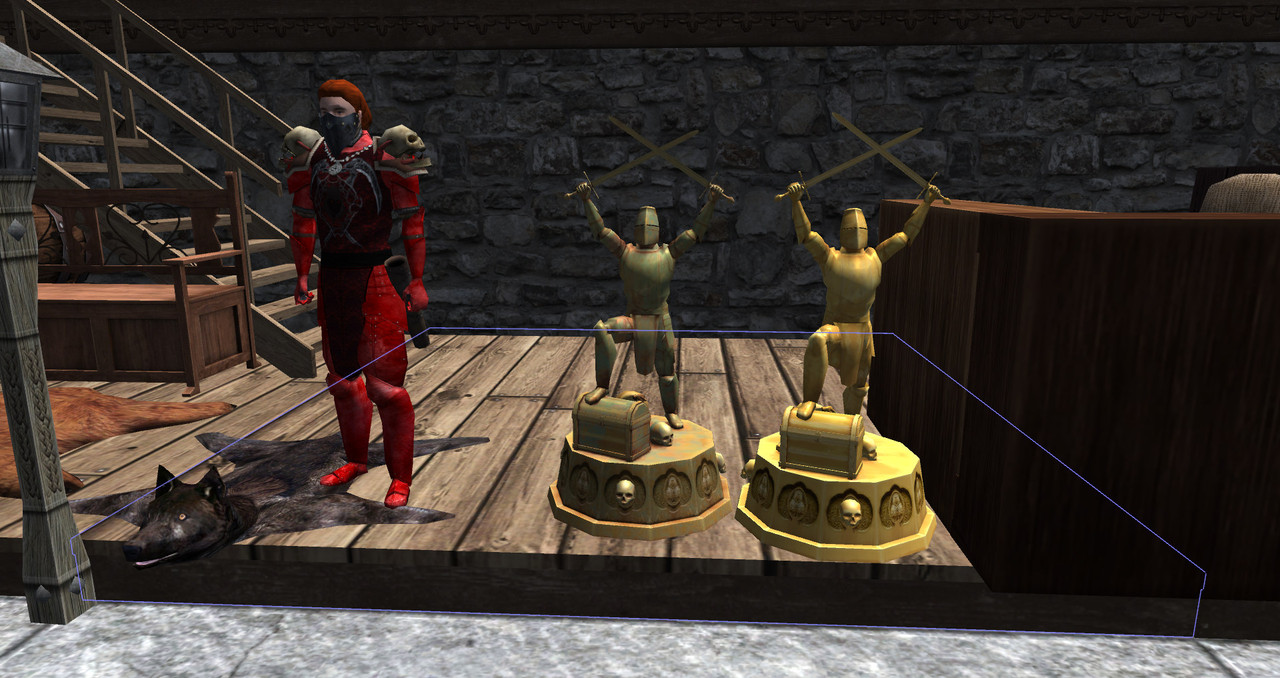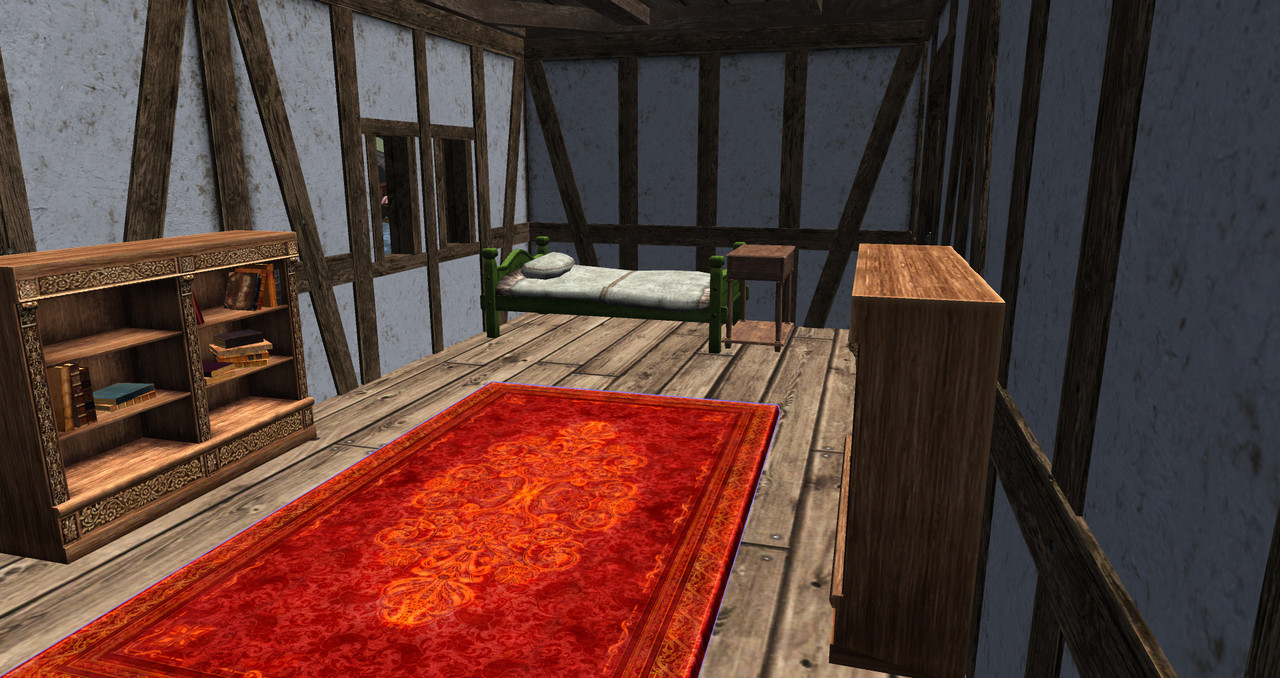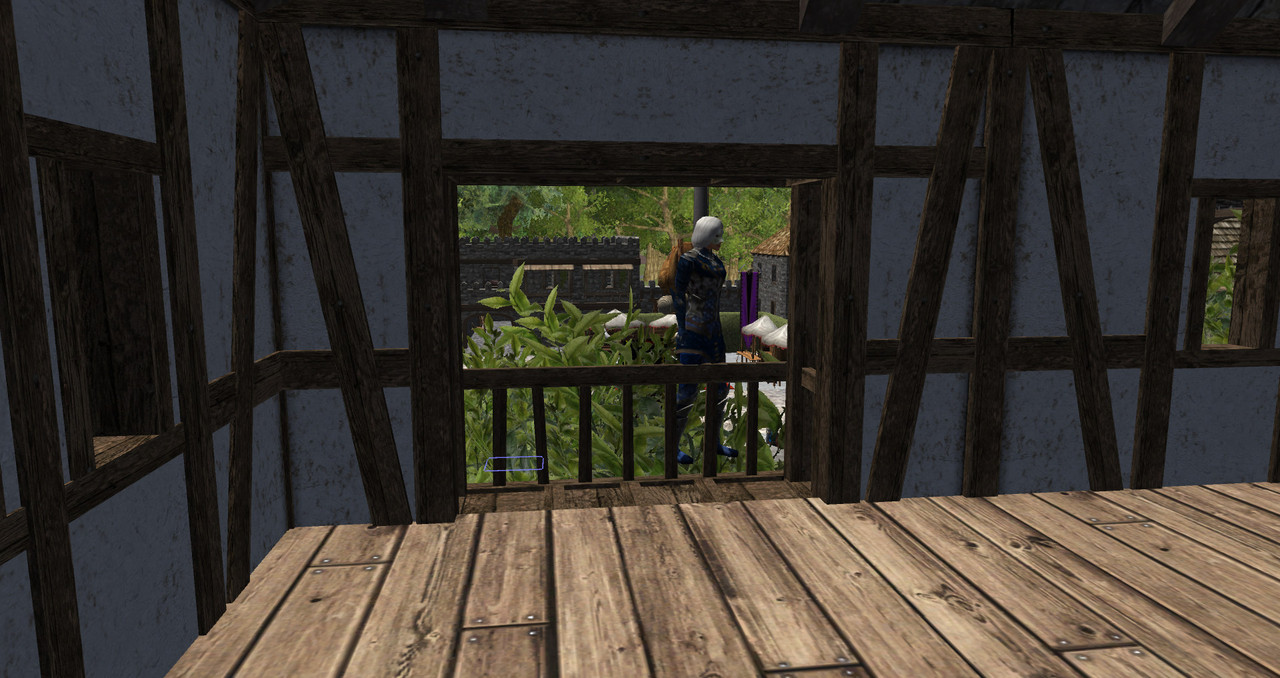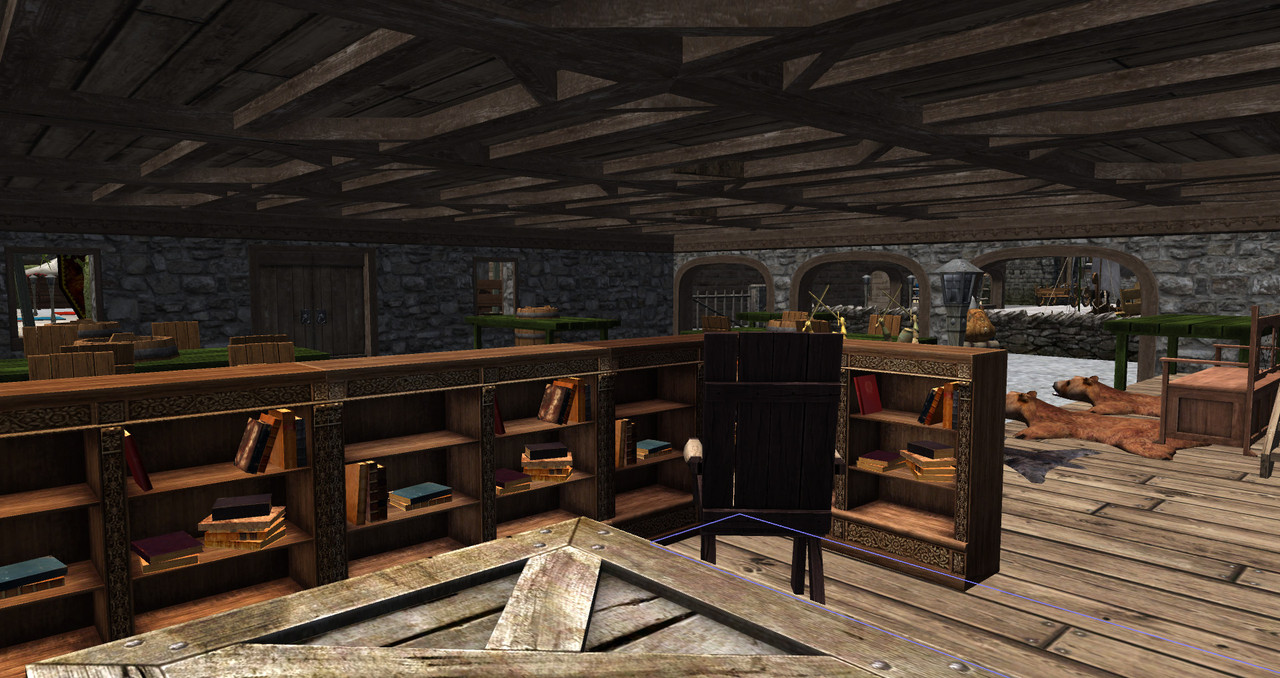 Snidor: "Then, the Silverlake Inn. You can go upstairs. (Competition statues). It's not a big inn, but when we built the building we had only a farmhouse and a small warehouse."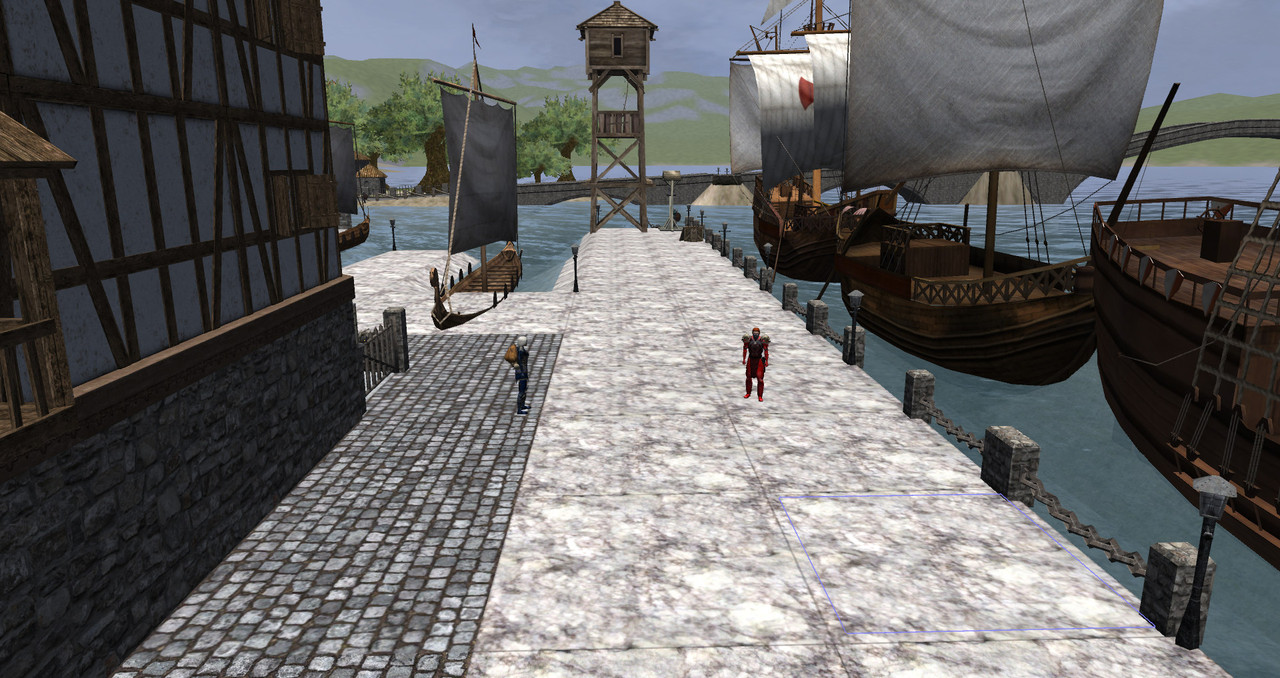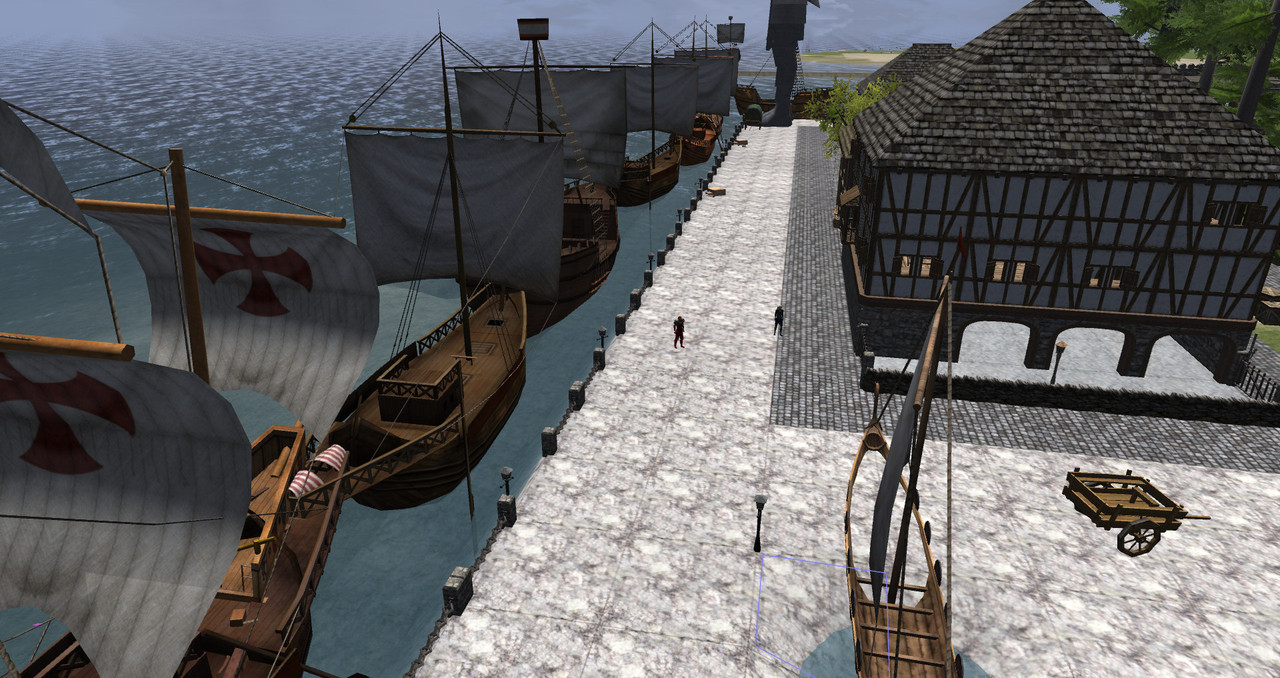 Snidor: "Now we are on our harbor. The ships are mine and Openes. Most I found unfinished somewhere and finished them."
Snidor: "This was our first warehouse, but already when we finished it it was too small. Ok, no pictures from inside please. I dropped all trash there."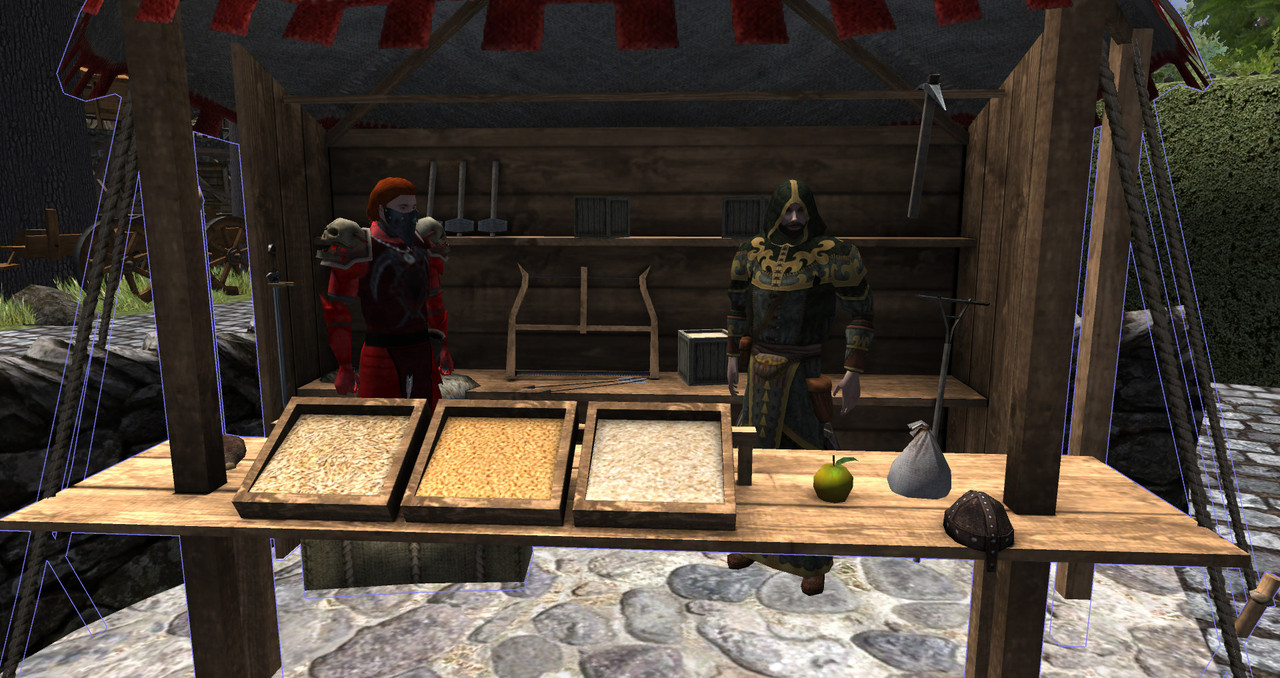 Snidor: "Yeah... ok our salesman."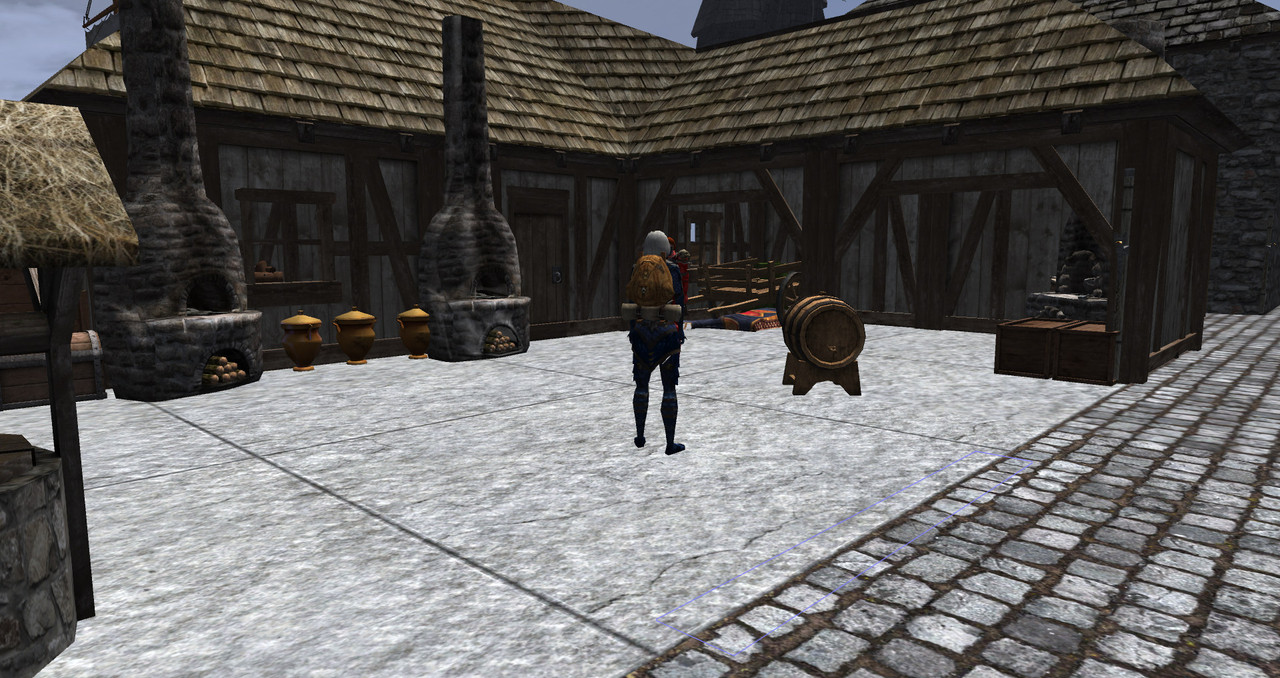 The Smithy.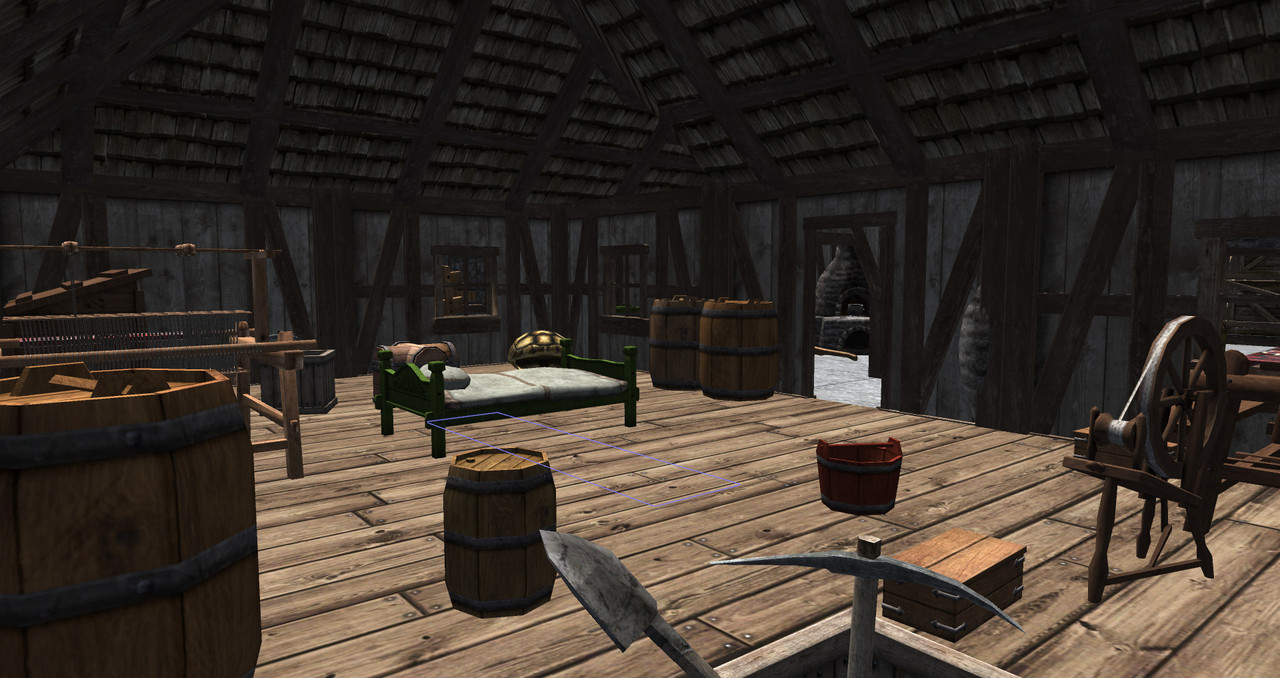 Snidor: "With this building, the story of Silverlake began. Opene started farming, so it was our farmhouse. Here we cooked for the first time. He cooked, I hunted. "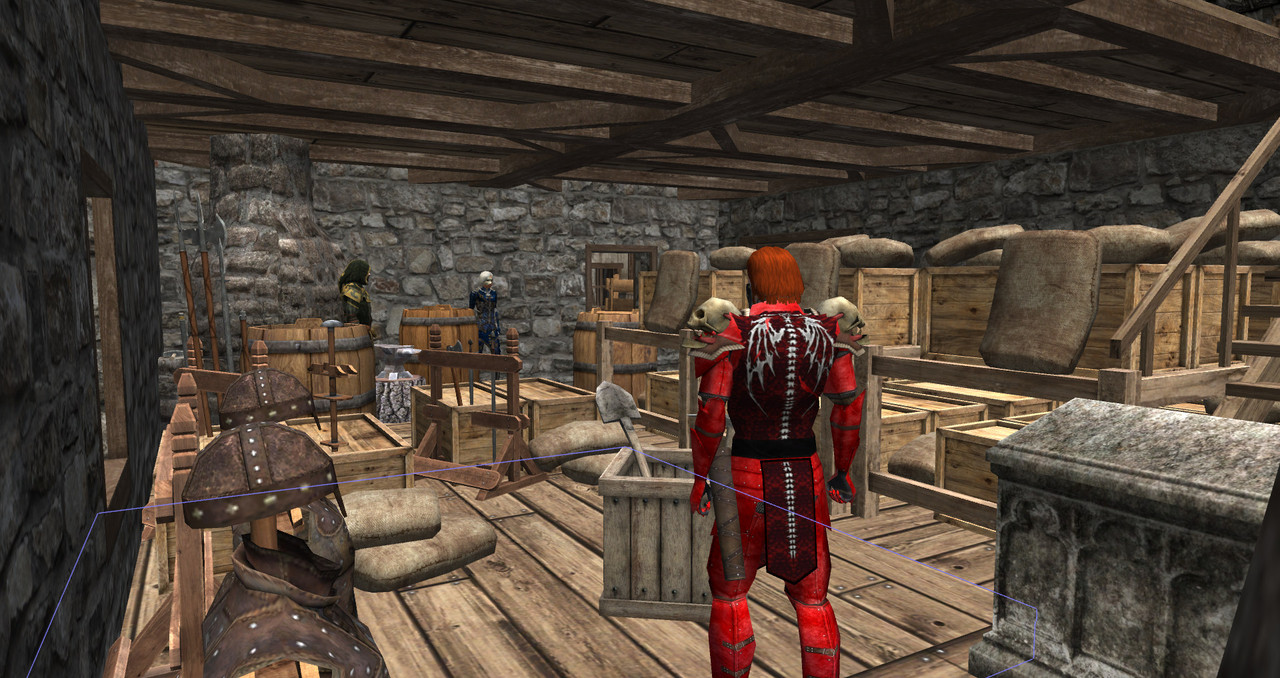 Elfin: "A large wooden loom for weaving. You can barely make out the signature of its maker, '.lf.n'. This is a very rare and interesting version of the item. Ql: 89.82193, Dam: 0.0."
Snidor: "Now, inside it's a lot stuff of cloth works. Found in an abandoned deed."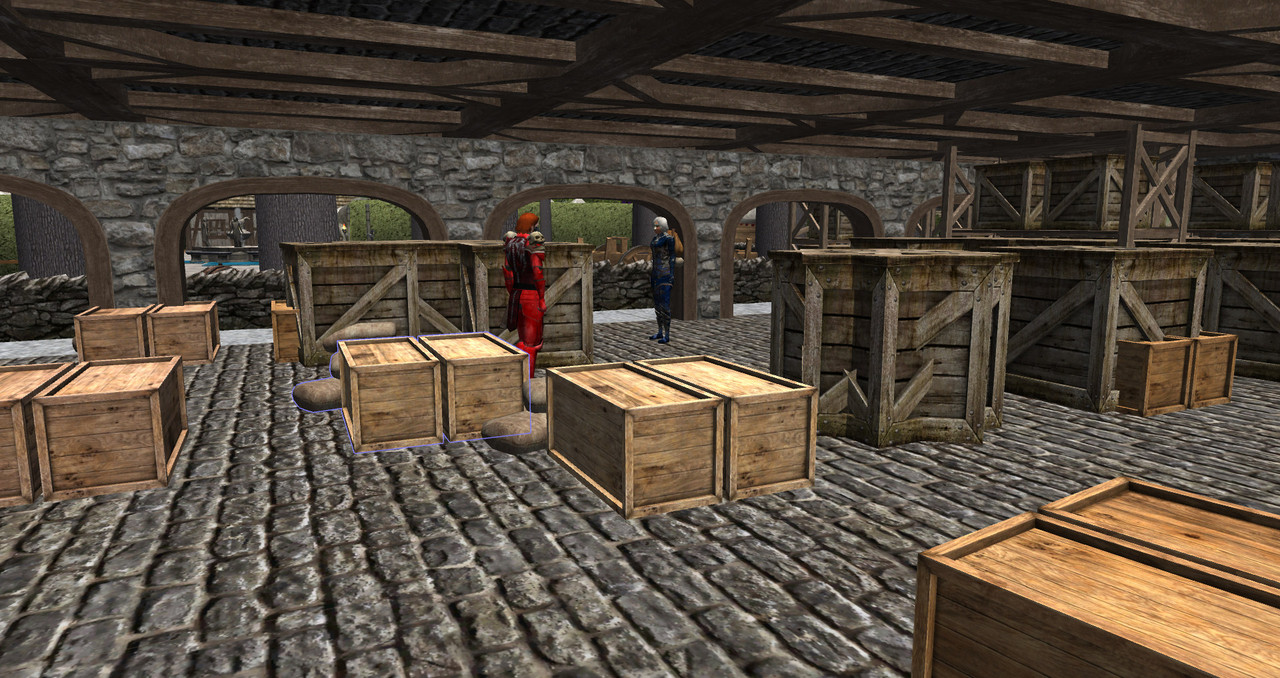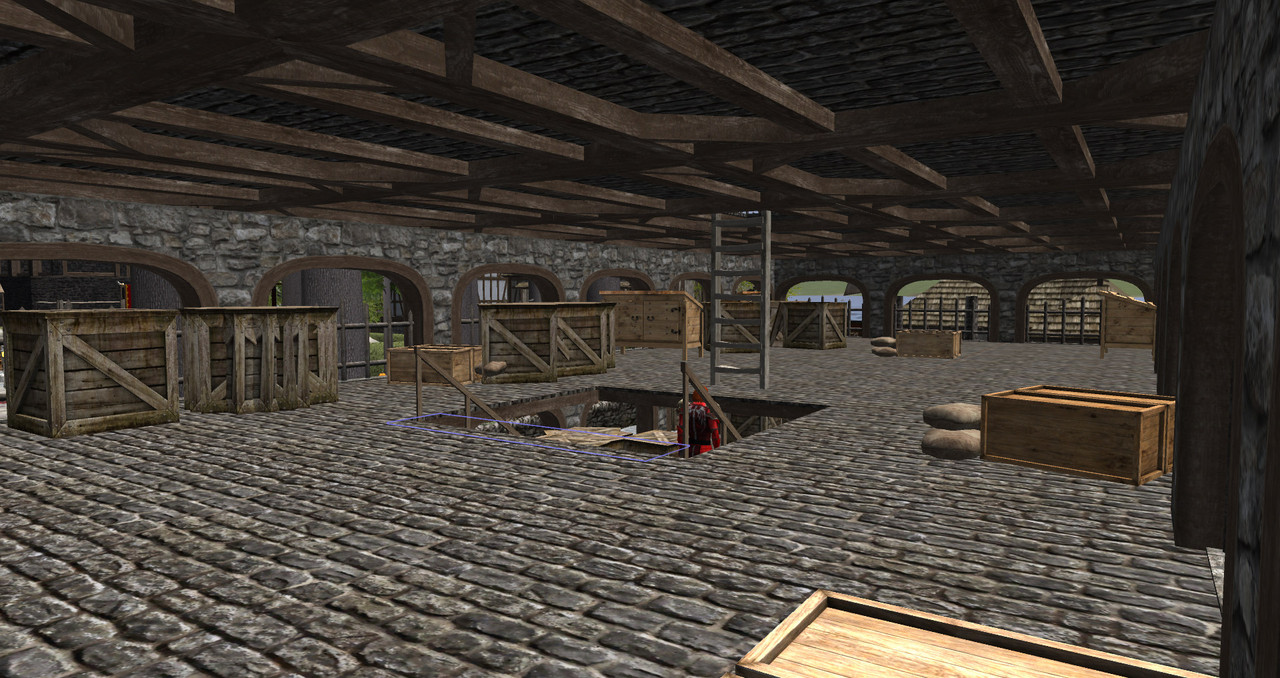 Snidor: "The name warehouse should explain enough."
Snidor: "A lot of rock shards and dirt."
Snidor: "Before I build the new farm, we stored fruits/veggies here too."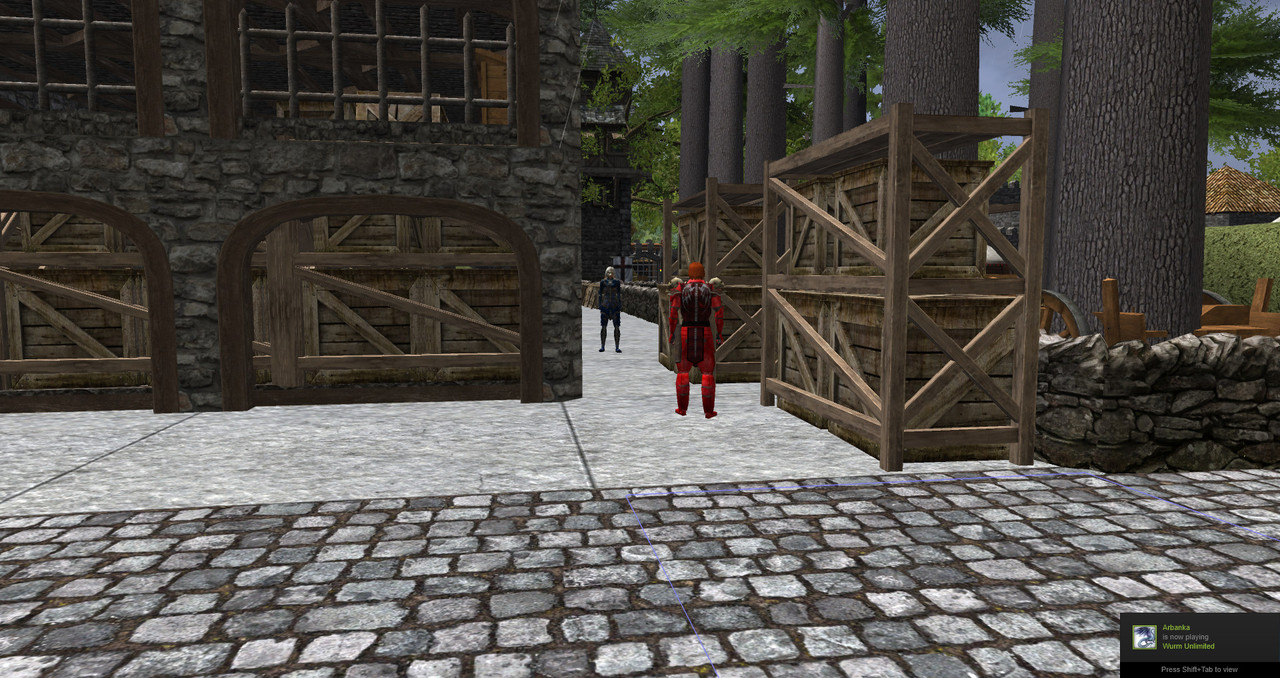 Snidor: "On this side, I've a few racks with empty crates, you cannot have enough of them... and here, I drop all found crates, before sorting all the stuff inside the crates."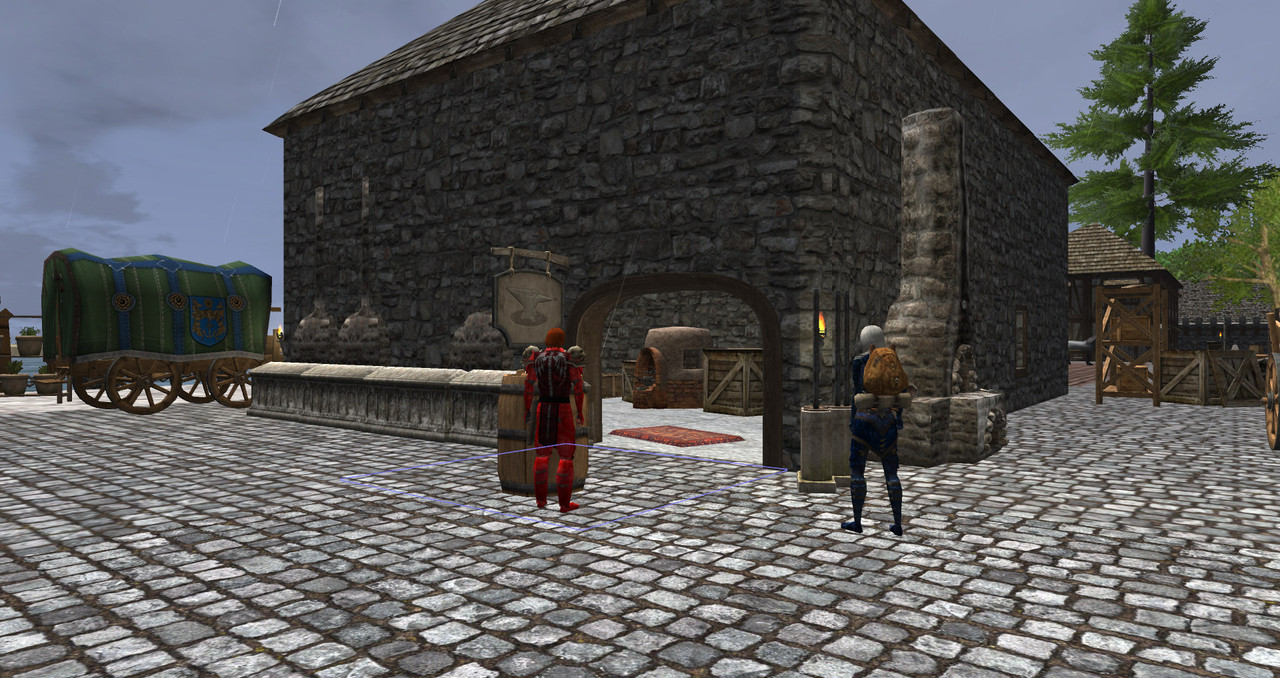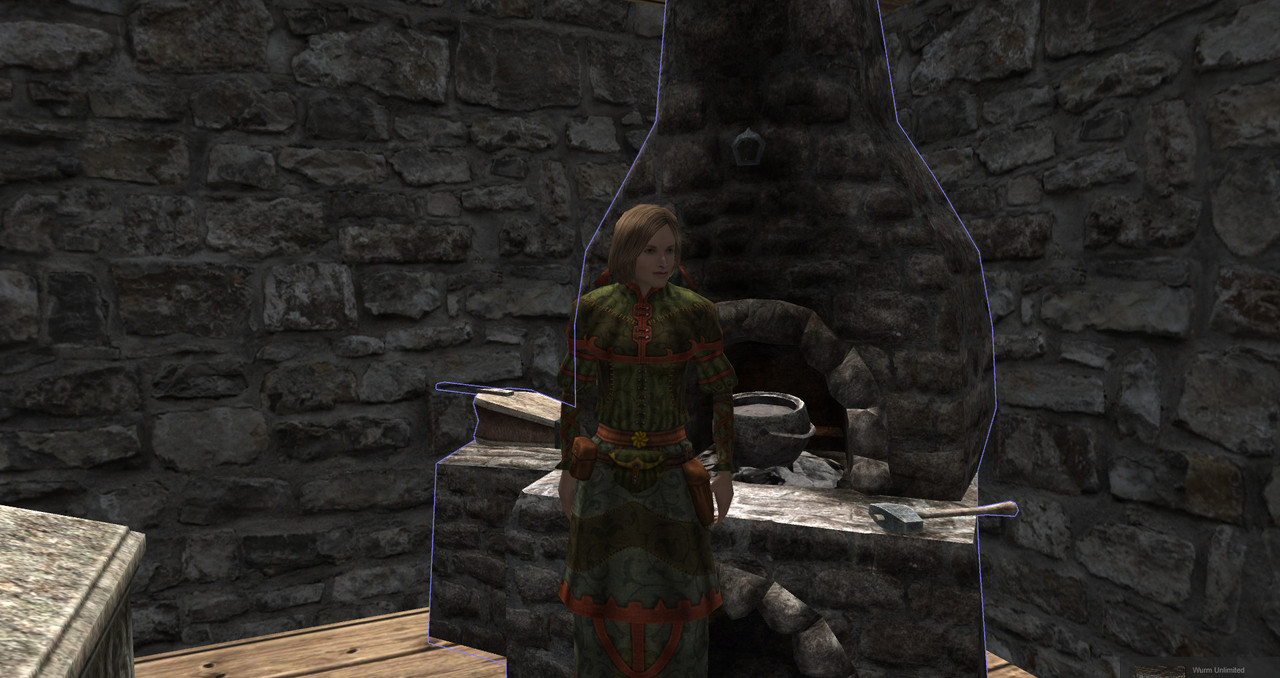 Snidor: "This is our smithy. My first idea was to make a chamber on the first floor but there is no space for a bed. Here are my two merchants with rare stuff which didn't fit in Large Magic Chests."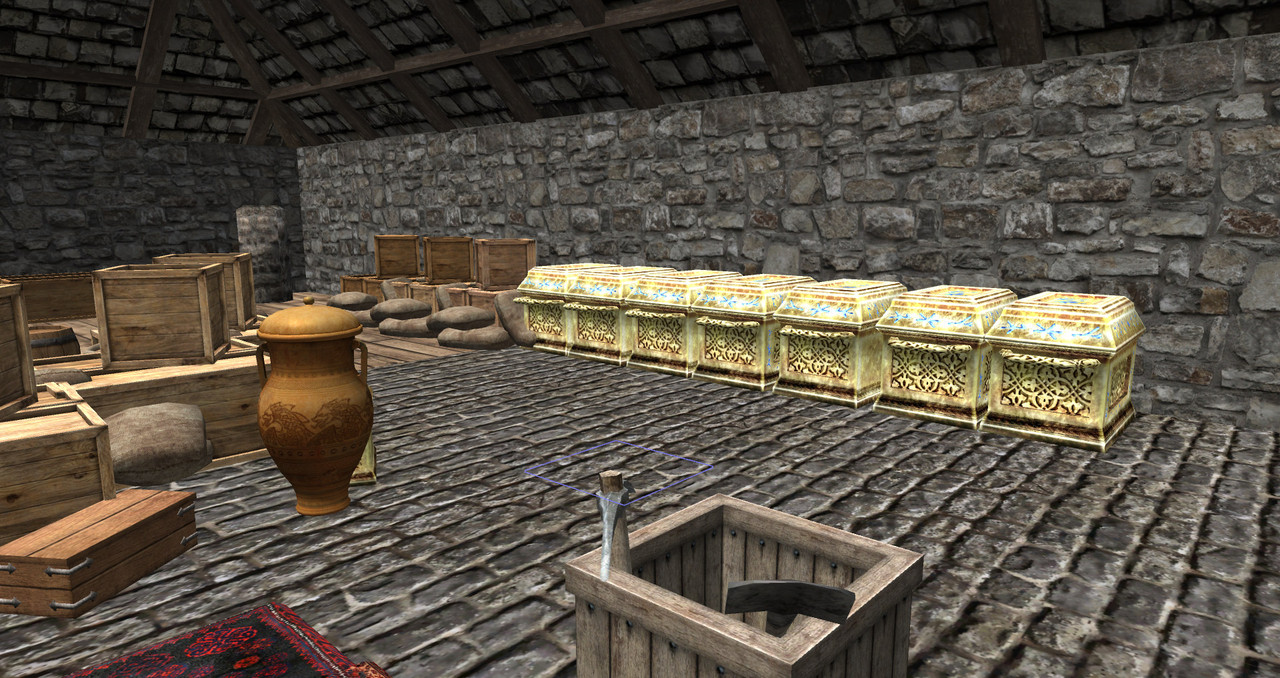 Snidor: "This is my treasure room." (LMC's) (Dragon skulls)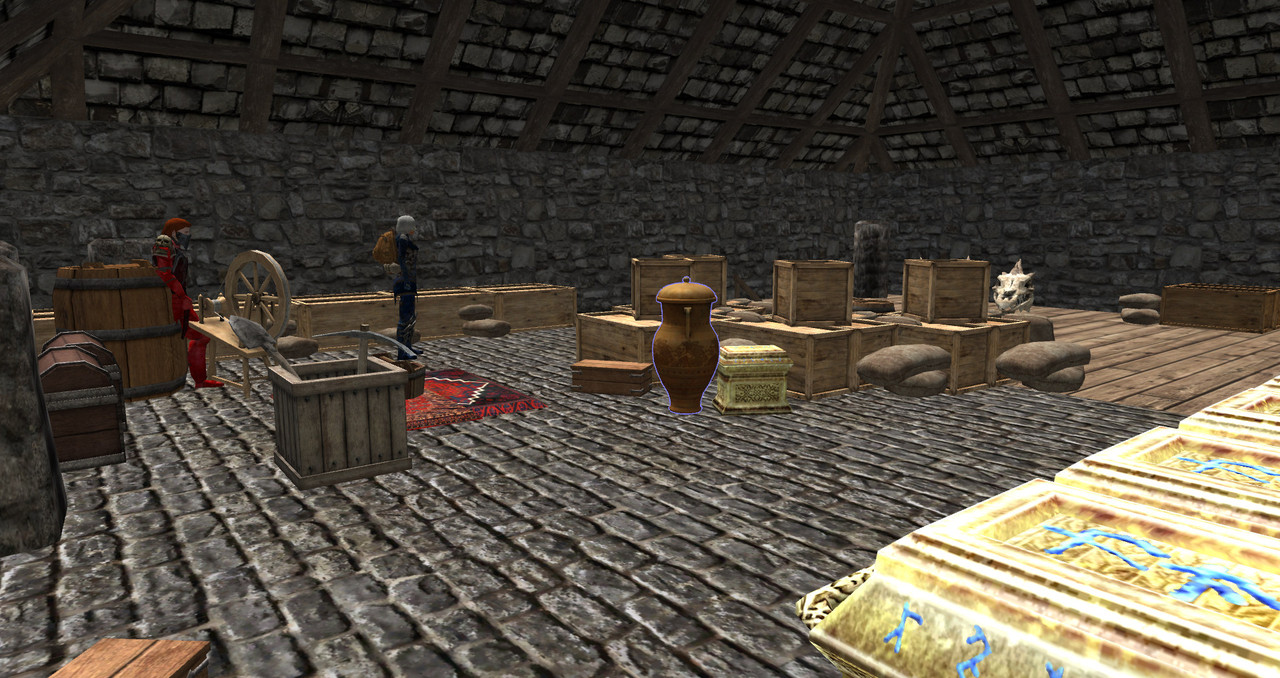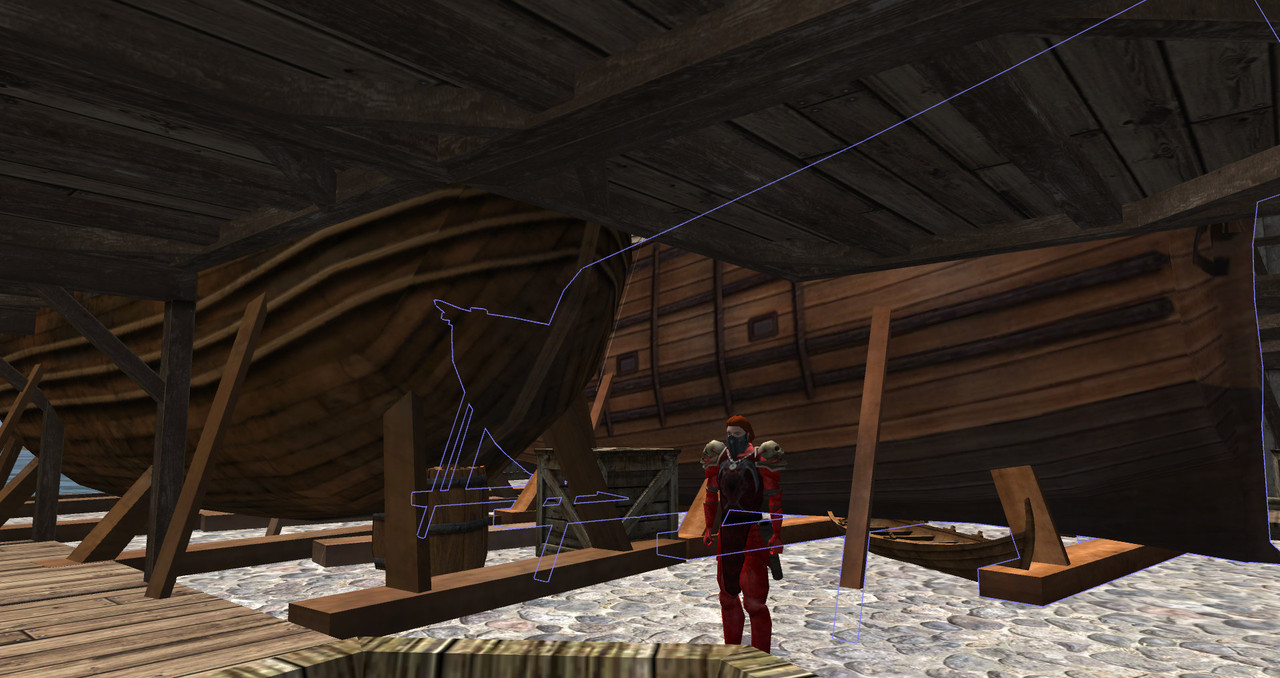 Snidor: "Shipbuilding yard. The side to the water is not very nice as with the Wurm building system I am not able to do it better. I hope sometime we get 2x3 gates."
We then hopped on the wagon.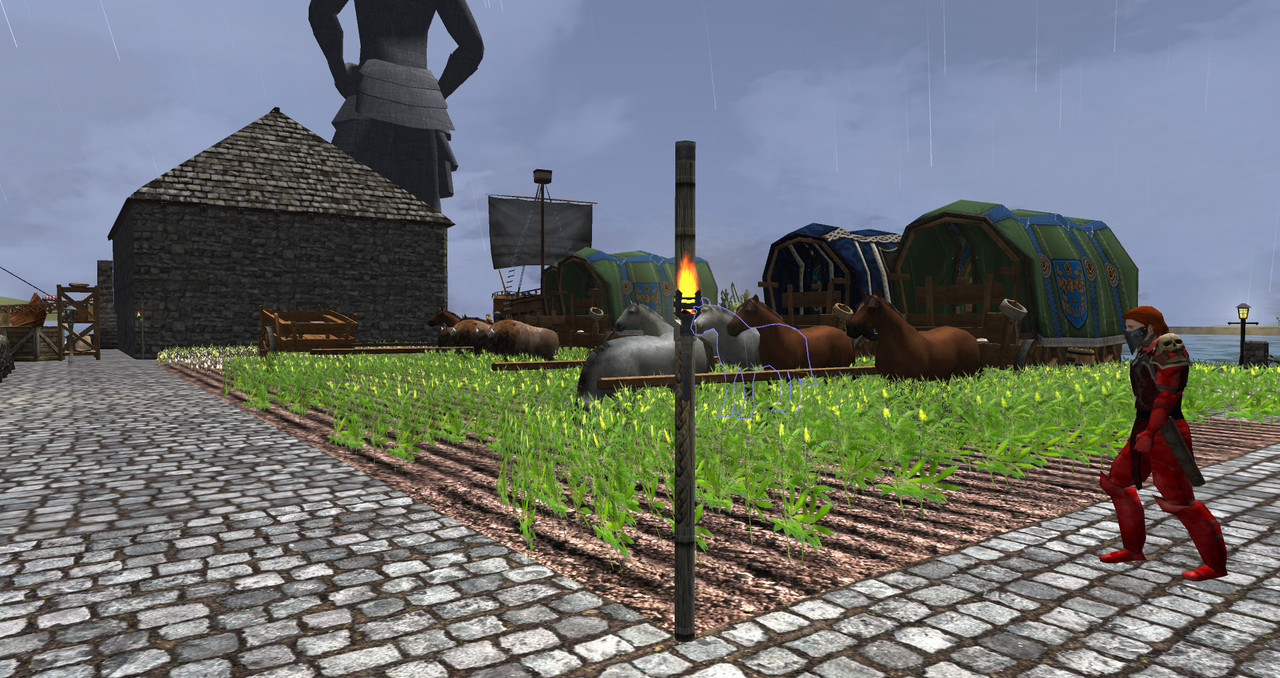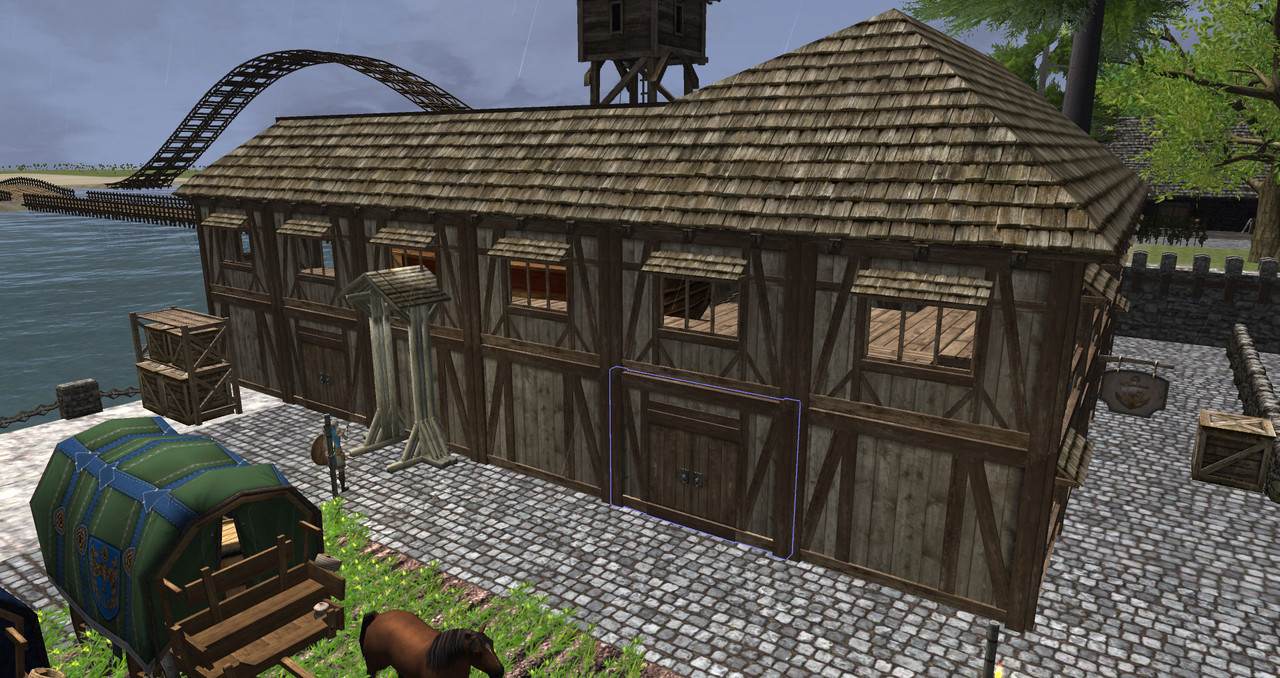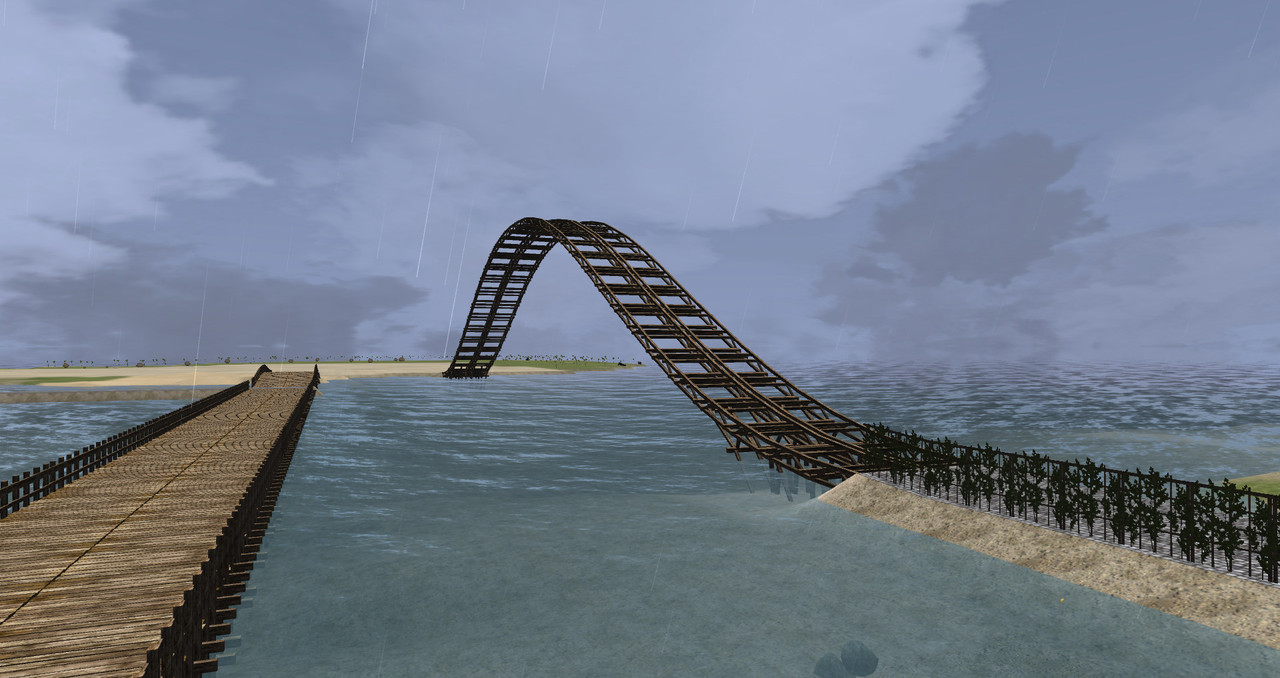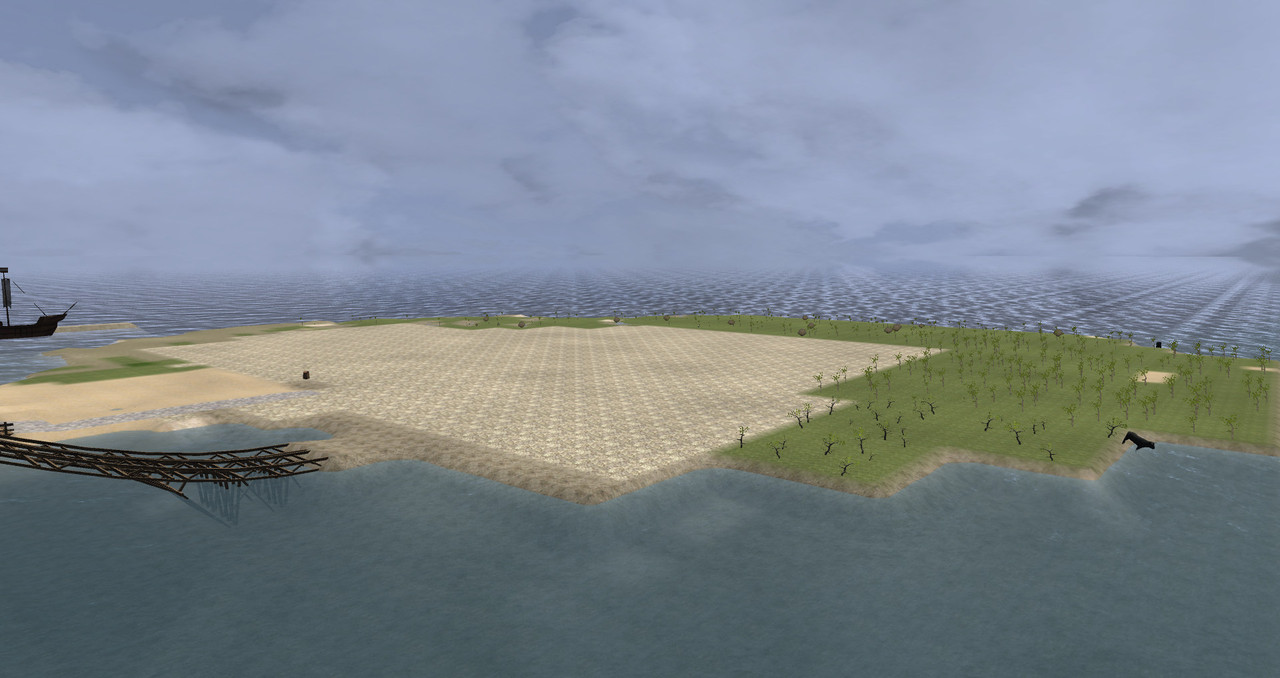 Snidor: "First stop, this will be the new bridge to our island. Sometime I hope we build a monastery there. At the moment the island is empty, but flattened."
A row of rare crates - and forges.
Snidor: "Our brewery/distillery. I know, not very well decorated, but the female part (Opene) is missing."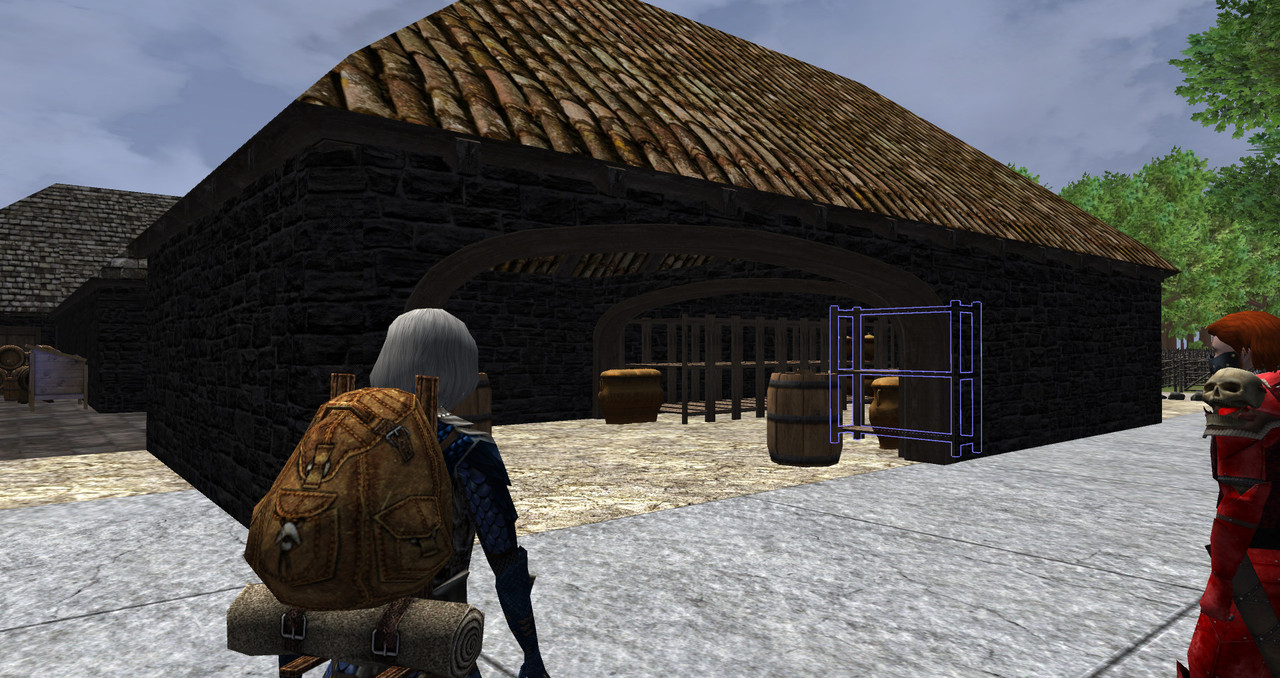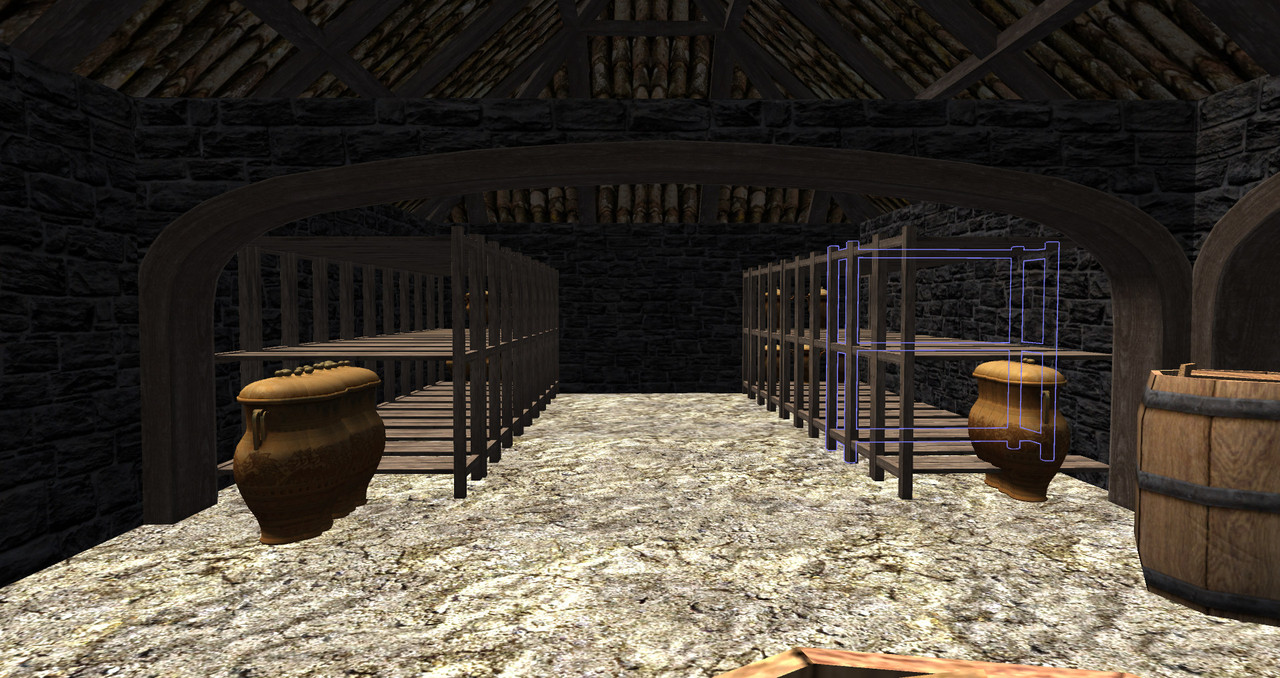 Snidor: "Then the dairy. Before the cooking update came, I had over 100 cows and a lot of sheep and bison here. Molkerei is German for dairy."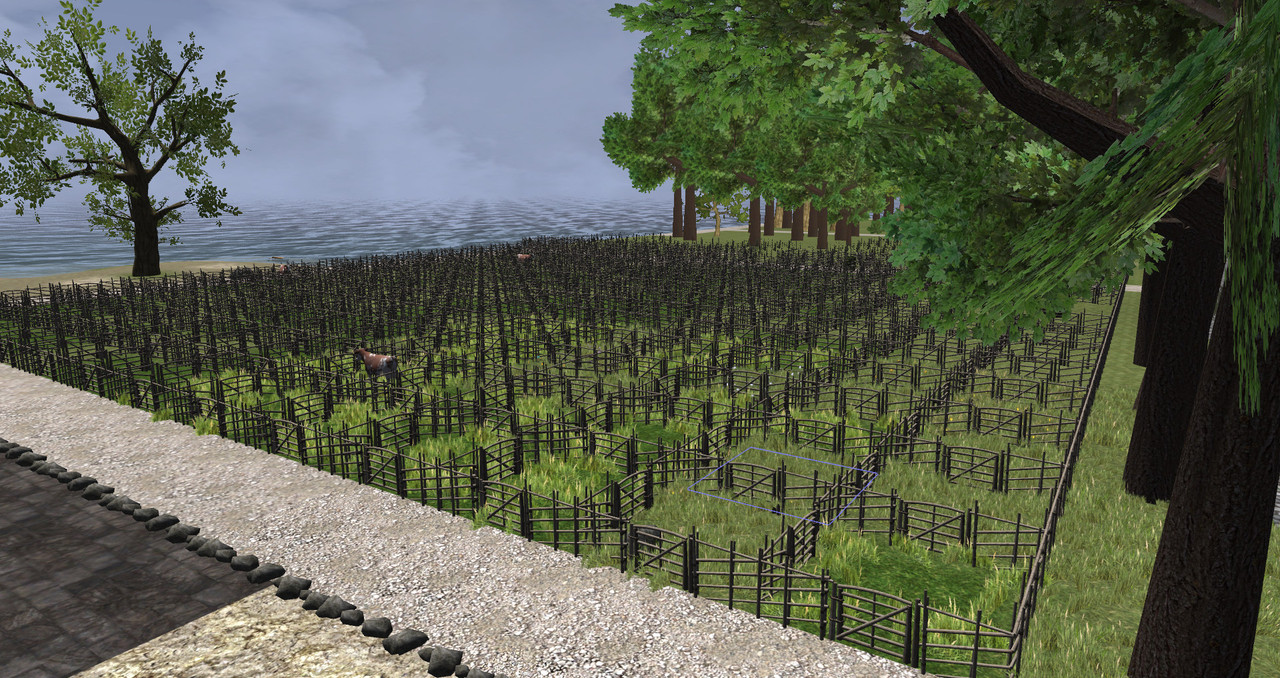 Snidor: "This is the farm. Unfortunately most of the animals died."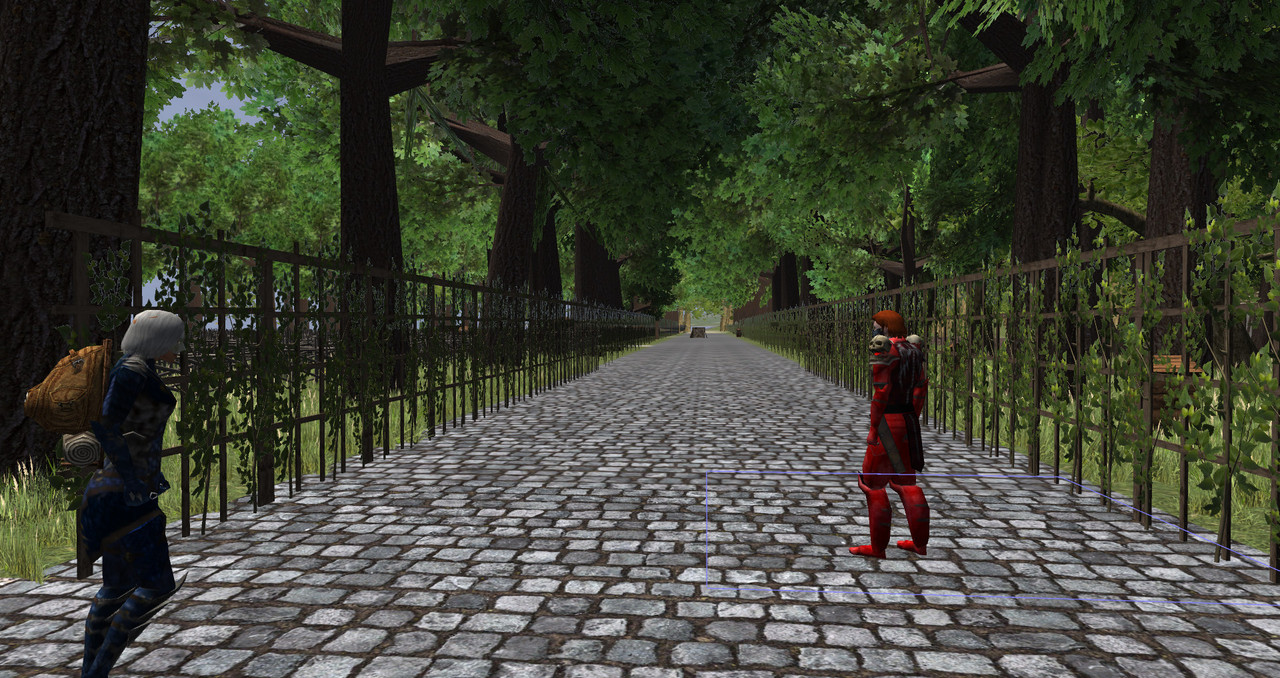 Drove down the avenue lined with hops trellis.
Snidor: "I placed the hops where you can harvest them fast. Behind the hops are a few bee hives."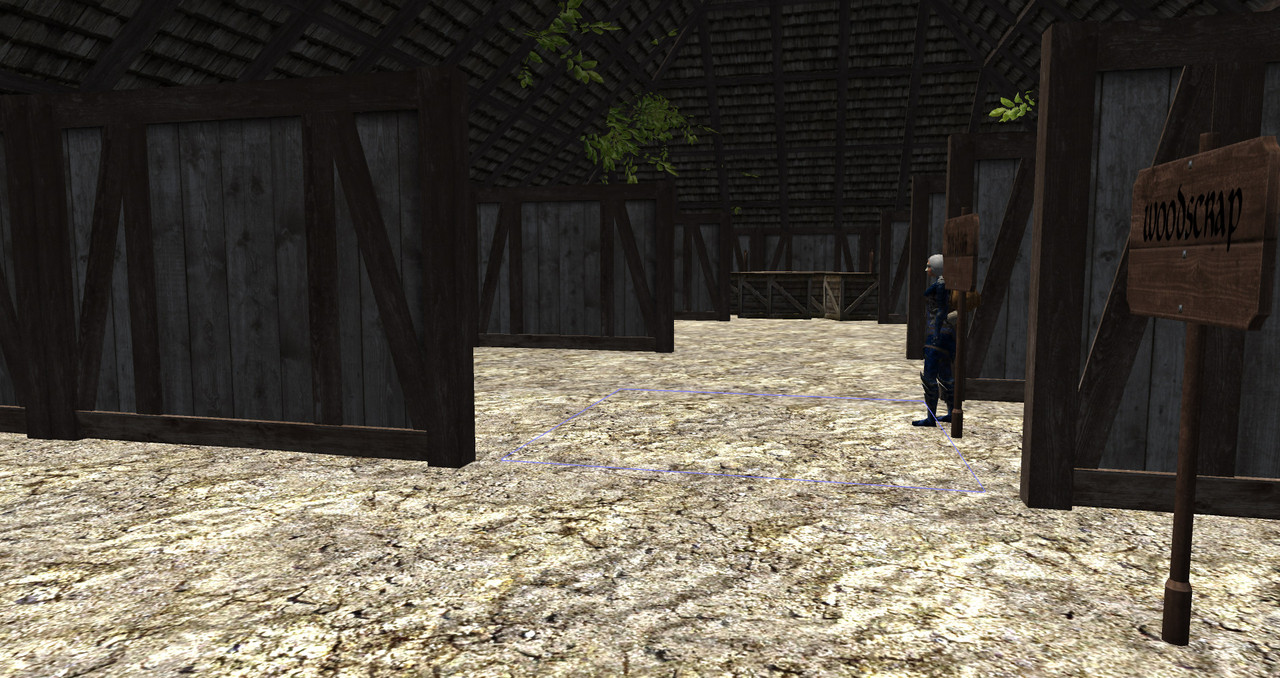 Snidor: "Our sawmill. All wooden mats are stored here. Here are wooden mats without logs, and the trash."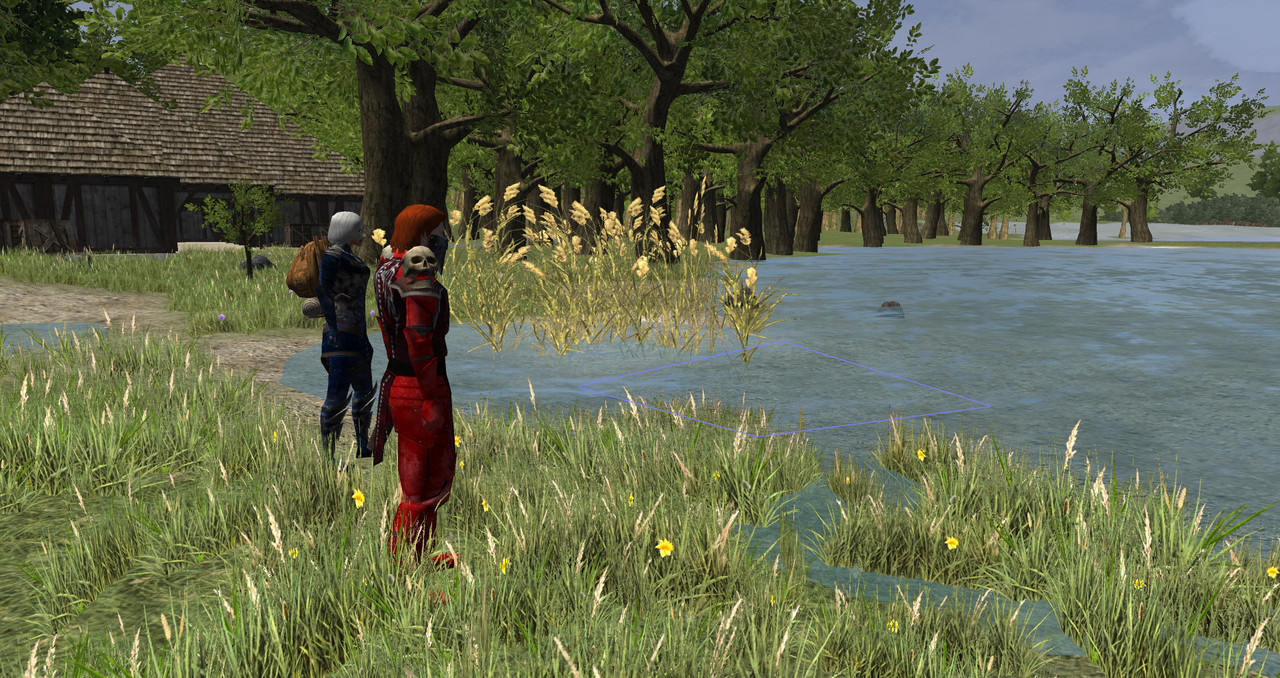 Snidor: "This is the Silverlake. We left it in its natural state as best we could."
Snidor: "The empty horse pens."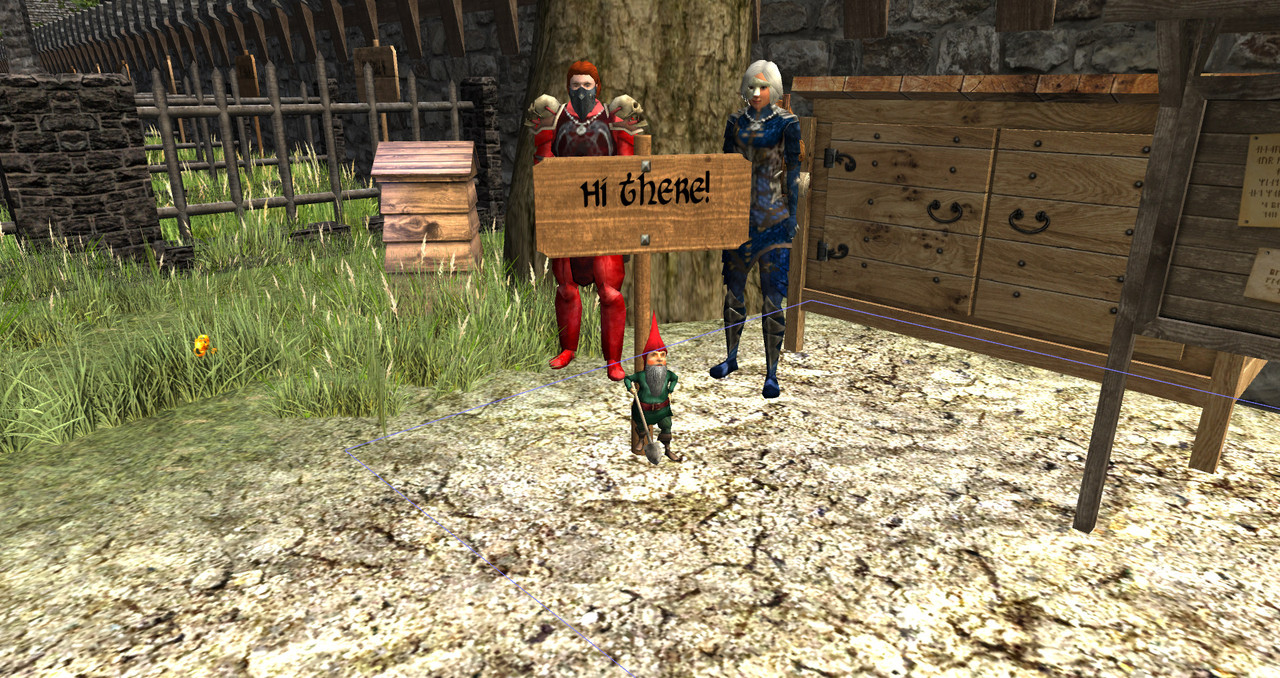 Picture of the gnome.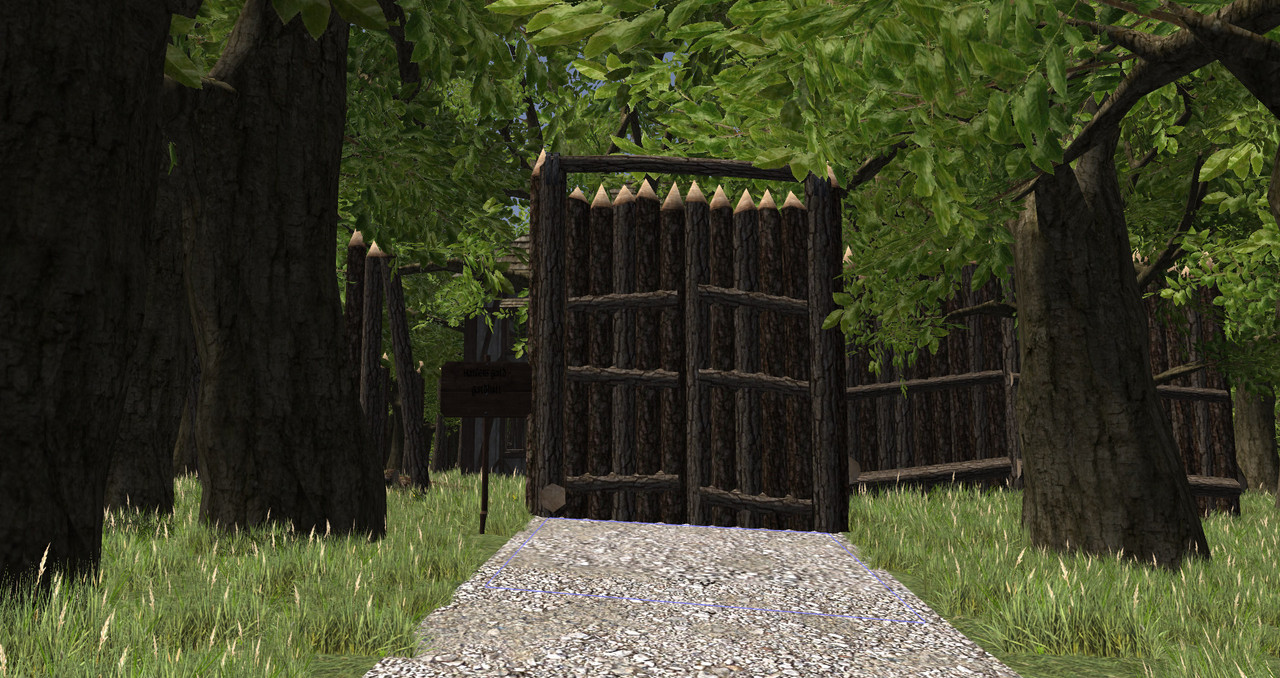 Snidor: "Here we built a building for Starcroc's hunting guild. I was a member of his guild. Sirmenez was too so we had the idea to build a lounge for the hunters."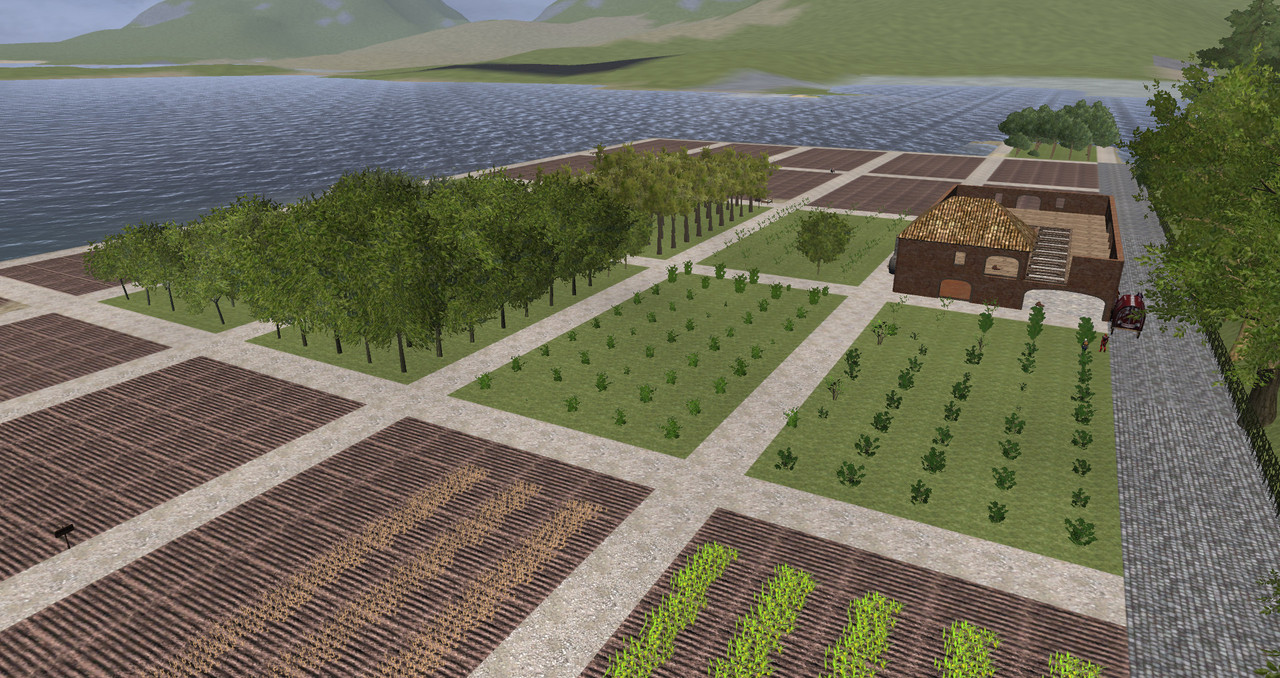 Snidor: "This is the new farm."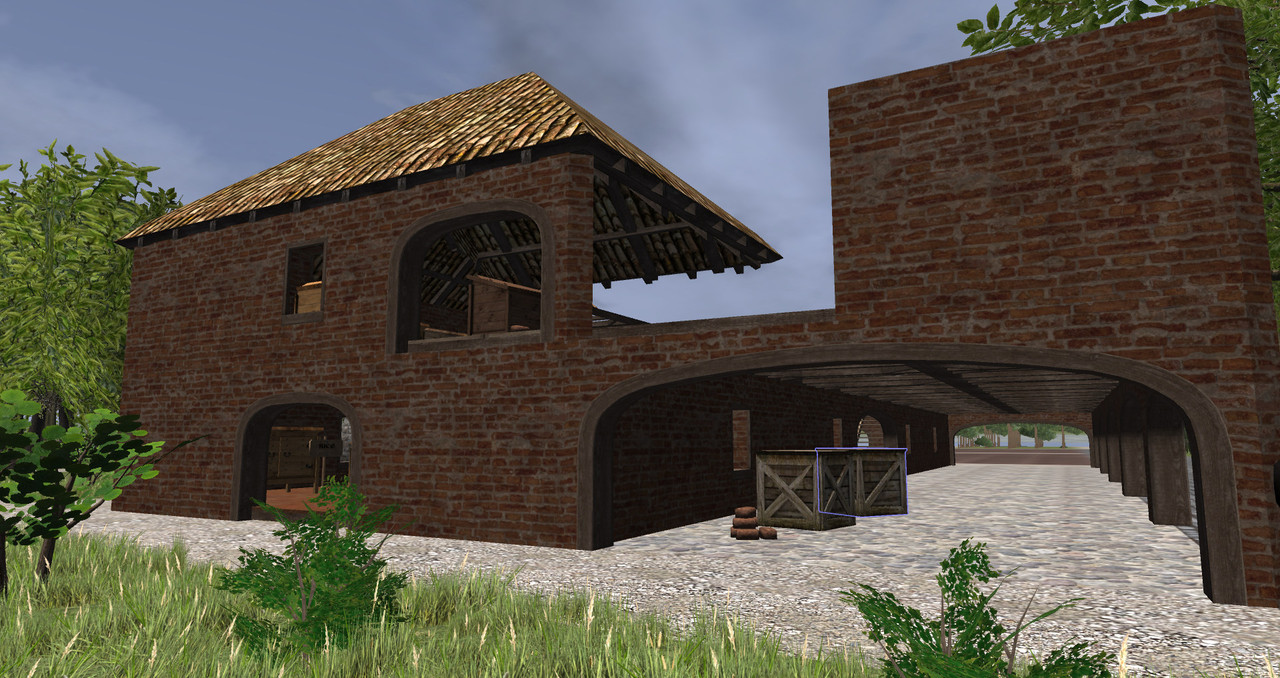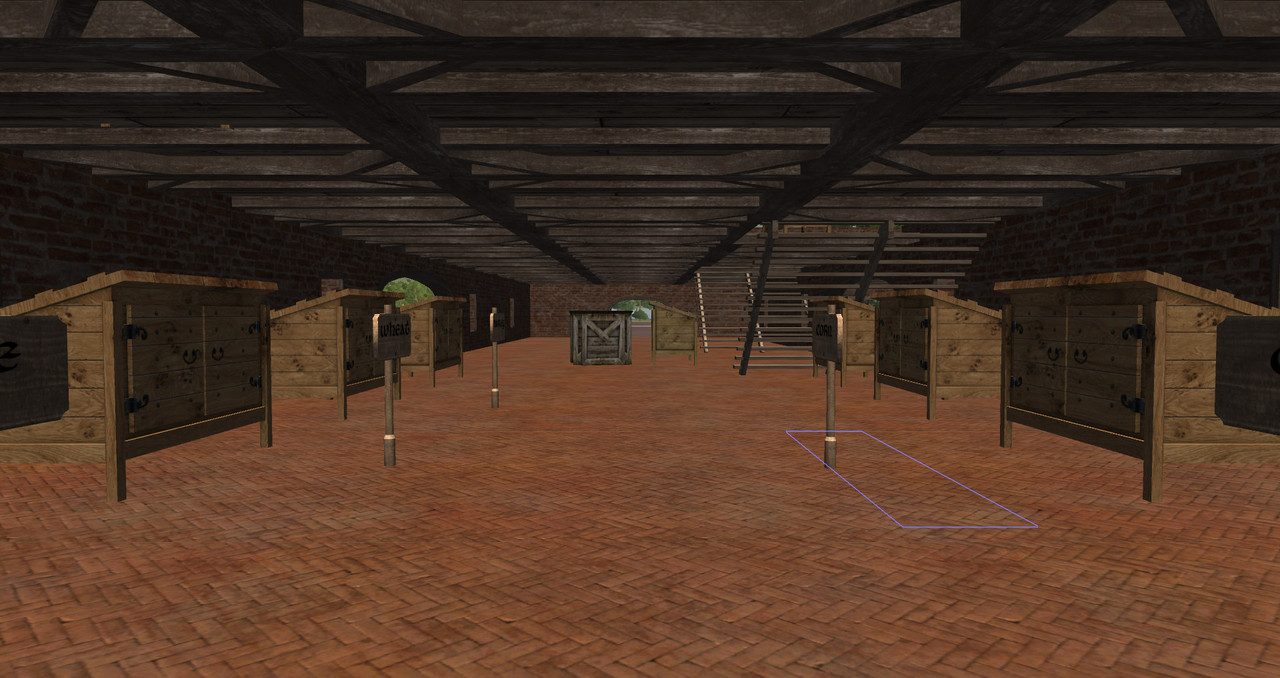 Snidor: "The building is not finished...the release of Caza has interrupted my work... and later Novus. There are veggies on the ground and fruits/berries on first floor."
Snidor: "At the road, hops again."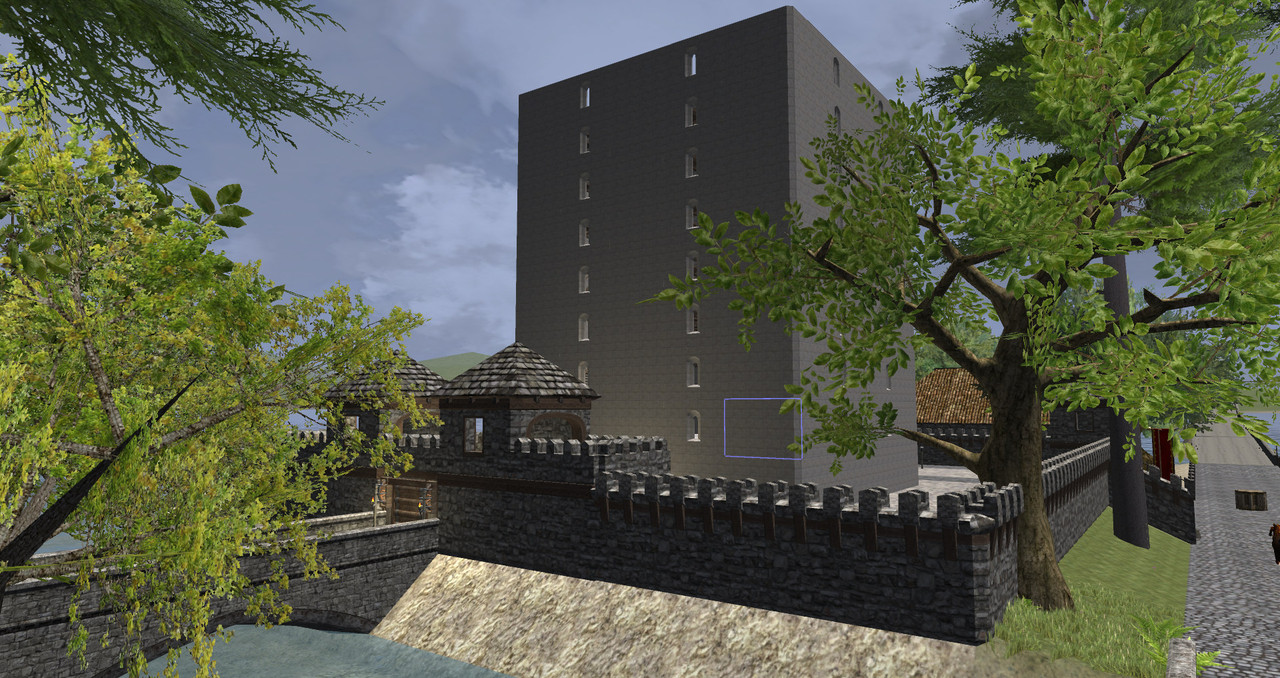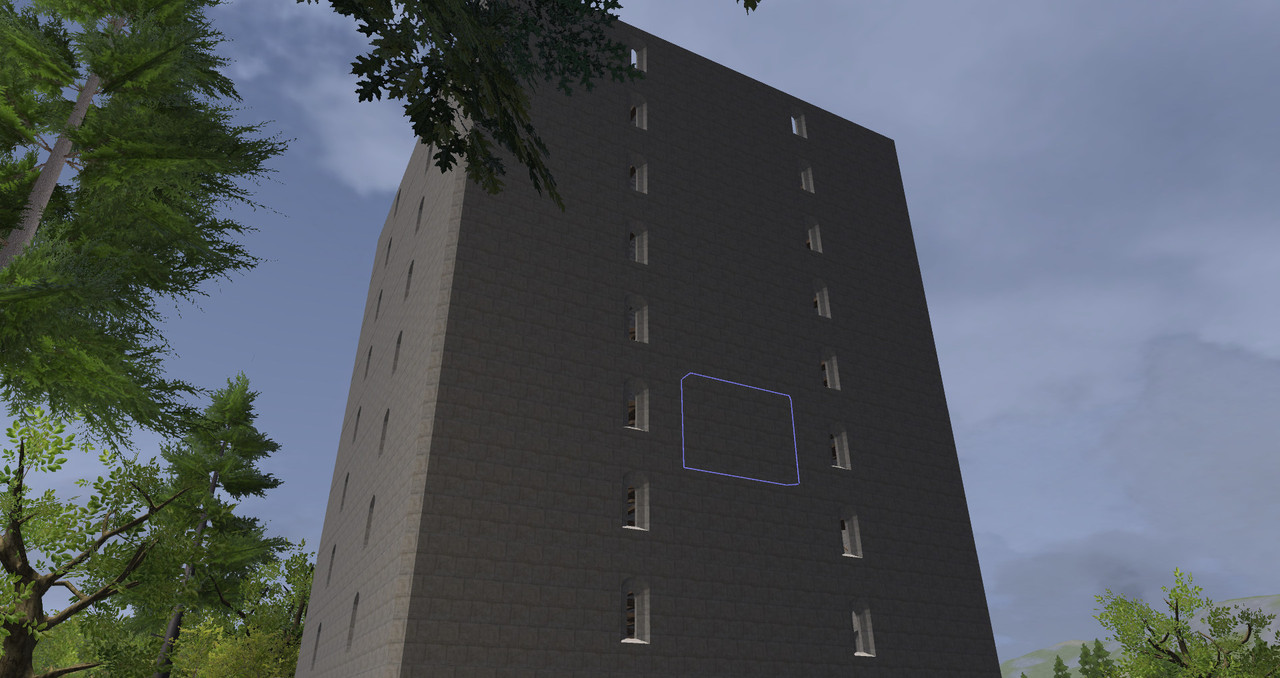 Snidor: "Our castle keep, unfinished. We did not have enough paving skill. After so many planted cats eyes I should have enough for two or three floors more. I hope sometime we can build 16 floors."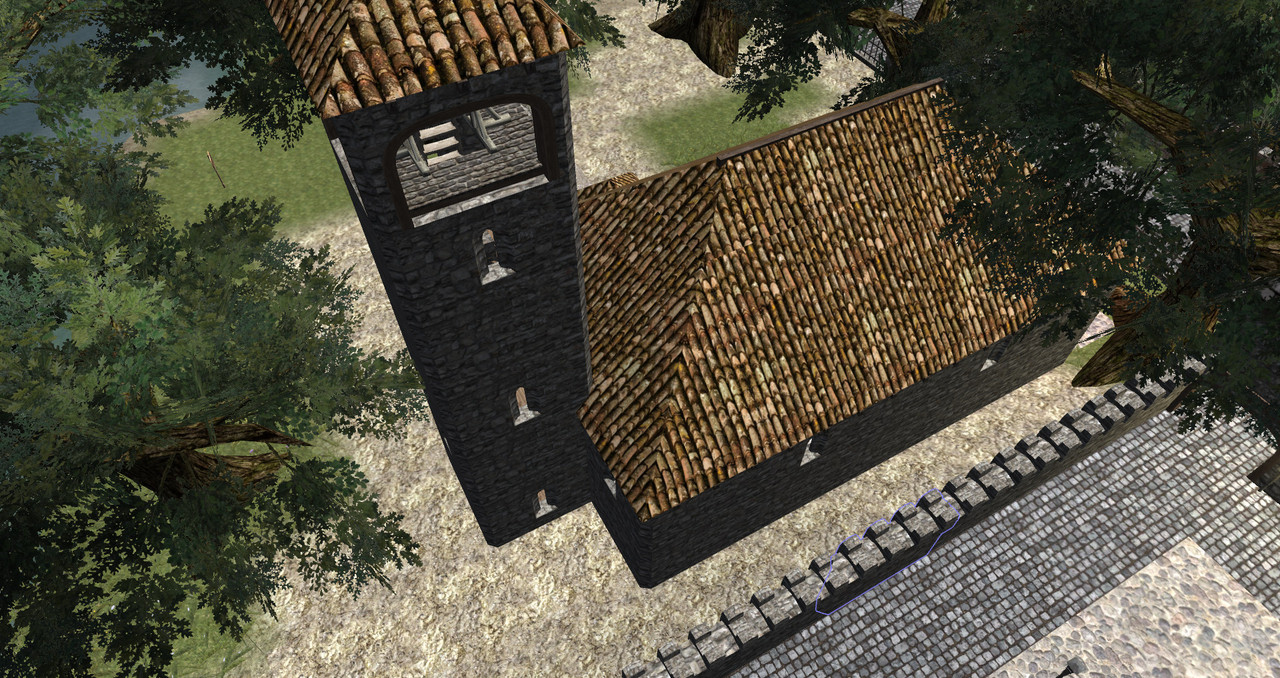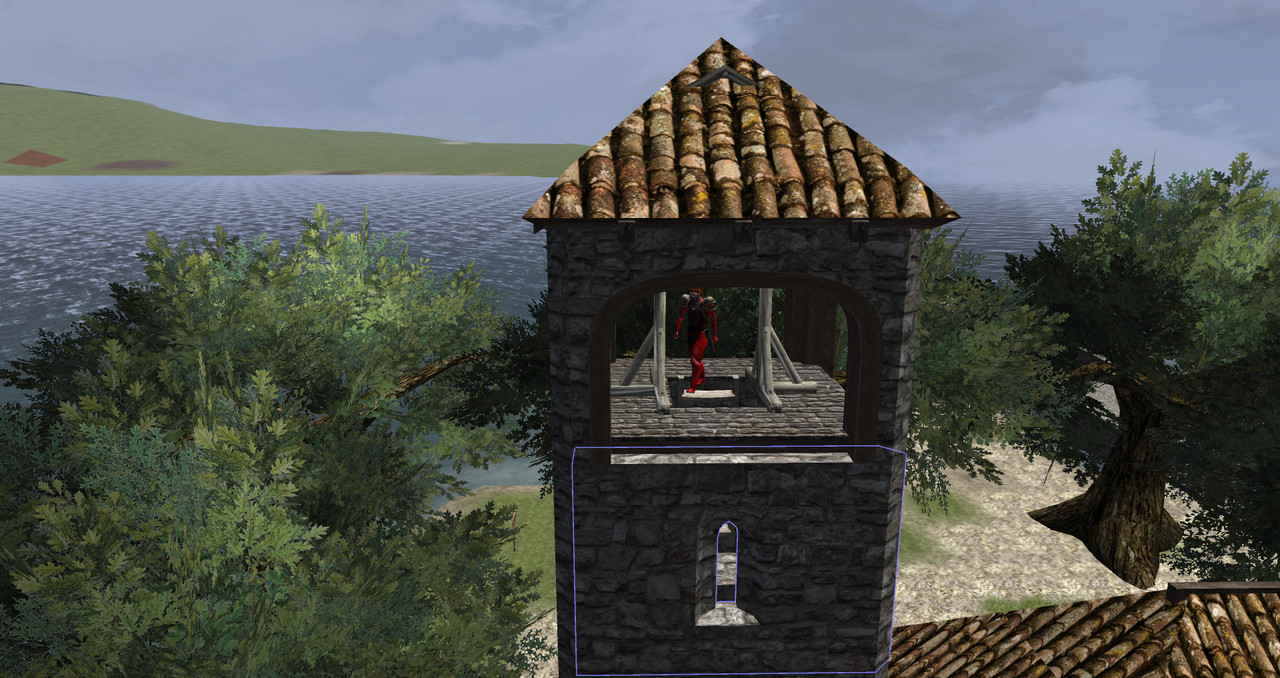 Snidor: "The church may not be missing. With bell tower."
Snidor: "Now we have oaks here, but this area was planned for a graveyard. Our path of love tile."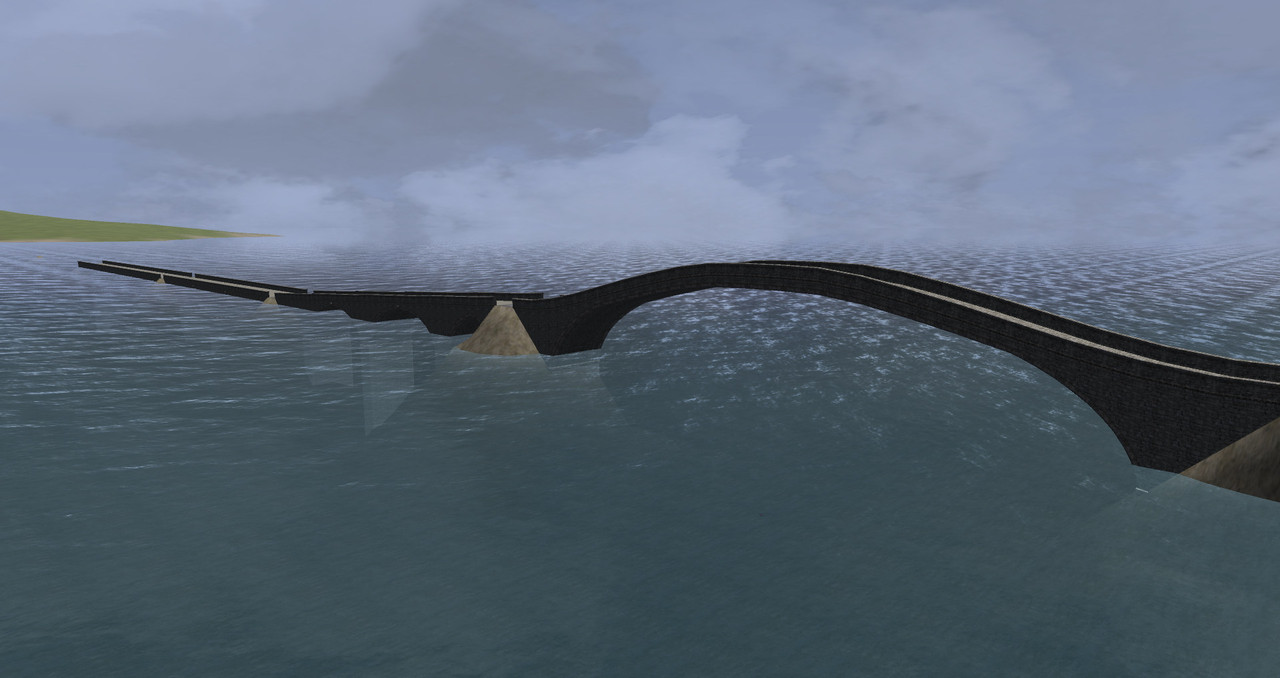 Snidor: "Our biggest project....the Silverlake bridge. It needed over one million dirt.
Goodgirl: "I remember giving Opene dirt from my boat tunnel to try and help with it."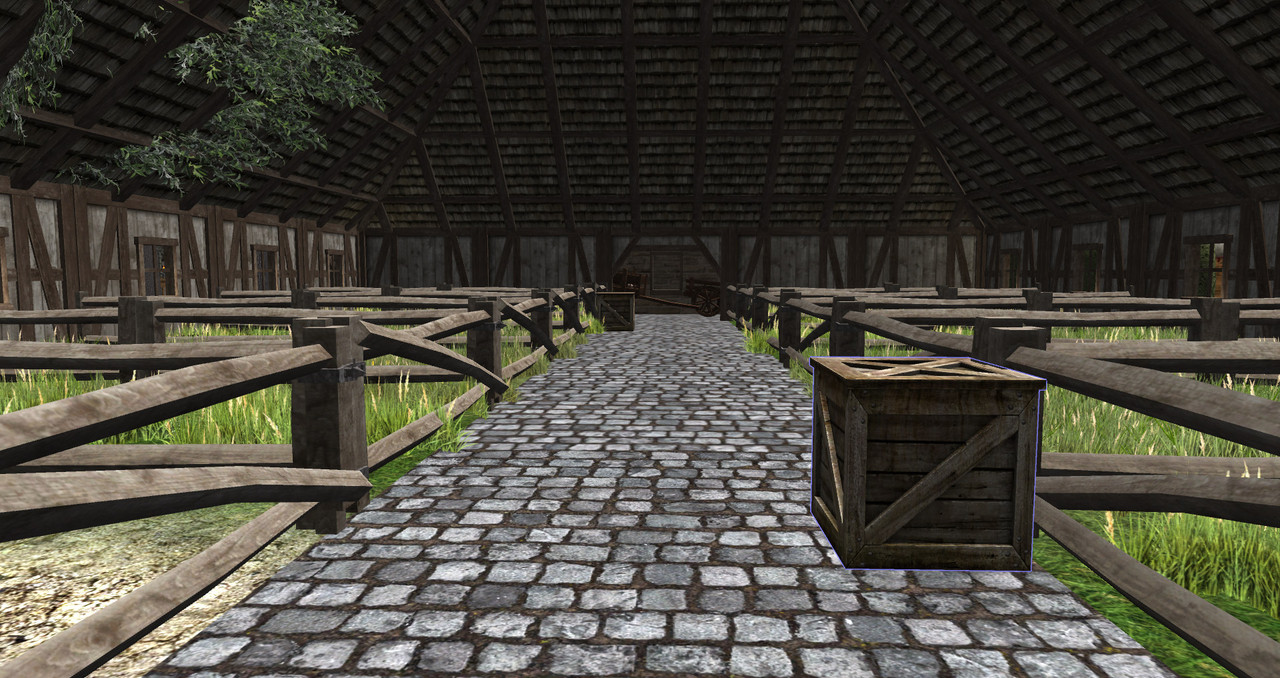 Snidor: "Here are players' houses. We have already prepared building slots.
Snidor: "Here, our first horse stable. I know, I forgot the cleaning here....but this is the building where I am the most time. Look at the ceiling. Octopus chandelier."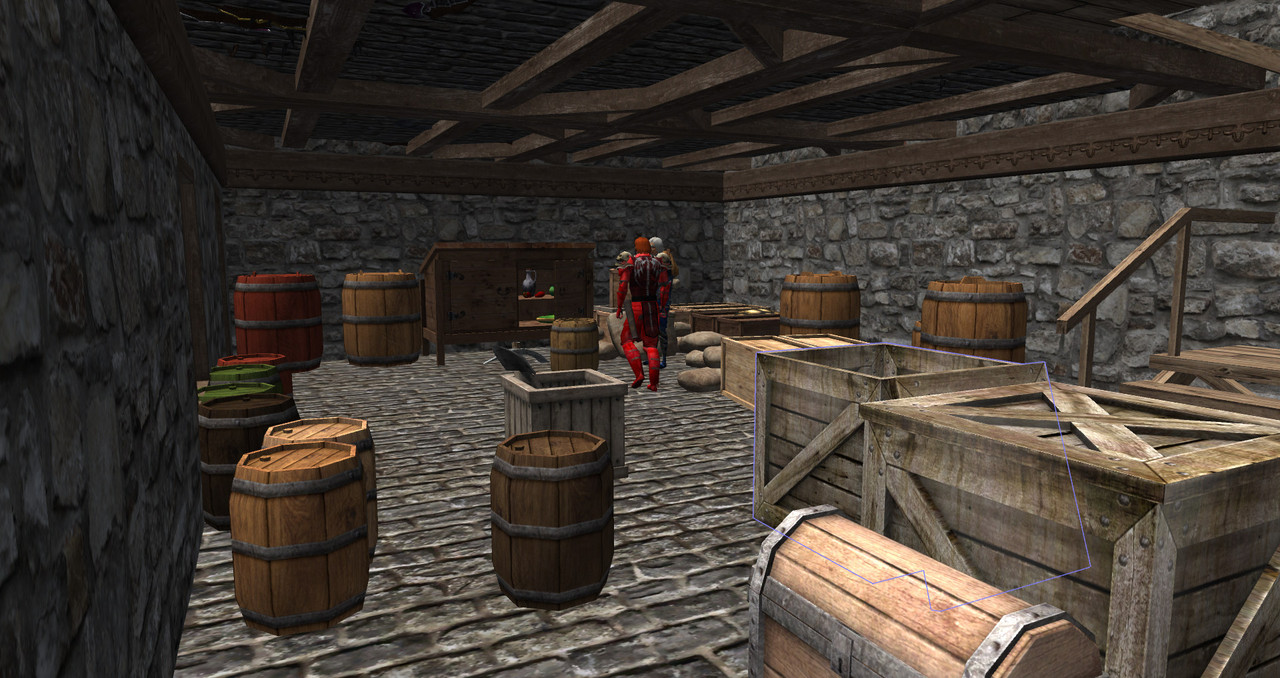 Snidor: "In this room I identify all the fragments."
Snidor: "This is the slaughterhouse. I think it looks better in here. I like it all. Working on the dragon statue at the moment... but 144 fragments are very hard."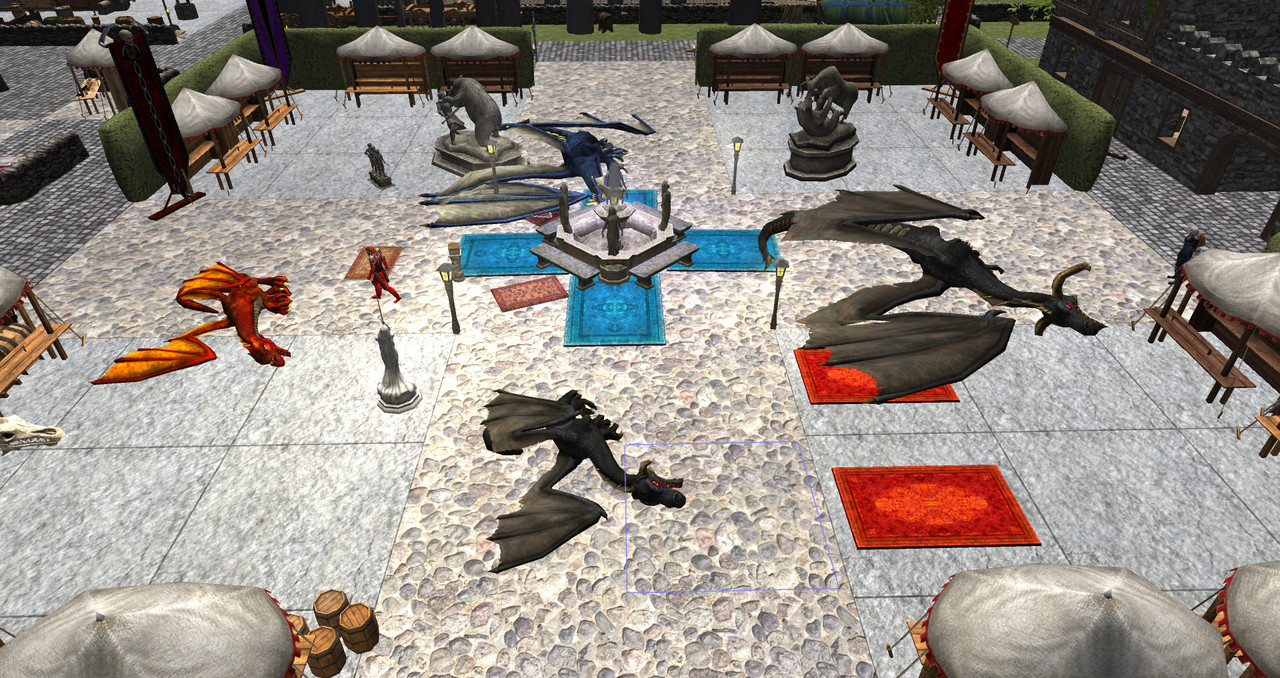 Snidor set out the dragon corpses for us to see. All prizes from various unique fights.
Snidor: "I think you've seen all the deed. I am very pleased with the big bridge. So many hours of digging dirt, put the dirt in crates and bsb's and then to water."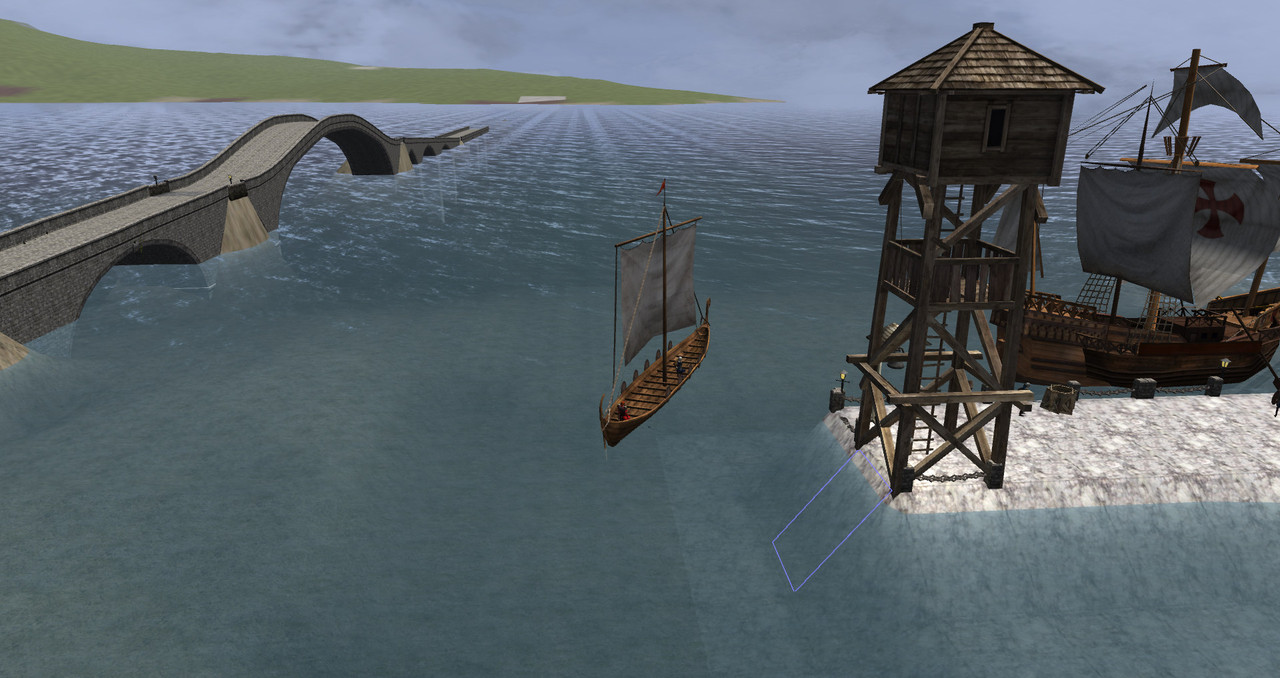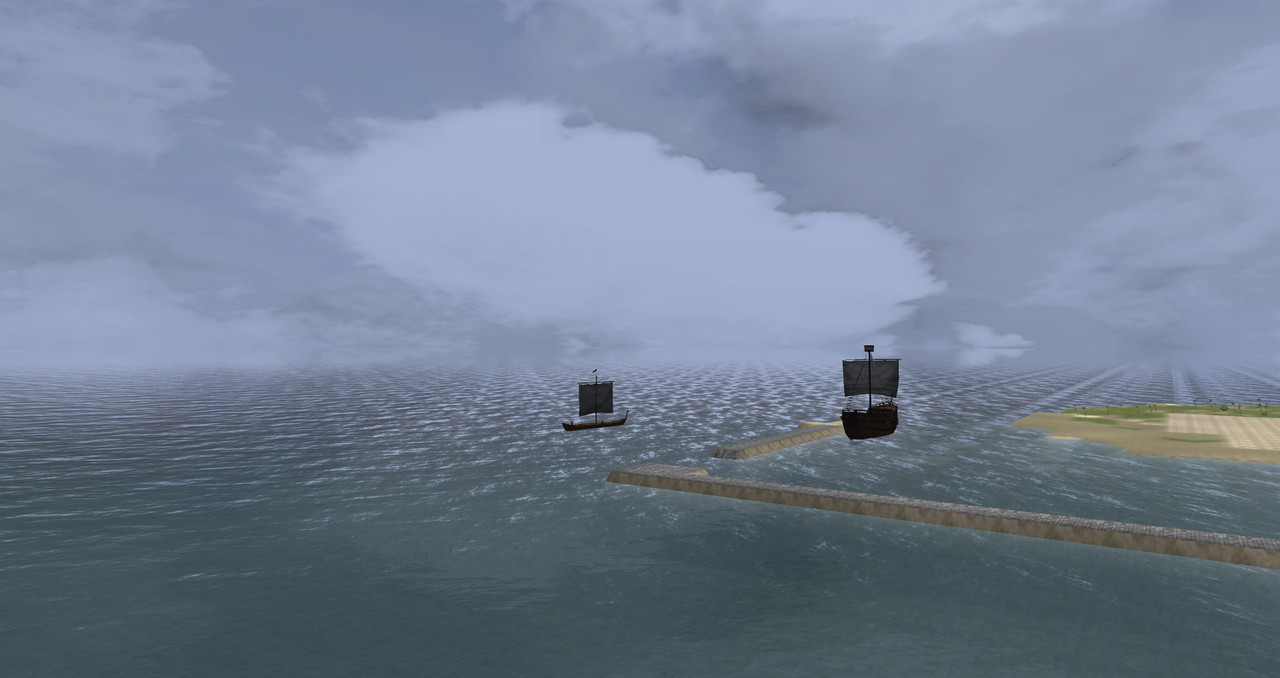 Then we set sail back to Novus to Snidor's current project of a massive underground harbour/market place. As I relaxed in the boat I pondered on the beauty of a deed on the coast and how a few players can make such a great town.
How even fewer have the tenacity and foresight to build such an amazing bridge. Thanks Snidor for the tour and insight into your Wurm life.
Reporter/Editor Elfin and Team Elfin
Photographer The Amazing Goodgirl
Special thanks to Tomservo for the original idea of Liberty Lives.