Post by elfin on Jul 15, 2018 6:36:30 GMT
LIBERTY LIVES - ARBANKA - MAYOR of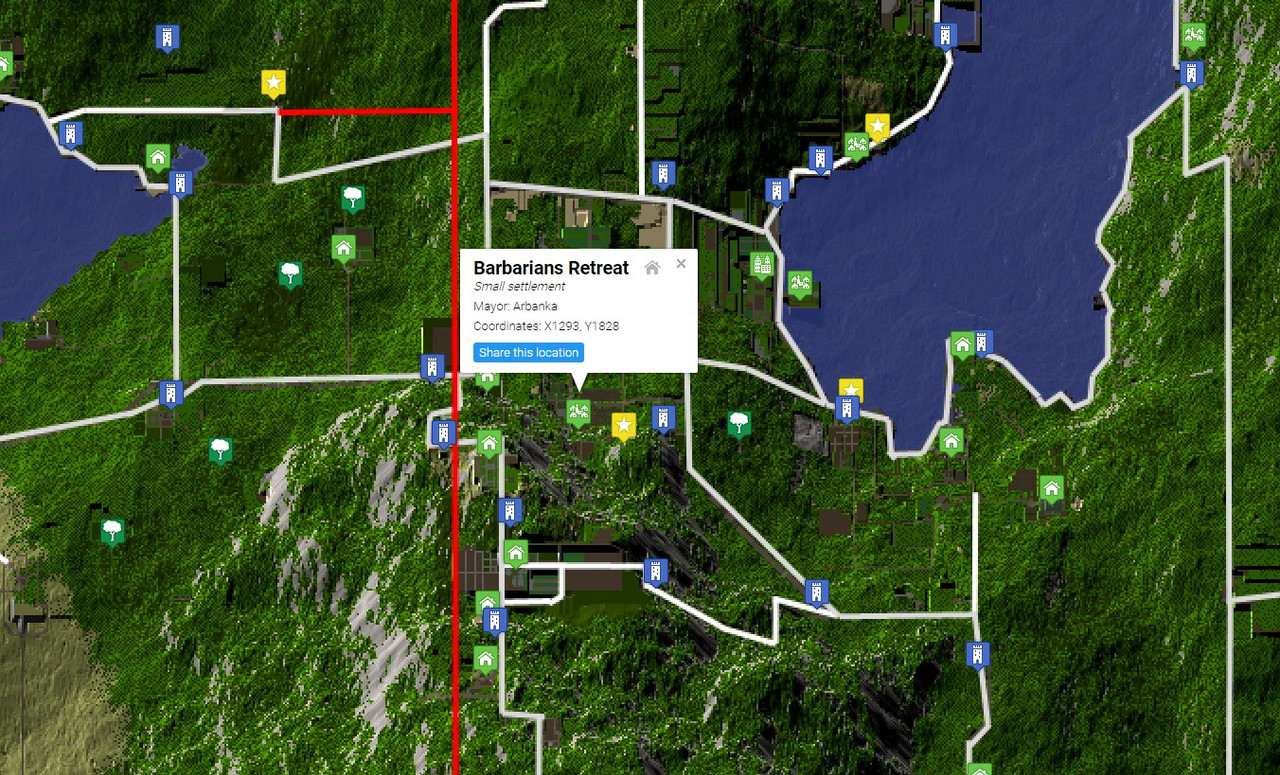 I have known Arbanka (Arbi) for many years. We met through a mutual friend, Lumi and we have spent many long hours playing Wurm together, working on various skills and getting faith and prayer for our priests up at Tap Dance.
I am delighted to interview her for Sklotopolis' Liberty Lives.
Arbanka lives in Germany and English is not her first language.
Arbi began playing Wurm twelve years ago after watching her son, Wieseltrupp, play it. They began on the Celebration Server. They have played other games, Settler 3 is one that Arbi likes to play, however she loves and spends most of her time playing Wurm.
With two of Wieseltrupp's friends they made the dangerous journey from Tap Dance to settle with a German player on a deed across the water. They became villagers and Arbi spent the first three months working the leather skill to improve their armour.
This village was their home for six months while they learnt the game mechanics and improved their survival skills. For that time Arbi would groom all the village animals. This took her 60 minutes each day. Her animal husbandry skill improved fast for as soon as she finished the grooming the animals were ready to be groomed again.
This was before WO bought in the deed/animal ratios.
Arbi loved WO and made many good friends there whom she is still in contact with. However since finding Sklotopolis it has been hard to return to WO as she finds it is a much harder game. The cost also was becoming prohibitive. Arbi feels she will never return to playing WO. Her friends and the wonderful memories from playing there she will keep forever.
Arbi's mother died suddenly, without warning, and for some time Arbi could not play WO and took a complete break from the game while she grieved.
When she wanted to play again she tracked down and followed her two good friends, Lumi and myself, finding us on Sklotopolis. Arbi arrived in Haven and rode out to the west coast where she made a small deed, Ravens' Bluff. There she began to breed Hell Horses.
Overjoyed to be reunited with my good friend I picked her up in a large cart and showed her where Lumi and I had settled. We travelled south through the BG tunnel which earlier Sklotopolis players had built. This tunnel amazed Arbi, she was awed by it.
Arbanka: "I remember when you picked me up in Ravens Bluff and I saw for the first time this awesome BG tunnel. It was so big, it was awesome."
After visiting us at Avallone Arbi found a nice spot nearby and made her second deed, Barbarians' Retreat, nestled in against the mountain. We were neighbors again.
She began to build a settlement with Wieseltrupp and his two friends, Chase and Bigpanter. First they made a mine and built a smithy there. This became their home base. She laughed as she recalled some mining mistakes that Wieseltrupp had made and how they called a Magranon priest to come and collapse tiles. Once the home base was set up Arbi began to create and up-skill some priests. The sermons ran day and night and all were invited to join in. She would drive down to Avallone where we held the sermons.
Arbi recalled enjoying the meals that I cooked just as I had done in WO. Arbi does not like to do the cooking skill or the farming skill, I love to do both. Instead she enjoys the animal husbandry and enjoys breeding the horses. Crafting is another skill she enjoys. On Sklotopolis she has also done a lot of terraforming.
When not working on skills Arbi likes to go out and explore. Only if she has time for it. While sharing this, Arbi reflected that in Wurm she has found that you are always learning things. Each day she learns something more it seems.
At the moment she plays a lot on Novis. Here on Liberty she has plans to rebuild her animal pens, making them bigger. One of the animals she has much pride in is Arbanka the venerable fat Bison. This bison came from one of the early events that Wreck organized in Sklotopolis - hunt the bison with your name. Arbi is surprised that the bison has lived so long.
On Sklotopolis Arbi says she has found a really nice supportive community with a lot of nice events. She has a lot more fun here, more than she has had in all her years playing WO. The other thing she really enjoys in Sklo is being part of the staff team. She was asked to become CA then GM. Encouraged by Tomservo and others she stepped up to fill both roles. She shared that she has learnt a lot from other GM's and Developers. You may have met her in her GM role as Daria.
Now do come and join me on the tour of her deed Barbarians' Retreat.
THE TOUR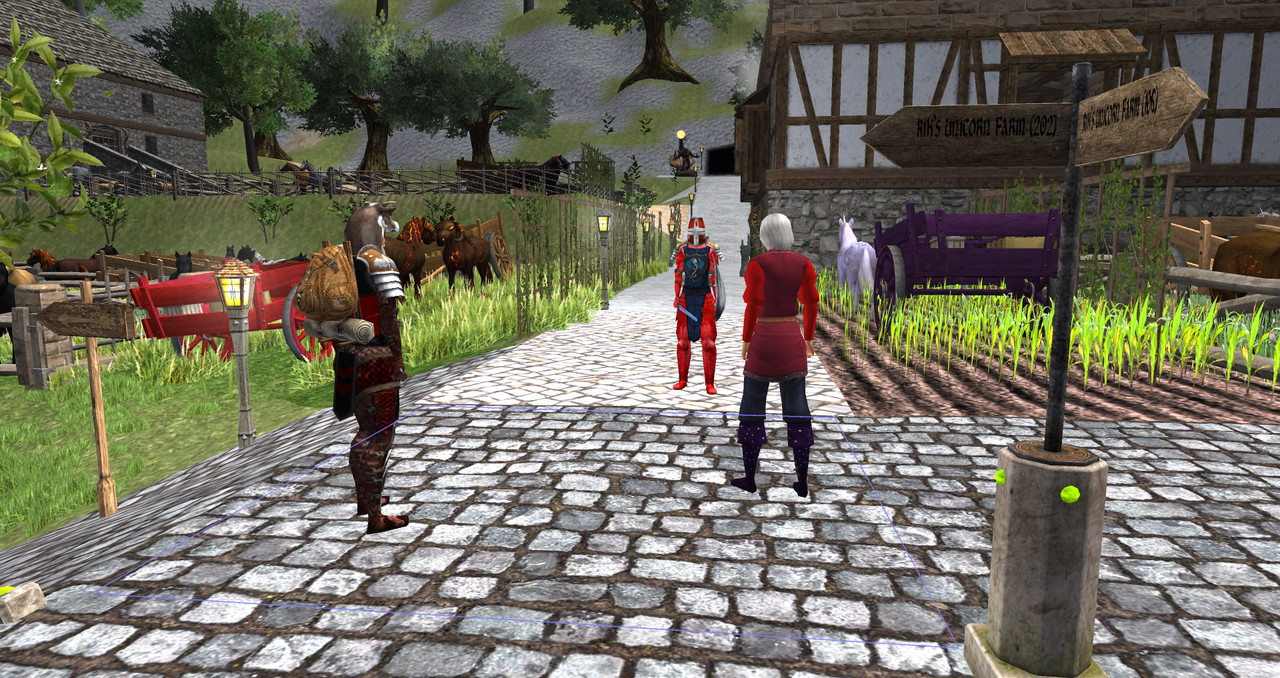 Arbi greeting Iamyourfather, Goodgirl and I and suggested she show us her stable first.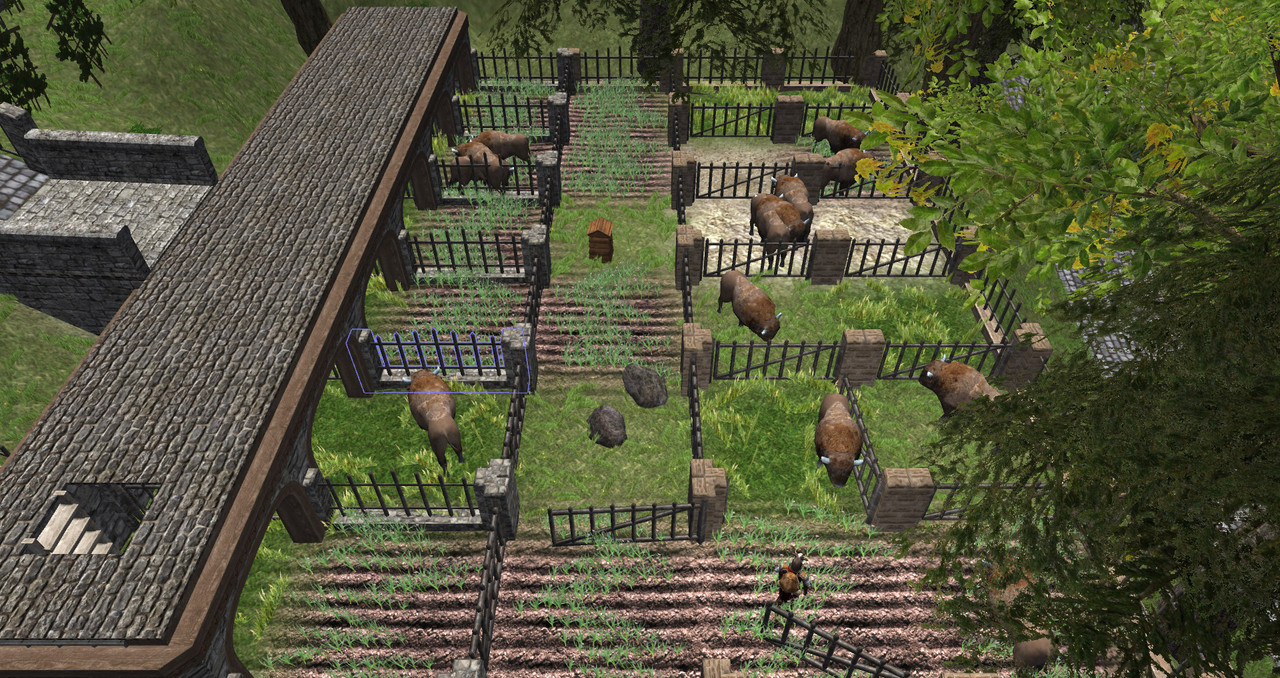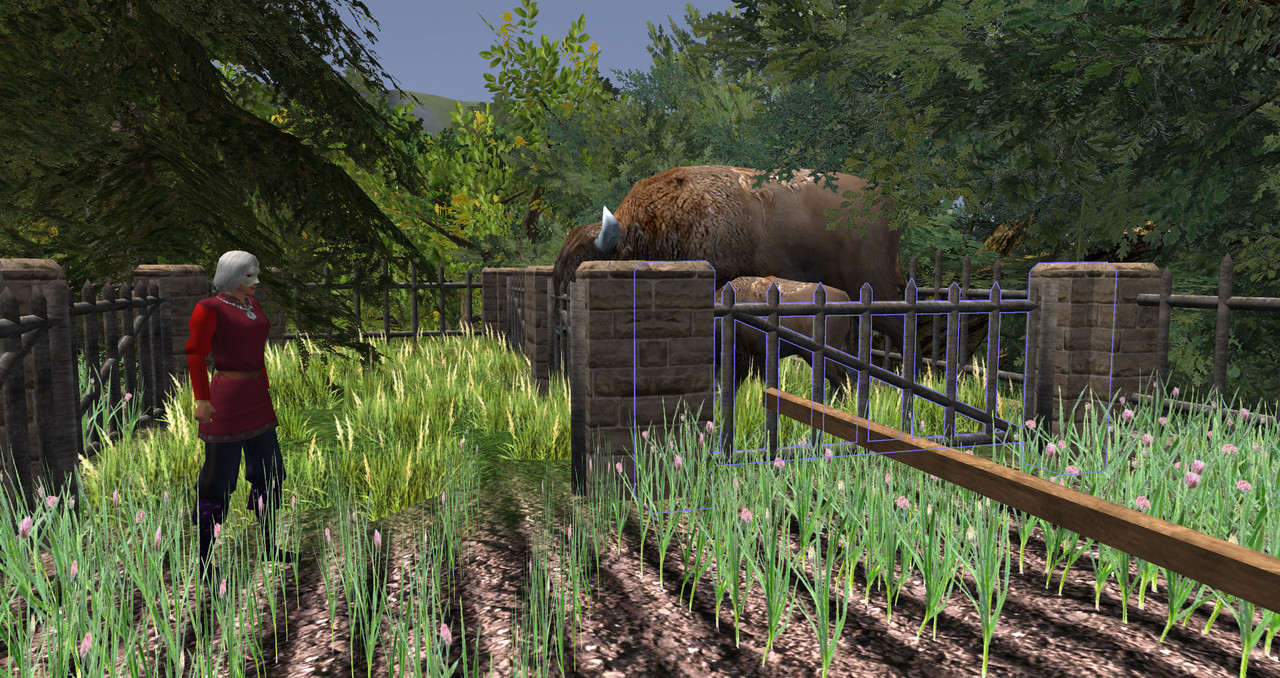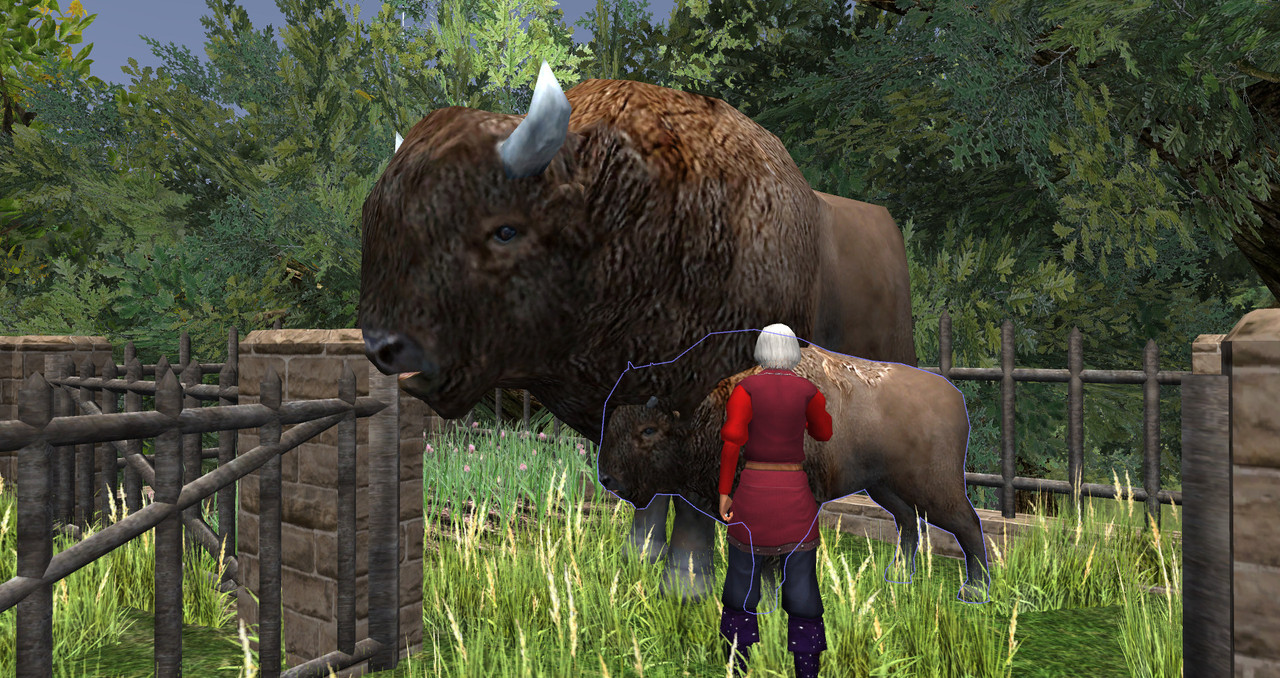 Iamyourfather: "Wow that is big."
Was the response to see Arbanka the venerable bison.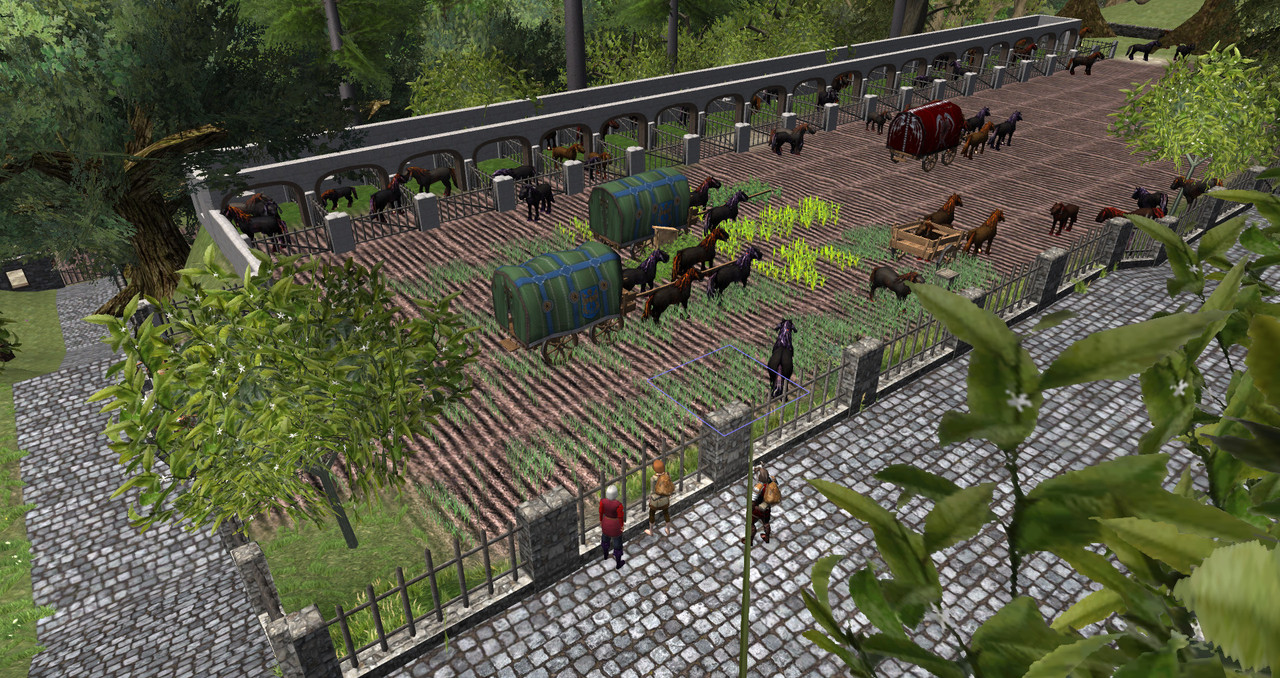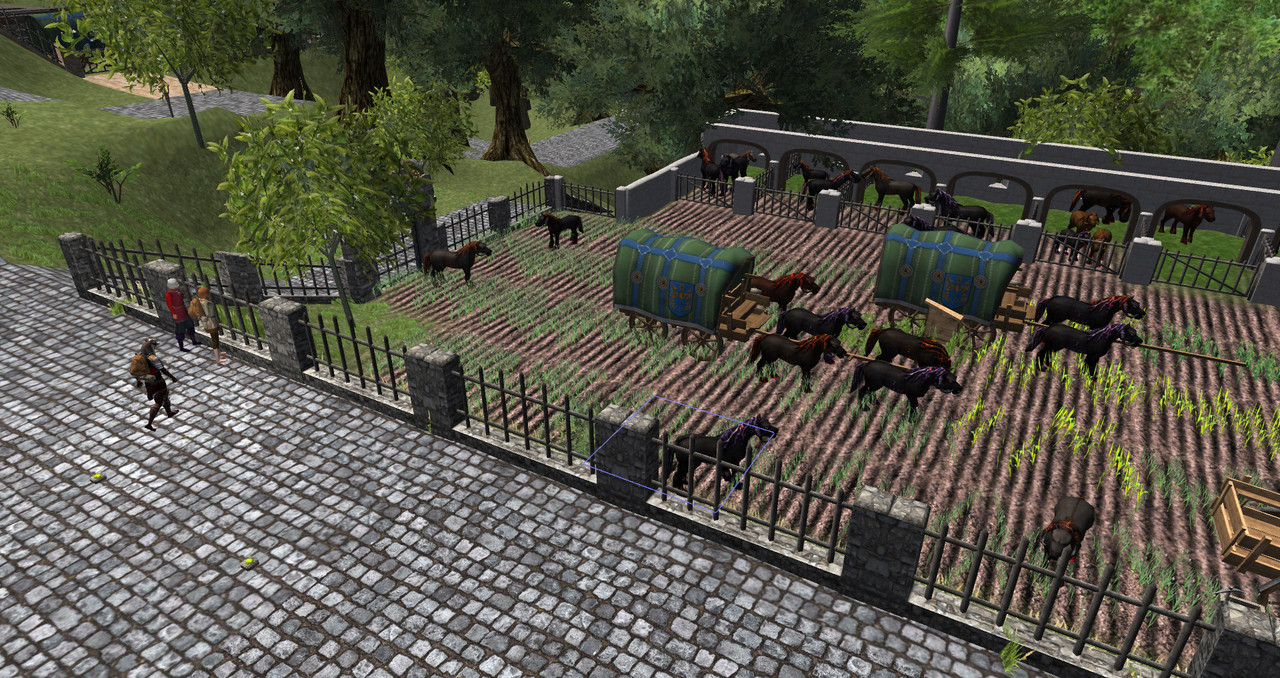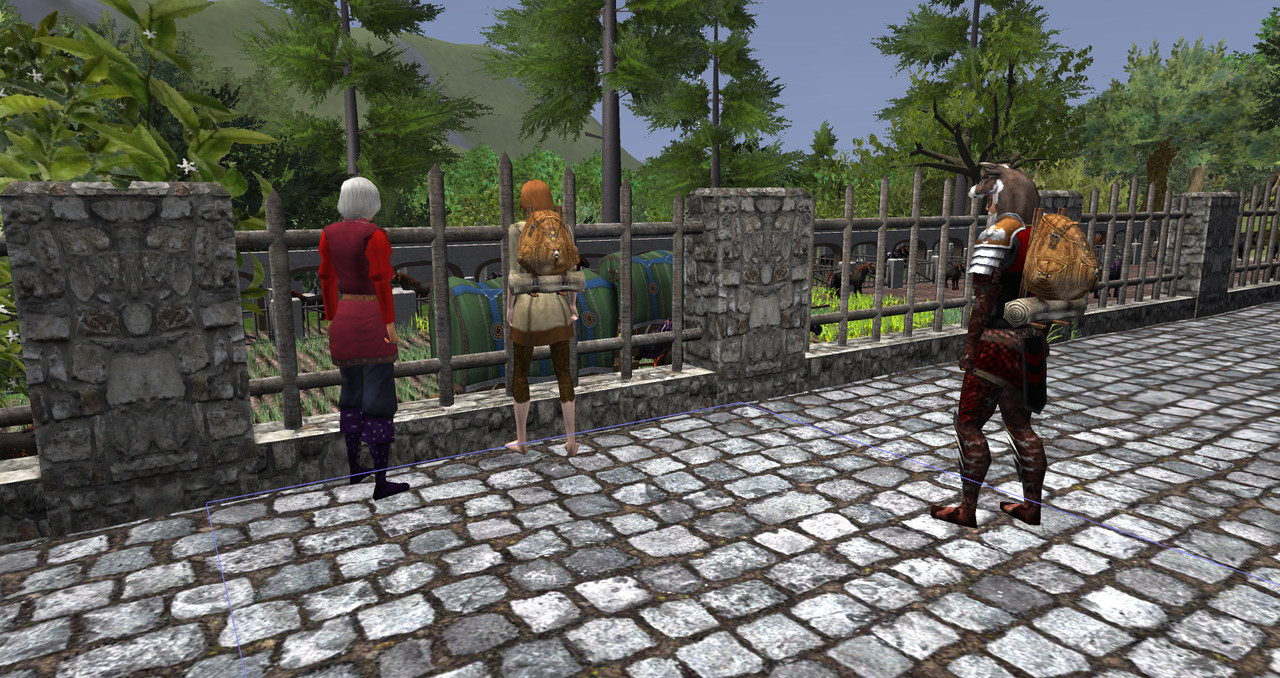 We next saw the Hell Horse stable where only her Fo priest wanders safely.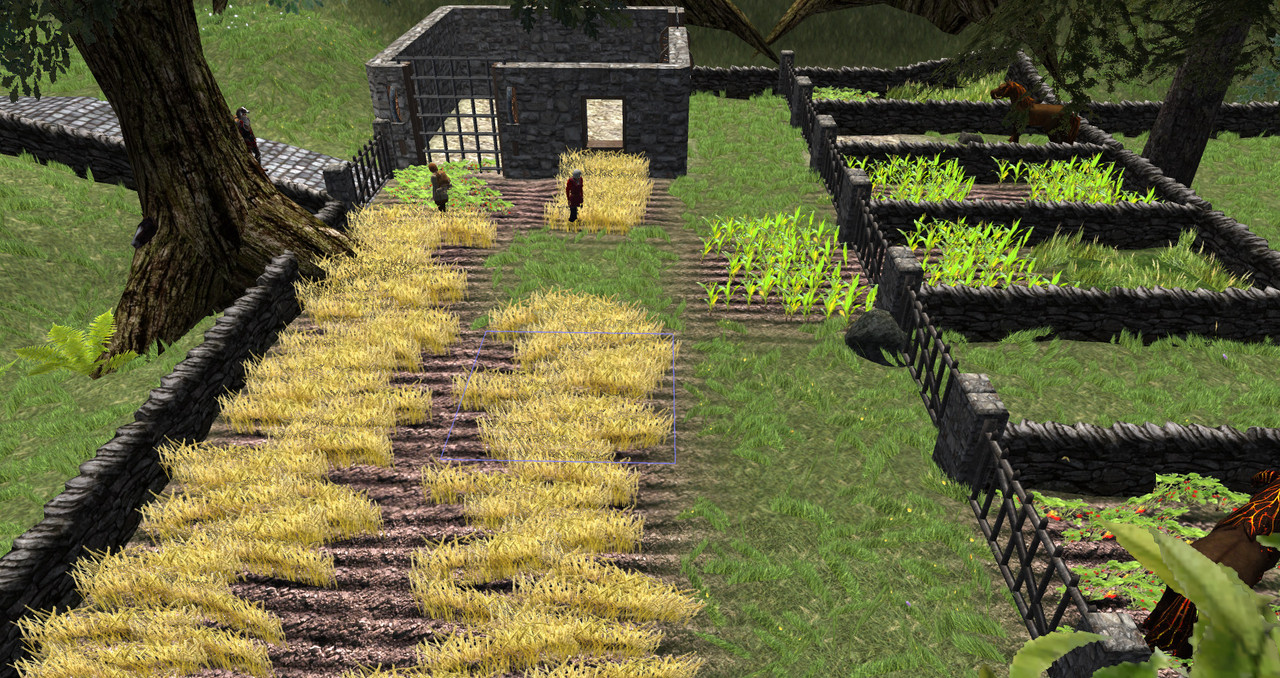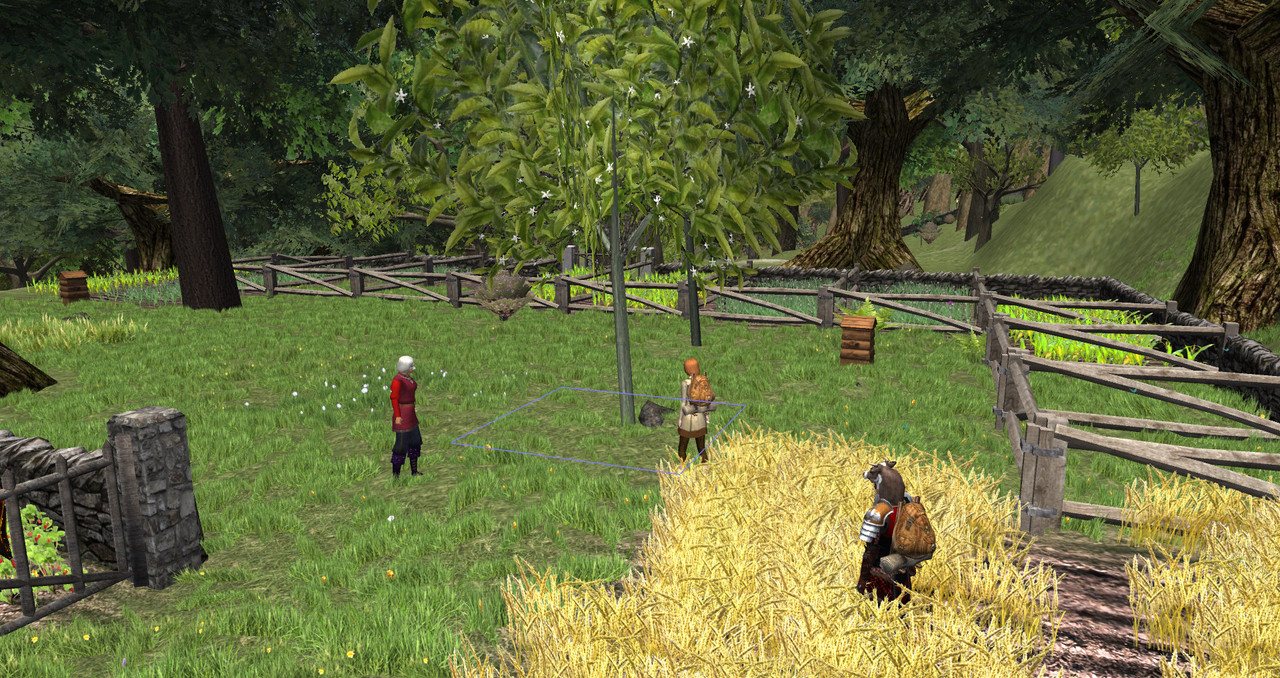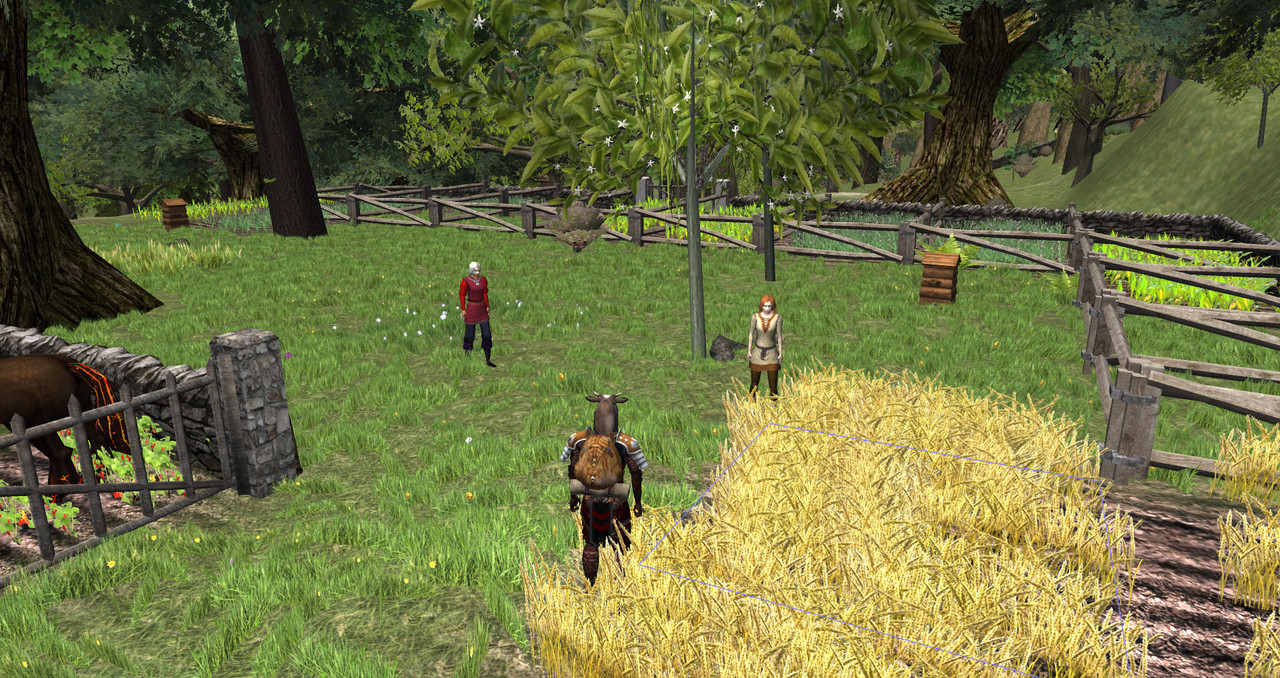 Then we wandered through to where Arbi used to keep cows and sheep. However they are empty as she is busy on Novus.
Further on was a big pen for horses that she does not need for breeding. At the moment it grows trees and Margrey grazes alone.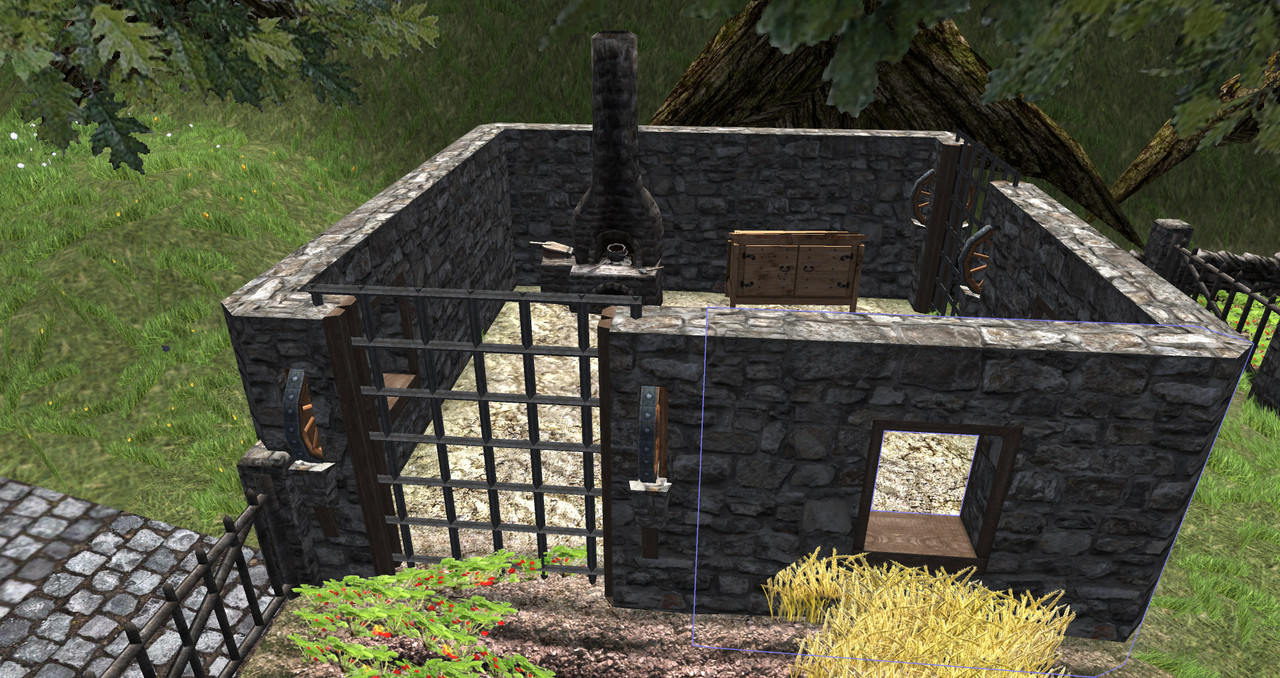 A small building with a Food Storage Bin in was to be a butcher house - Arbi has never used it.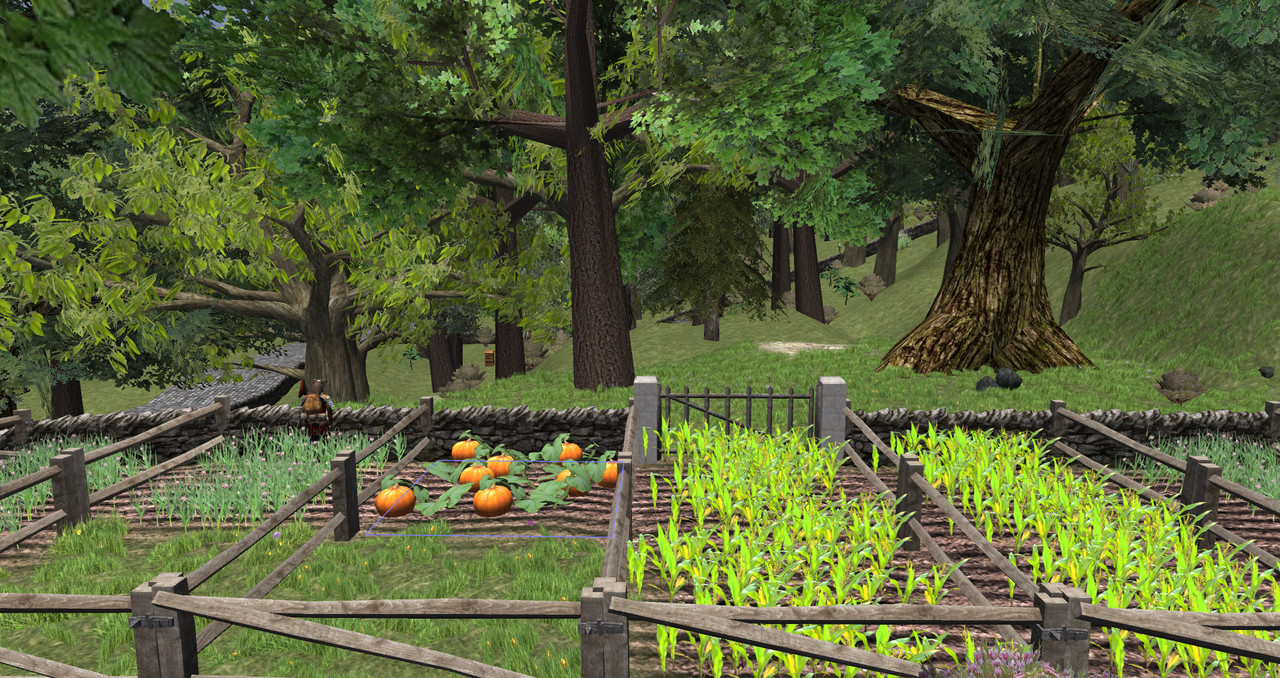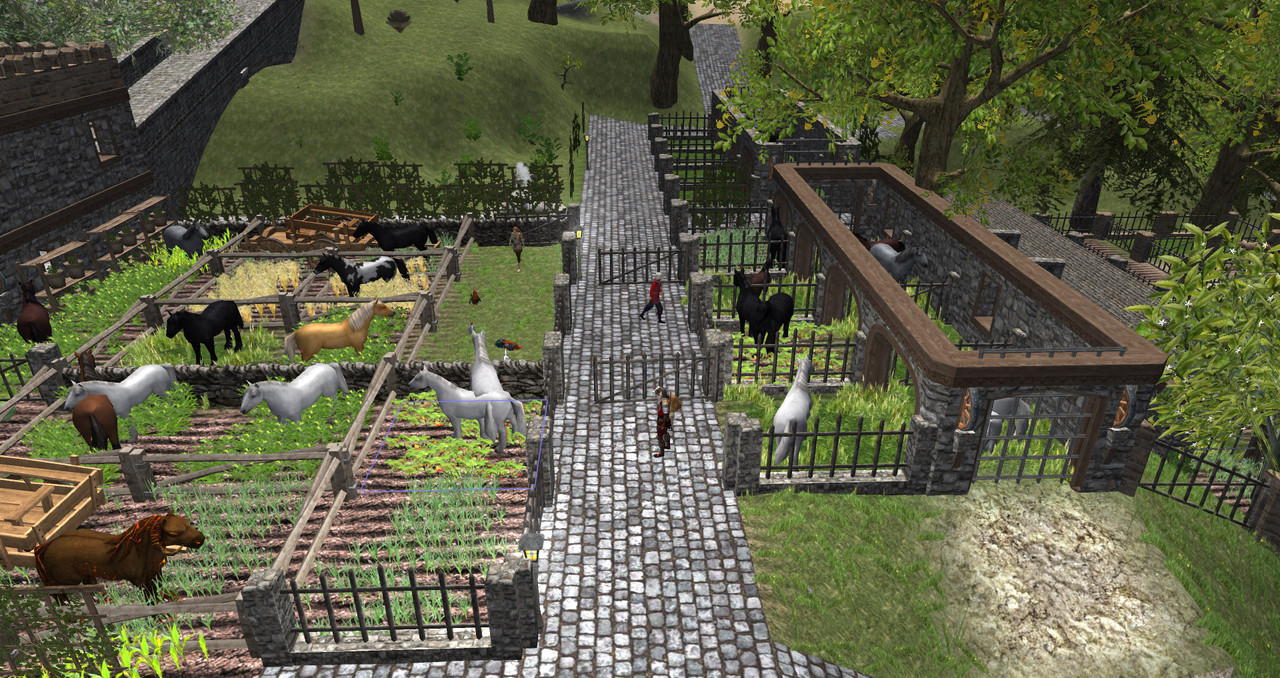 More horse pens and just beside them was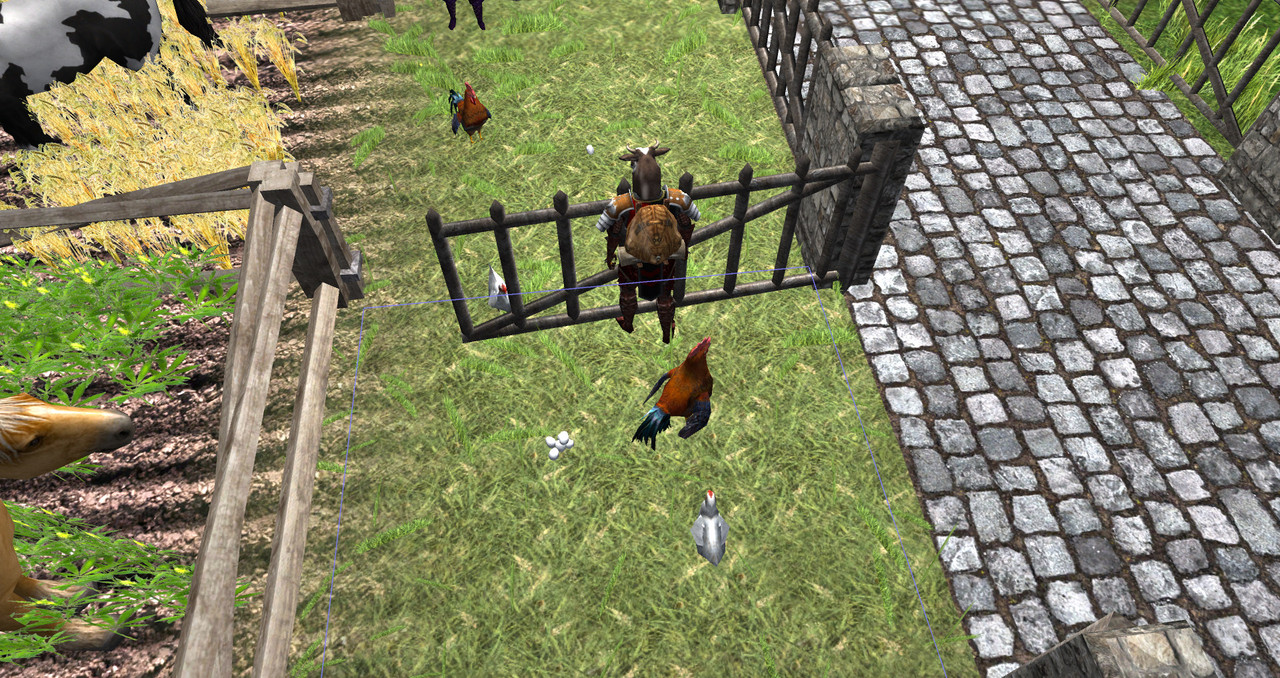 the hen pen.... a venerable hen 'cared for by Arbanka' was happily strutting around. Arbi wonders that it is still alive.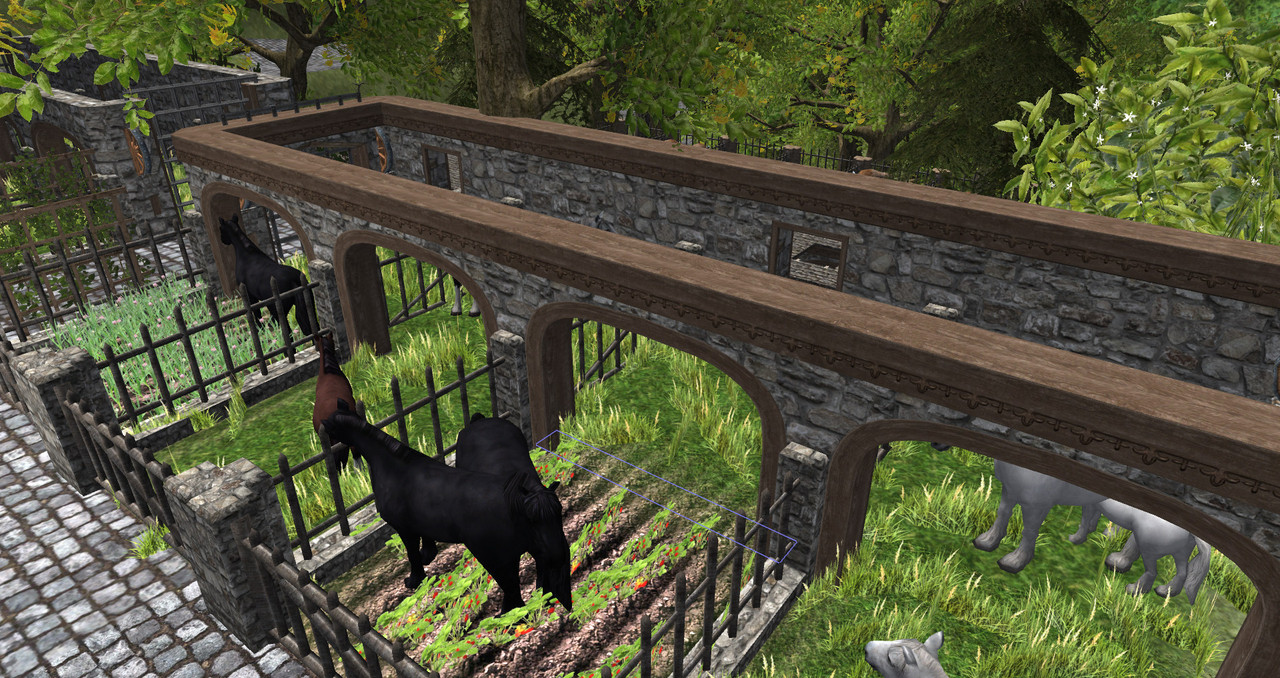 These were the first stables Arbi built on the deed. She plans to rebuild with 2x2 pens soon.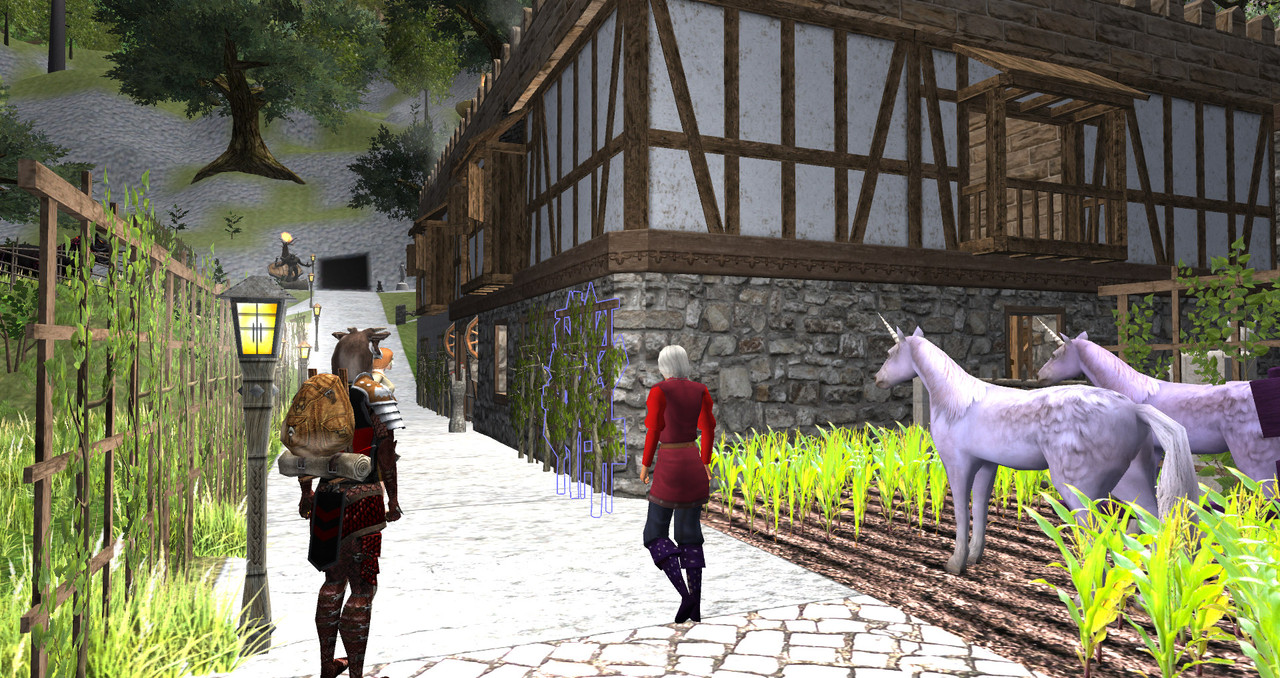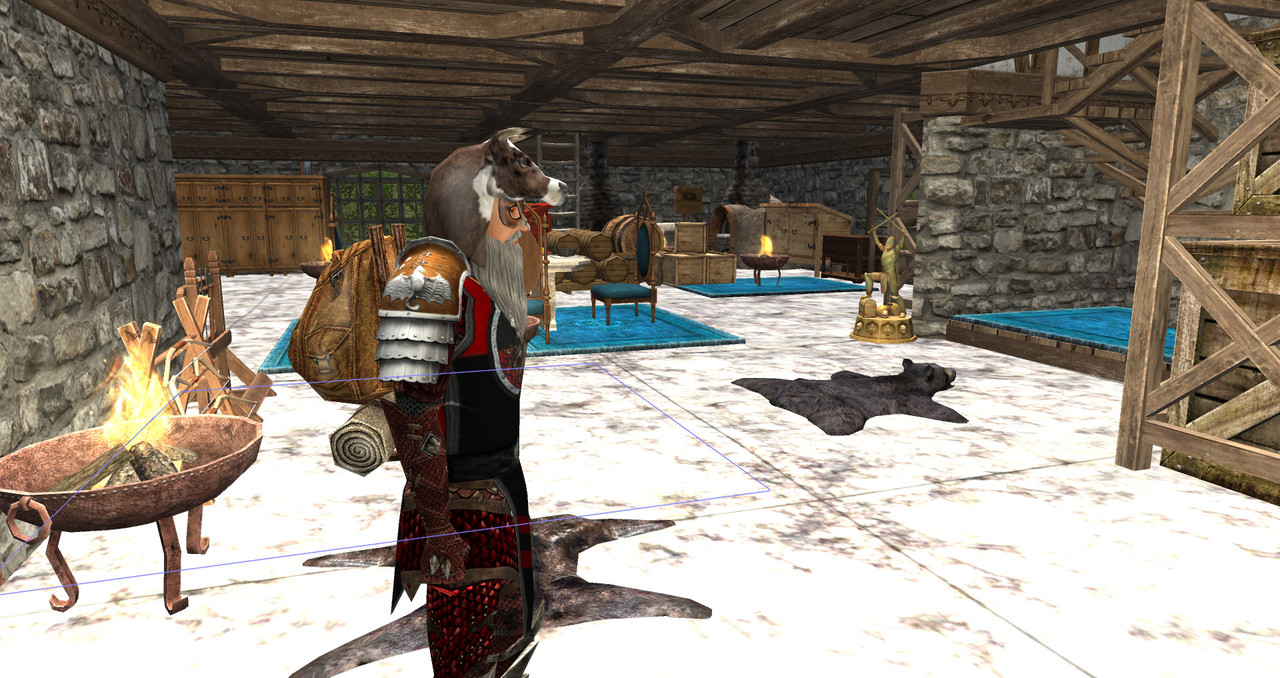 The house was originally built by Arbi and Bigpanter, a friend of her son. Originally it was a 3x5 square.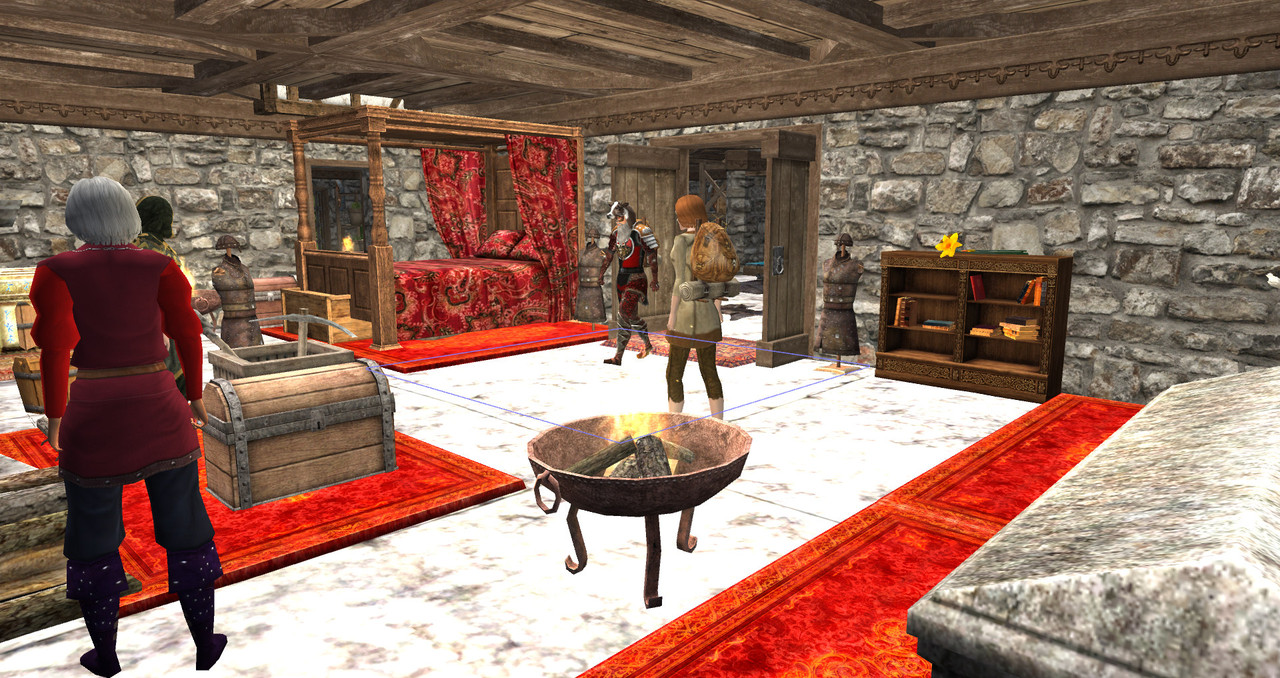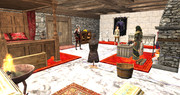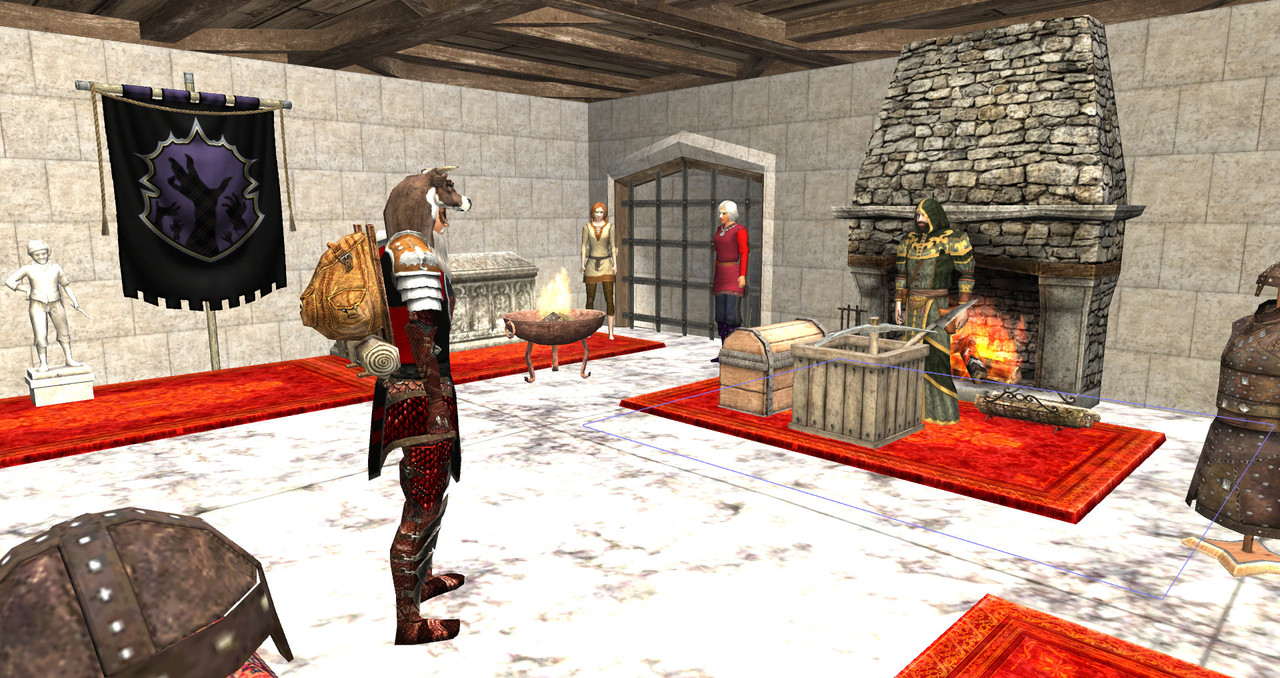 Arbanka's bedroom where she is watched over by the salesman.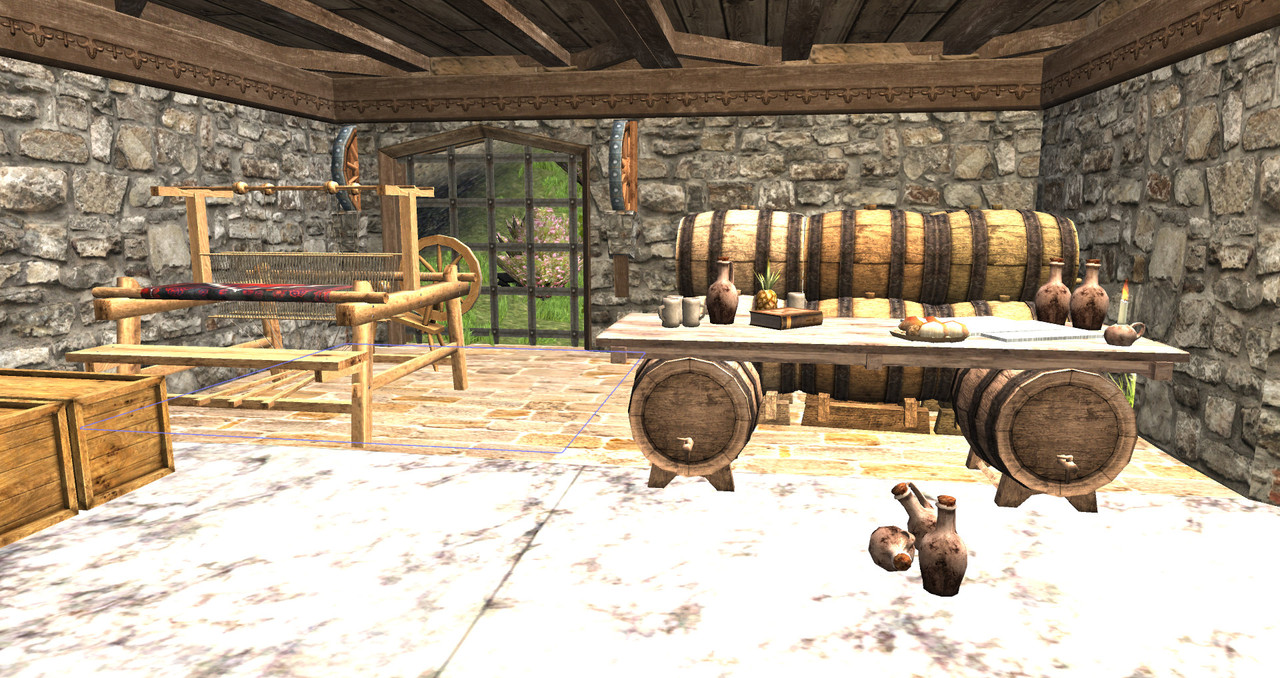 Where her wine is stored and a loom nearby which is rarely used.
Arbanka: "Aarbi does tailoring here from time to time."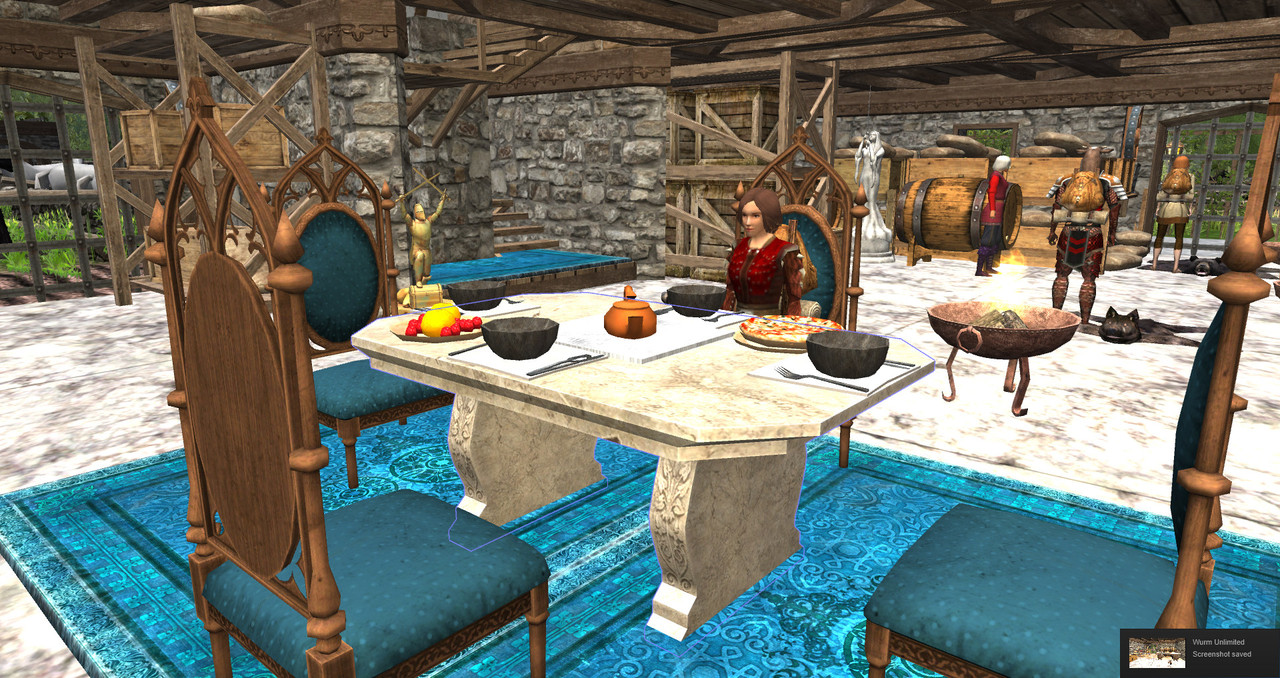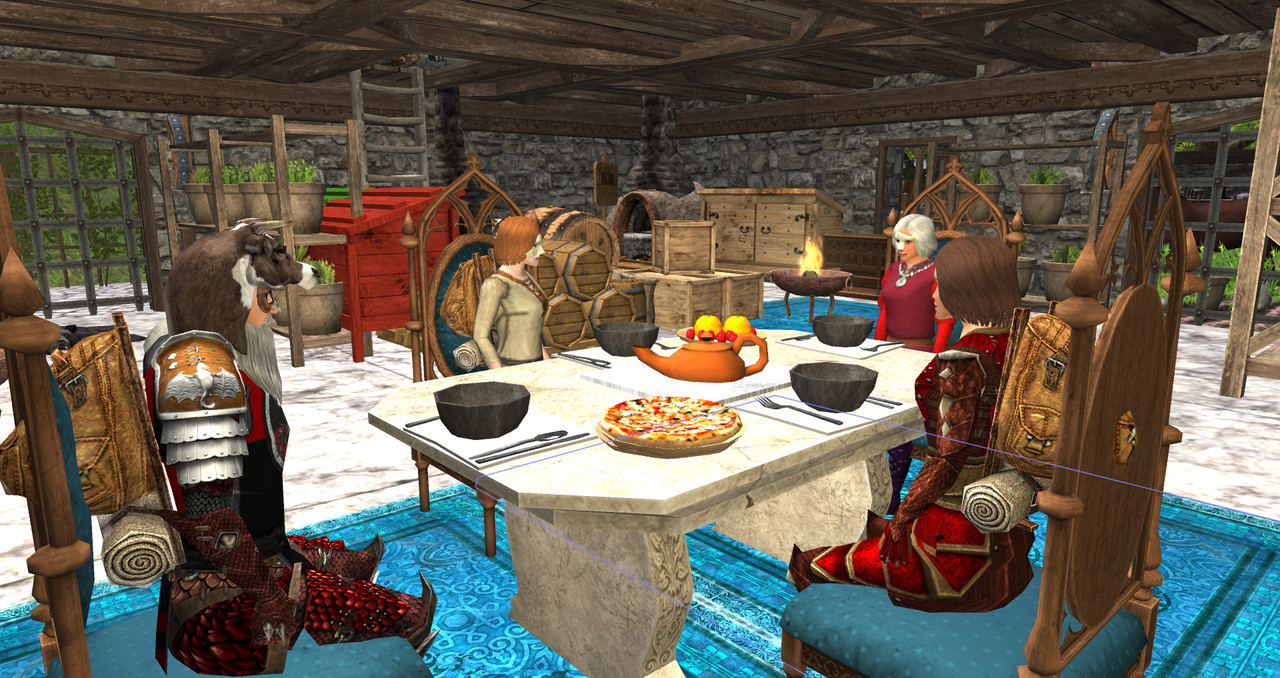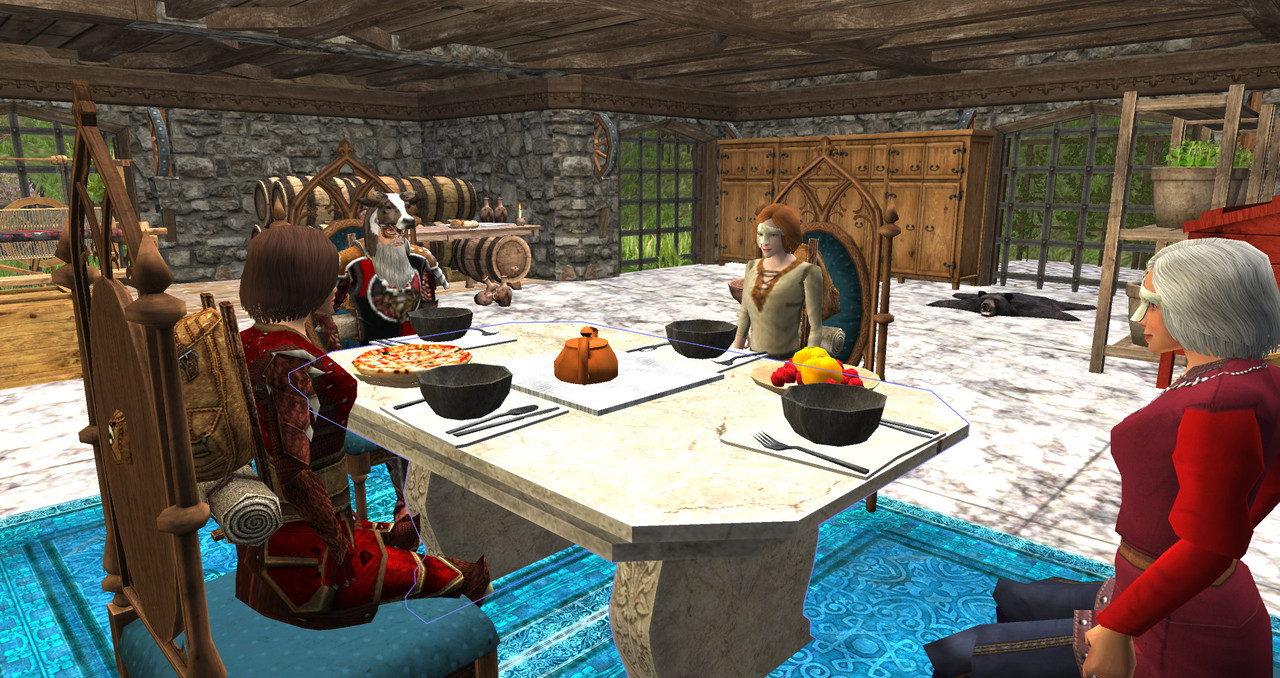 Arbi loves the new place on table and the new decorations.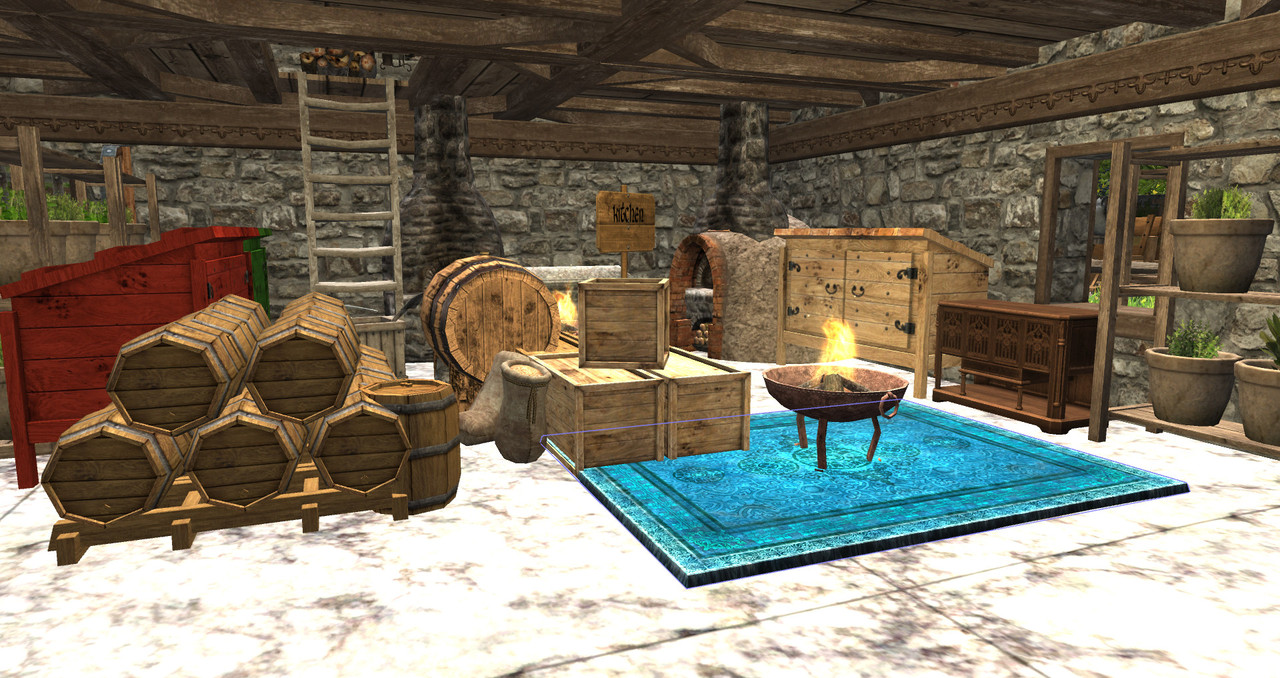 Occassionally Arbi uses an alt to do some cooking here.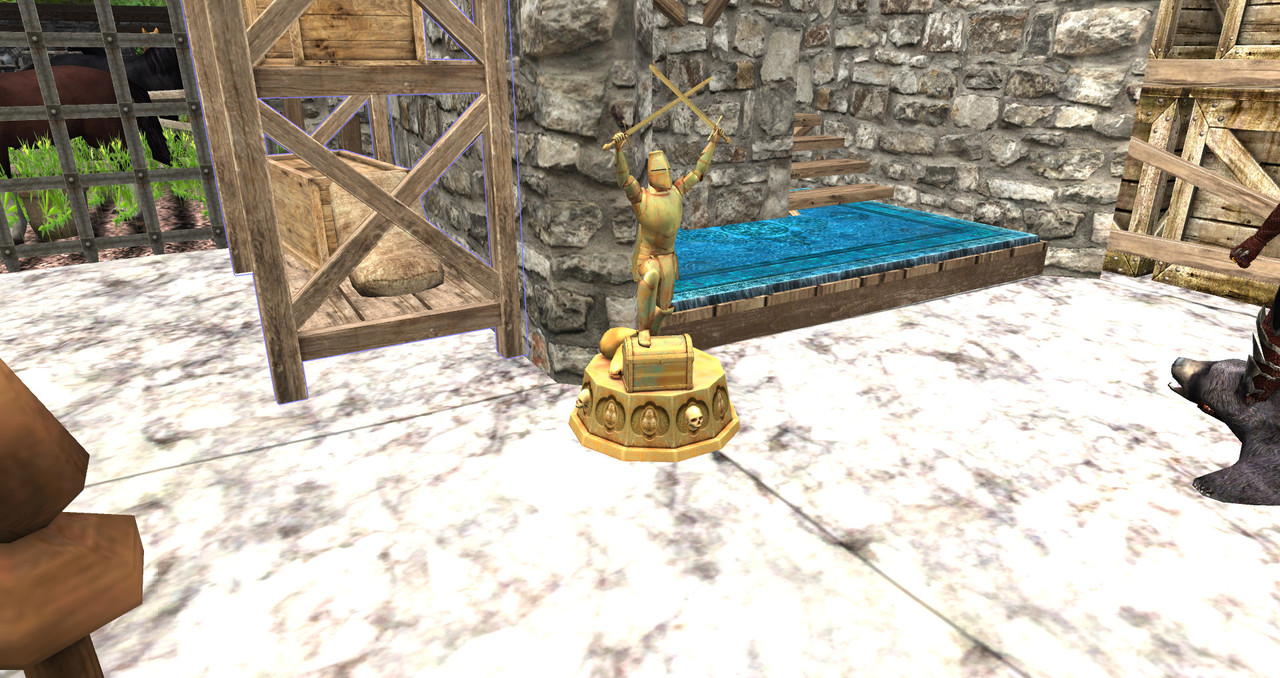 At the bottom of the stairs a statue Arbi won in a contest.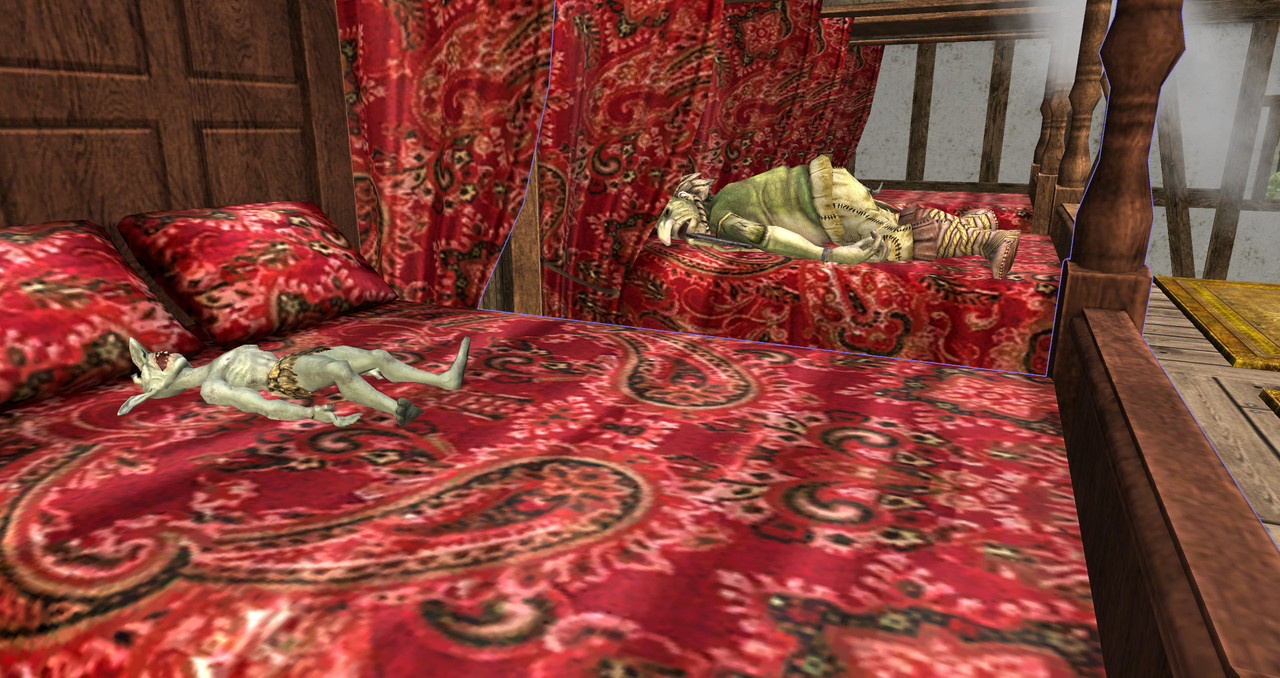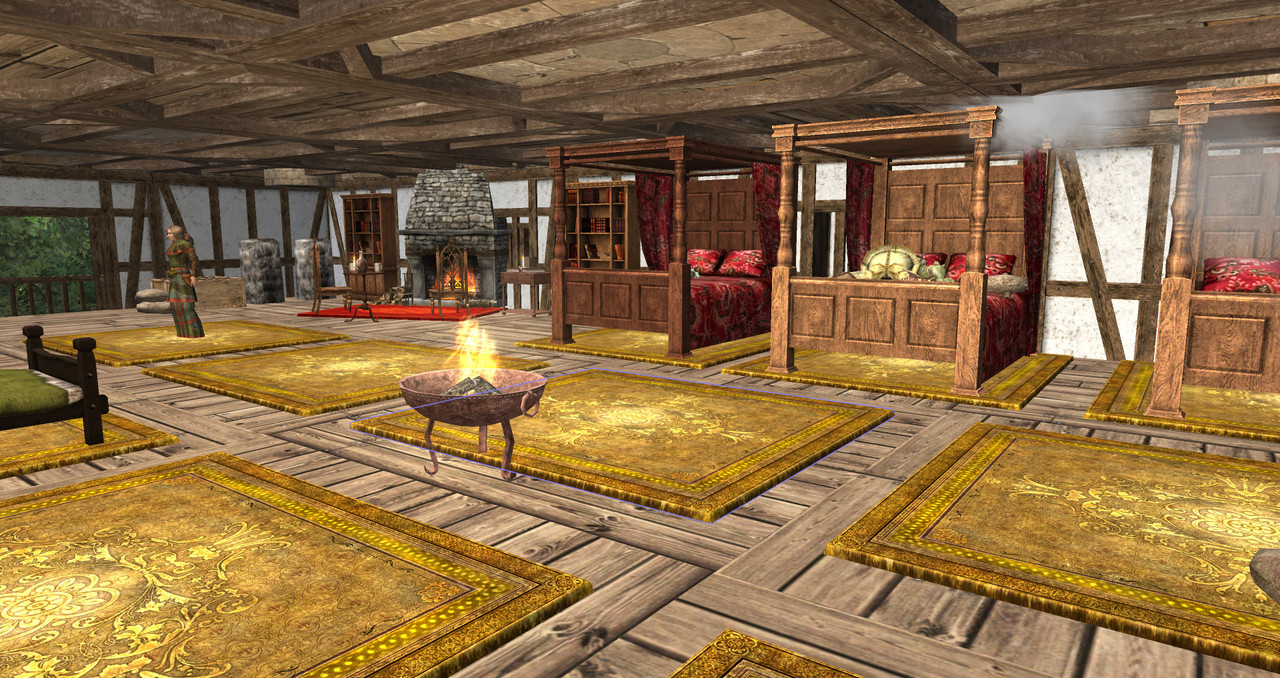 The bedroom her son, his friends and villagers sleep in.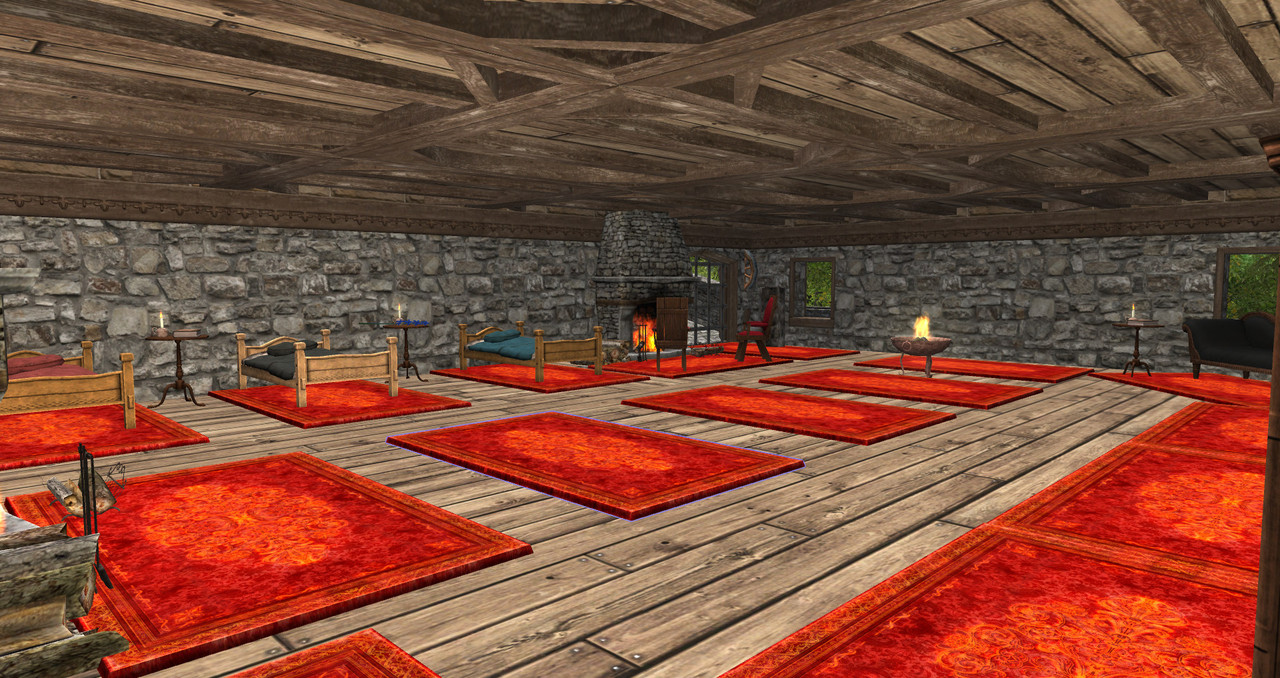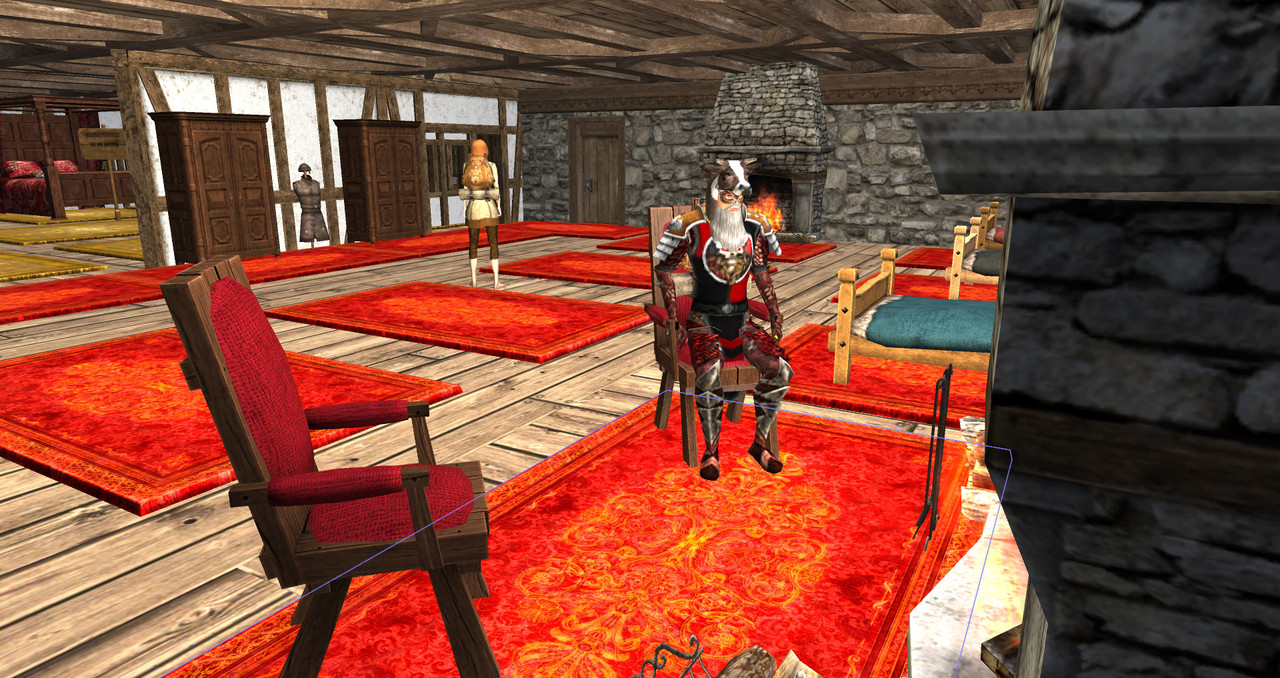 Next door the bedroom for all Arbi's alts.
Iamyourfather: "I love shineys." rare armchair." Iamyourfather found a comfy chair.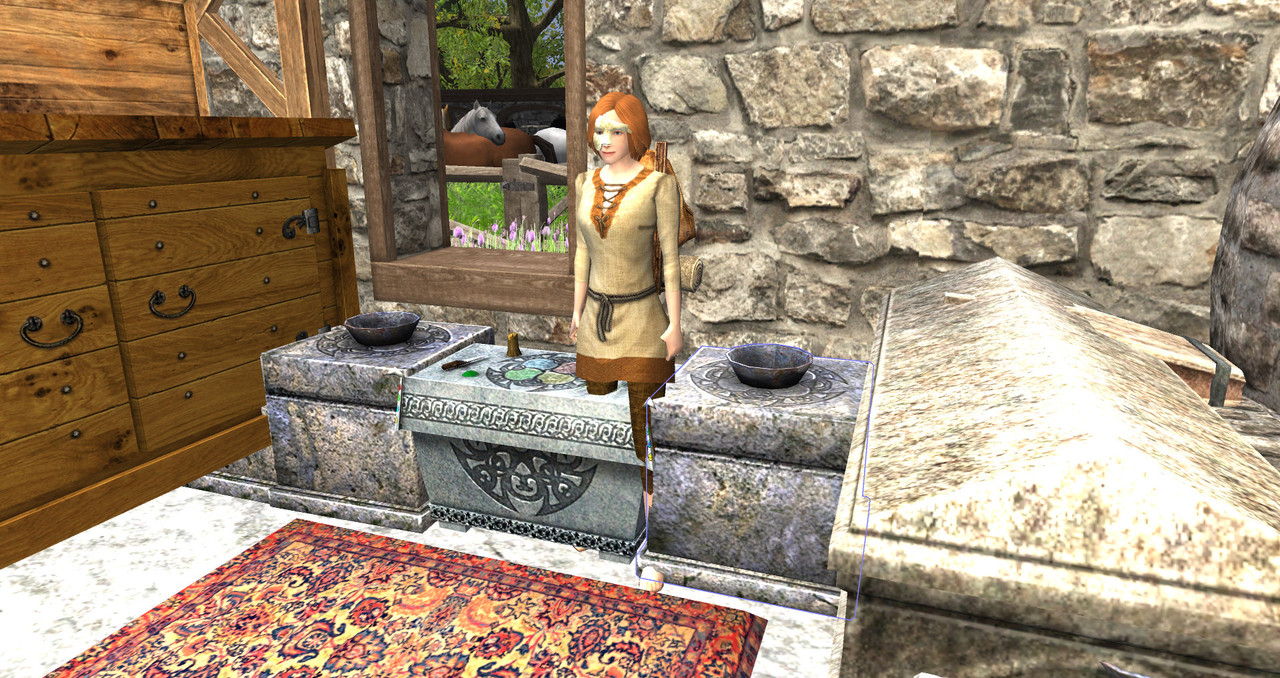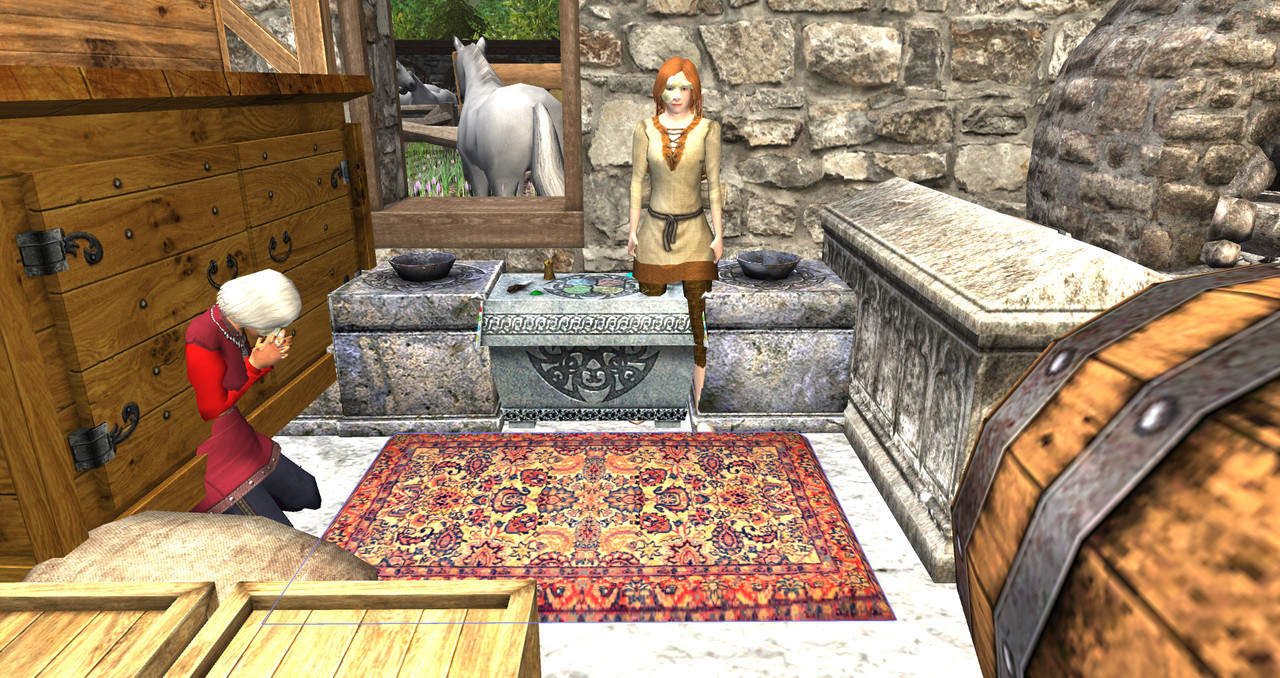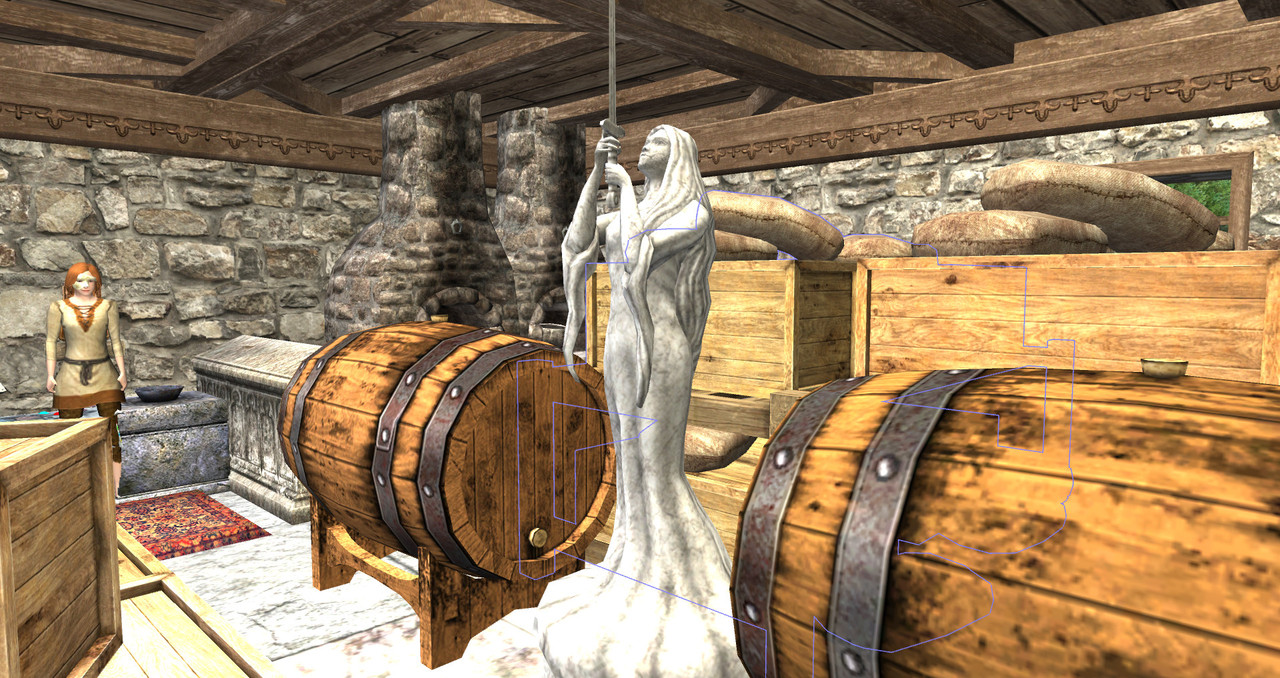 Downstairs the area that Arbi uses to work in and also priest skills. Both done at the same time.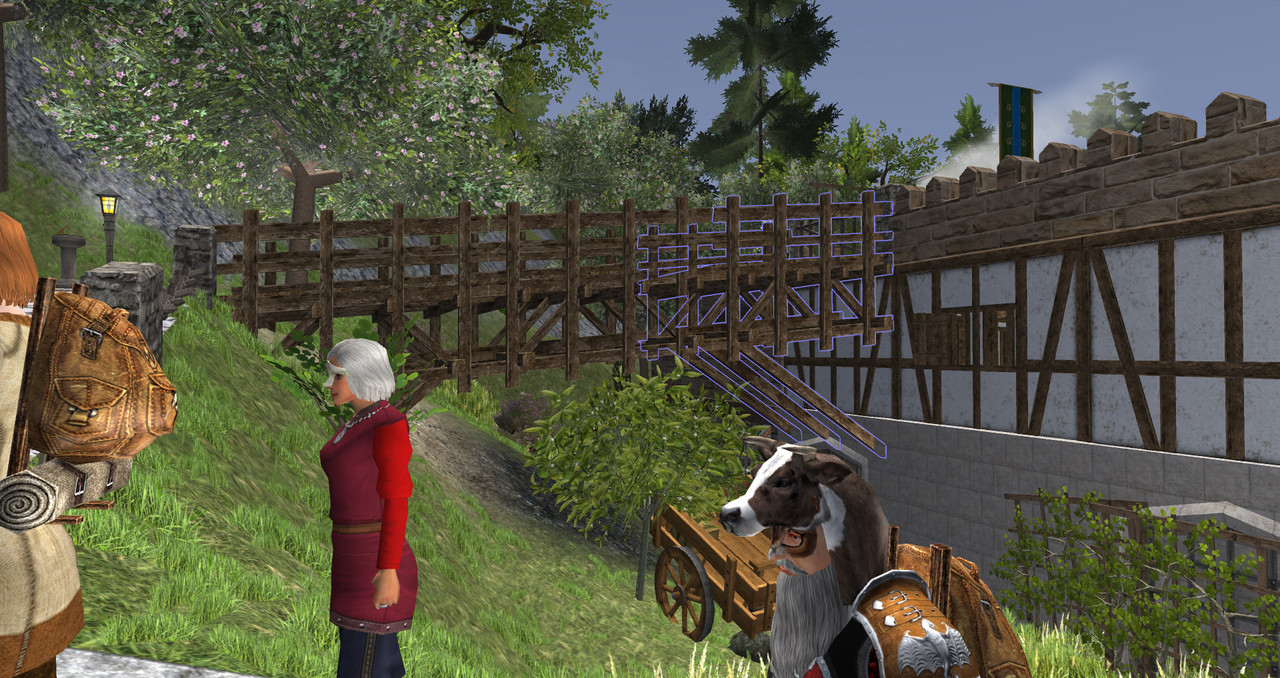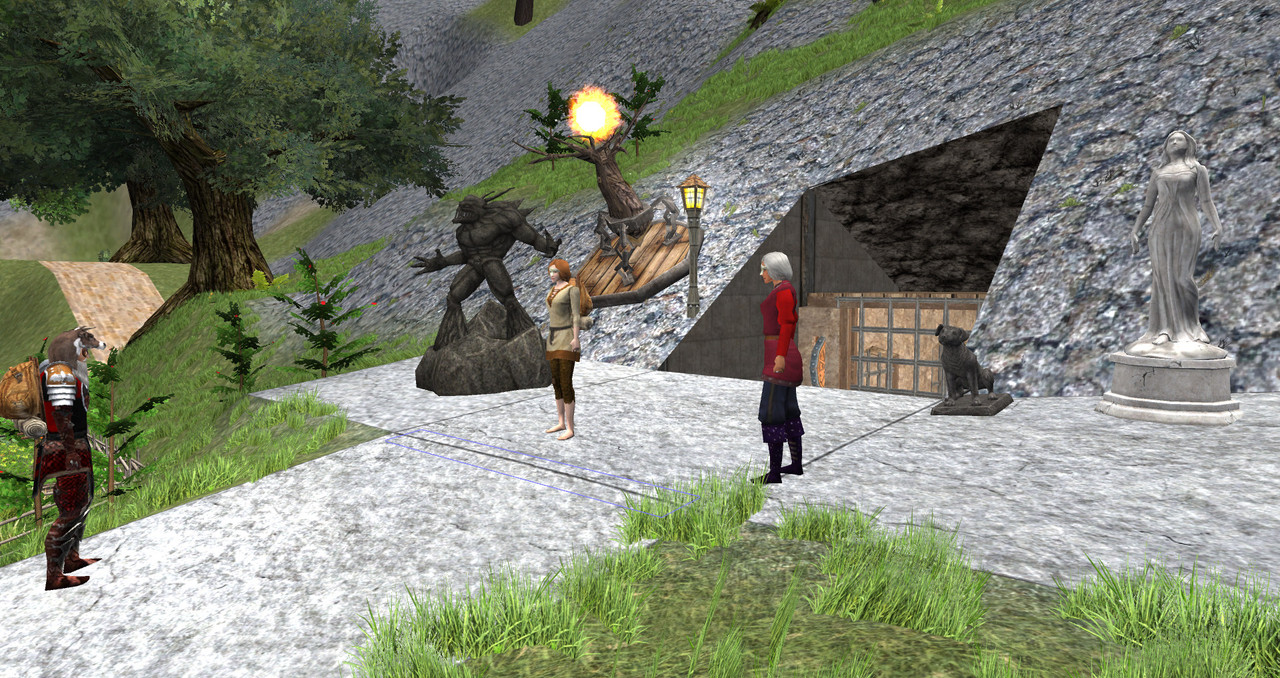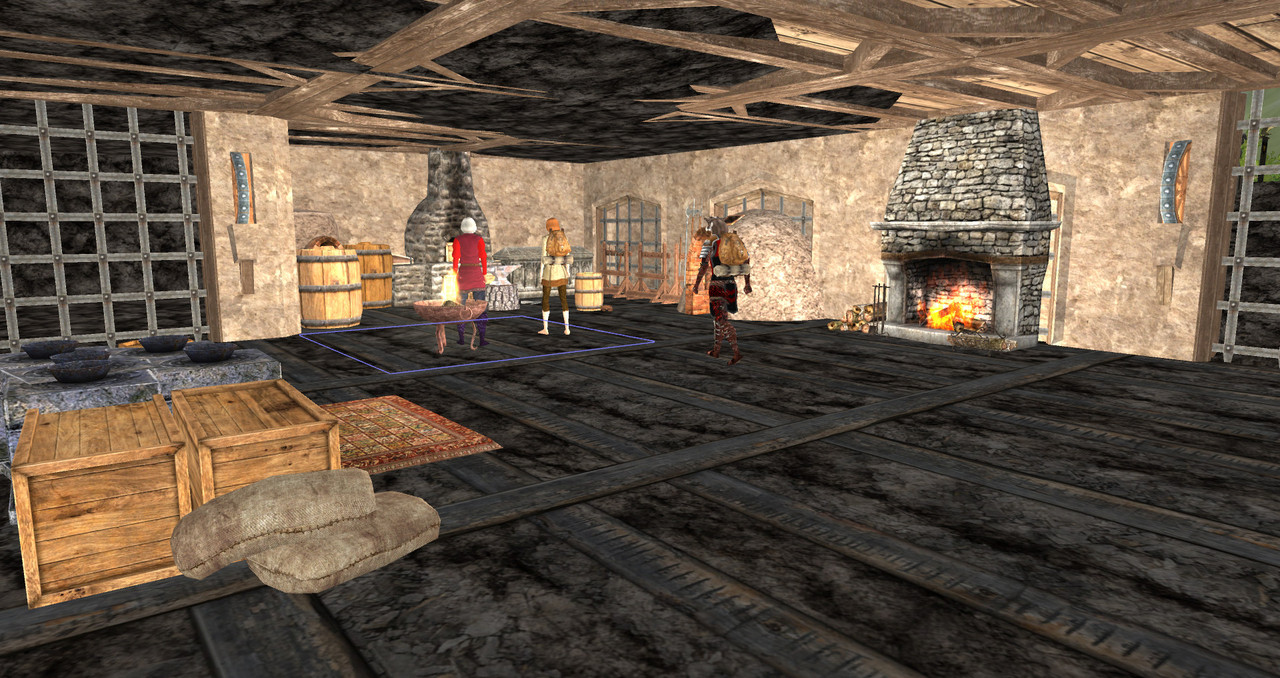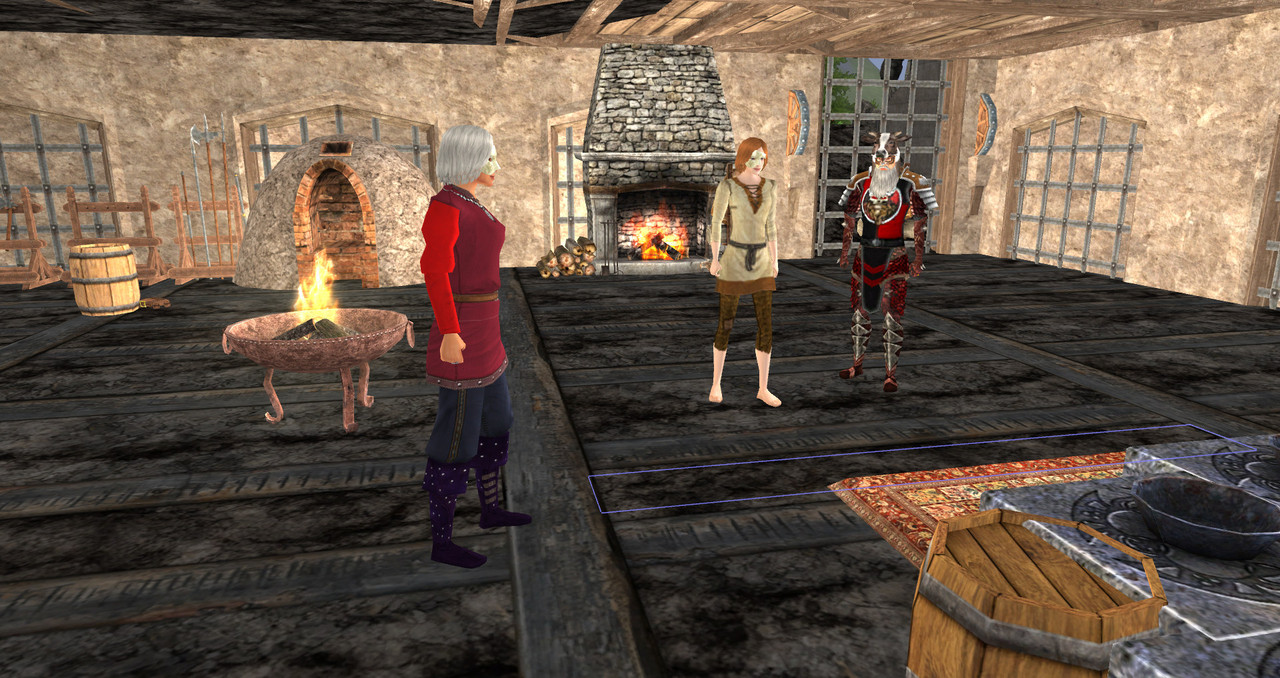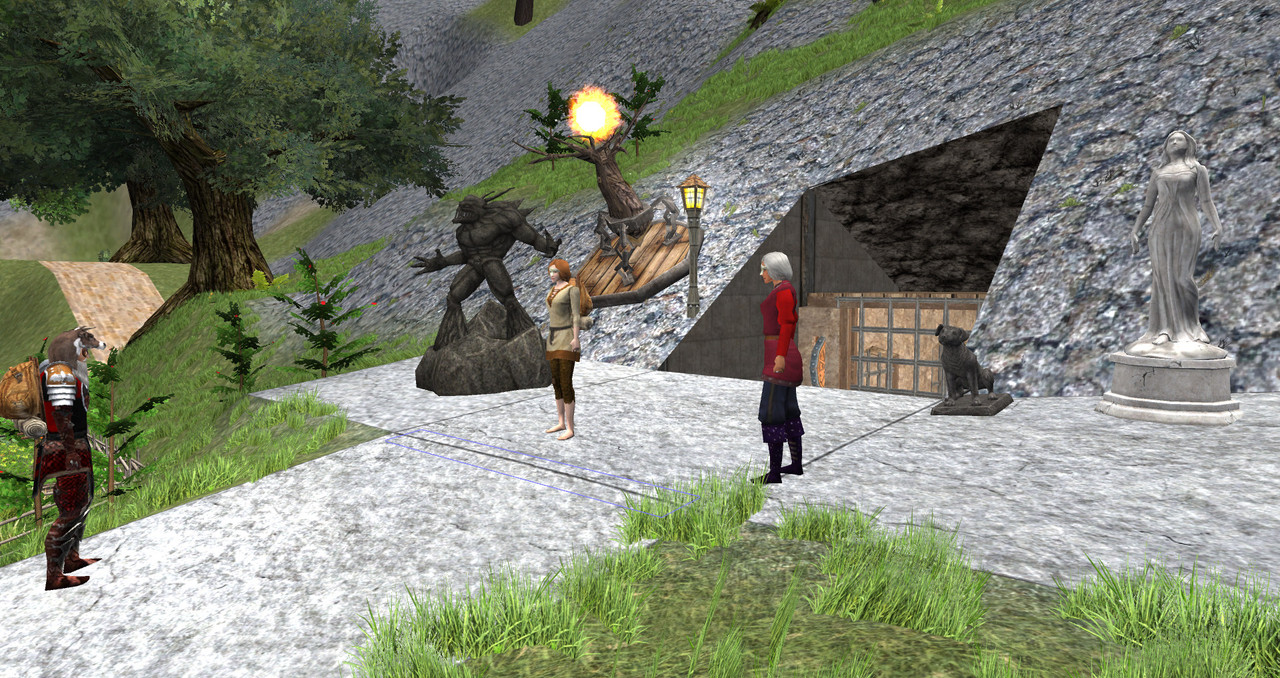 We saw the Smithy where Arbi first set up on the deed. Her son and friends made home in the mine. The sacrificial area was there too.
Iamyourfather: "This feels like home for me."
Arbanka: "I fill all five altars to do the sacrifices."
Iamyourfather: "A fast way of building bonus."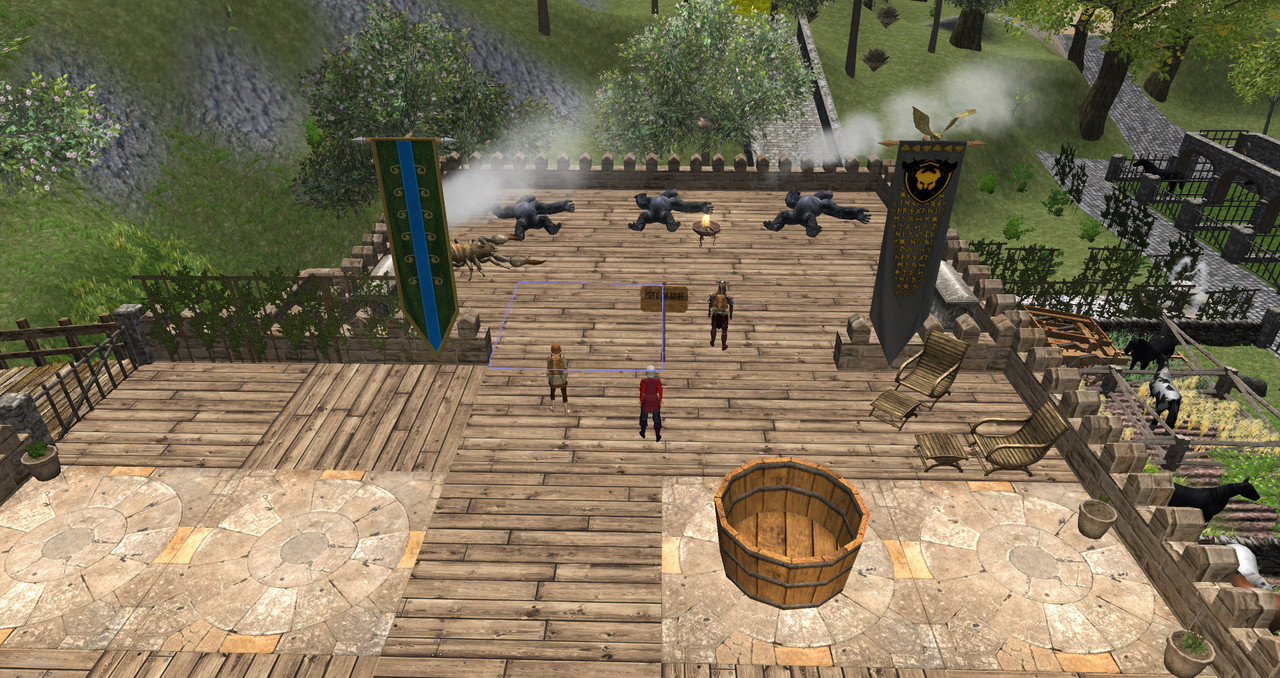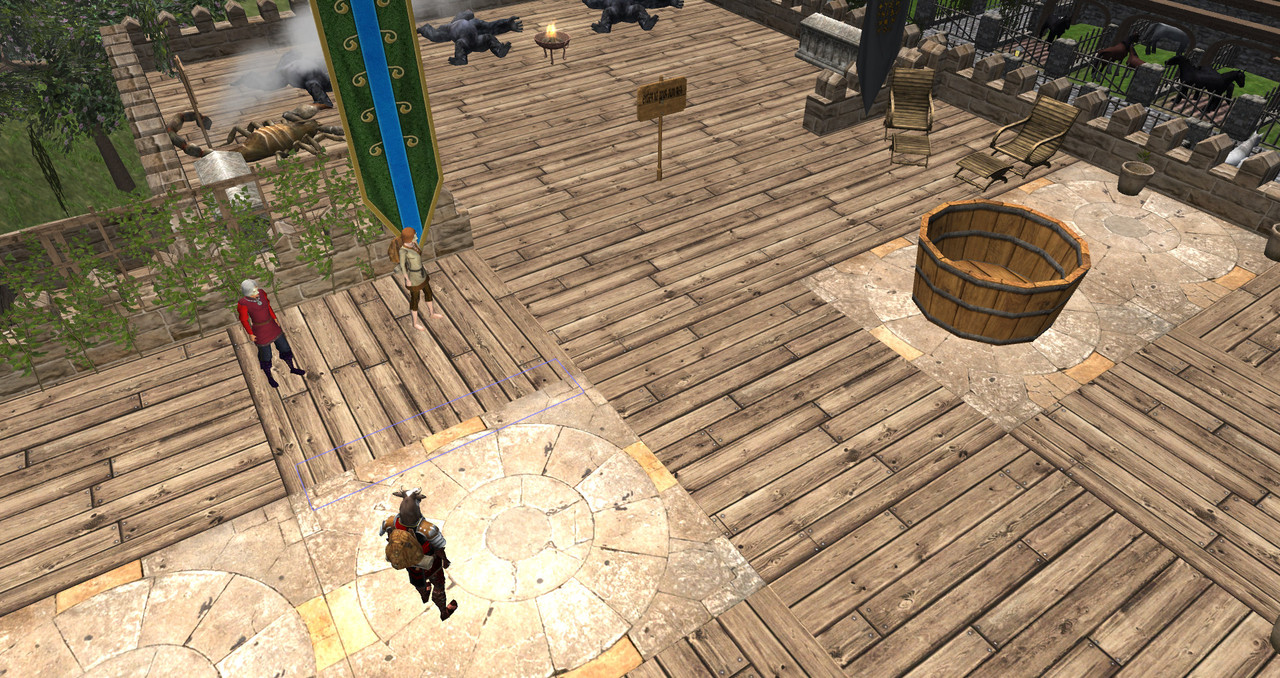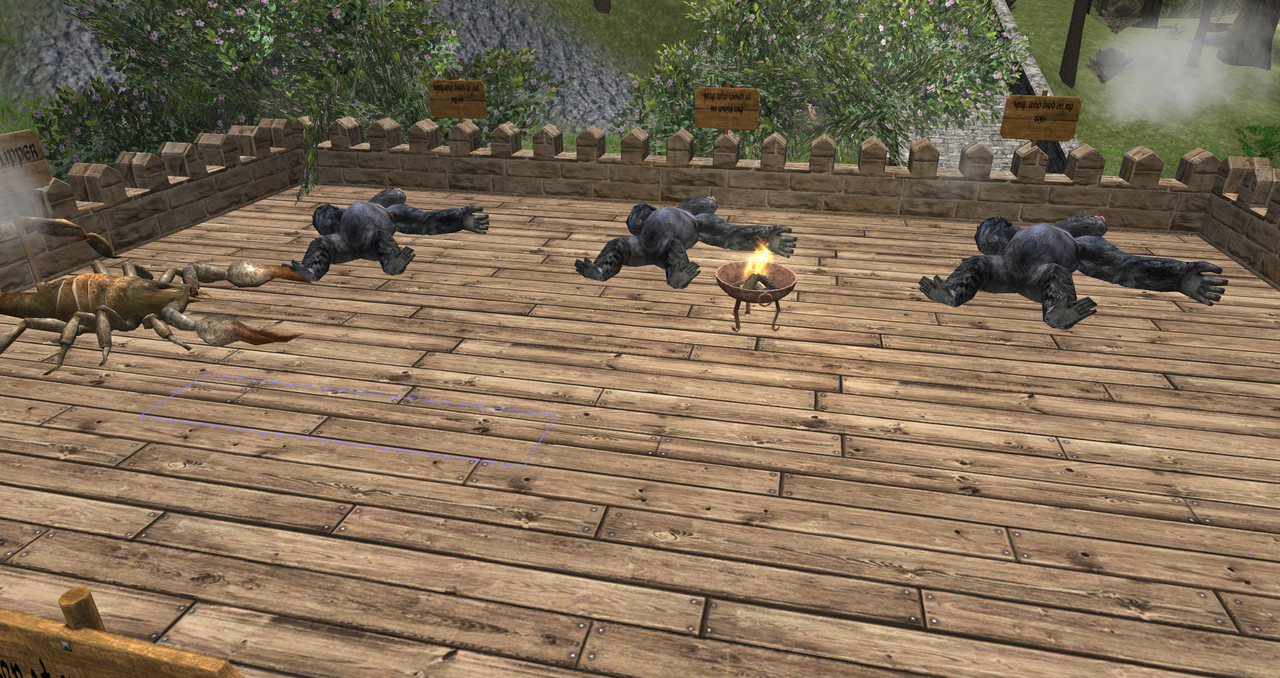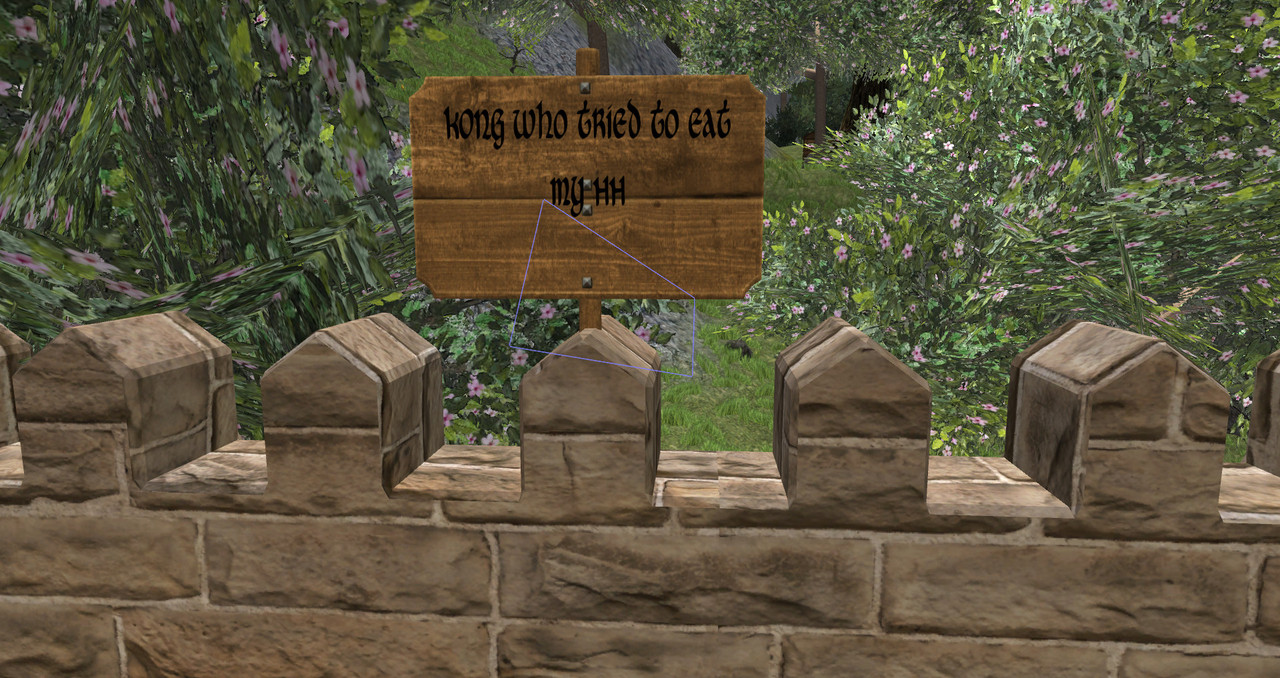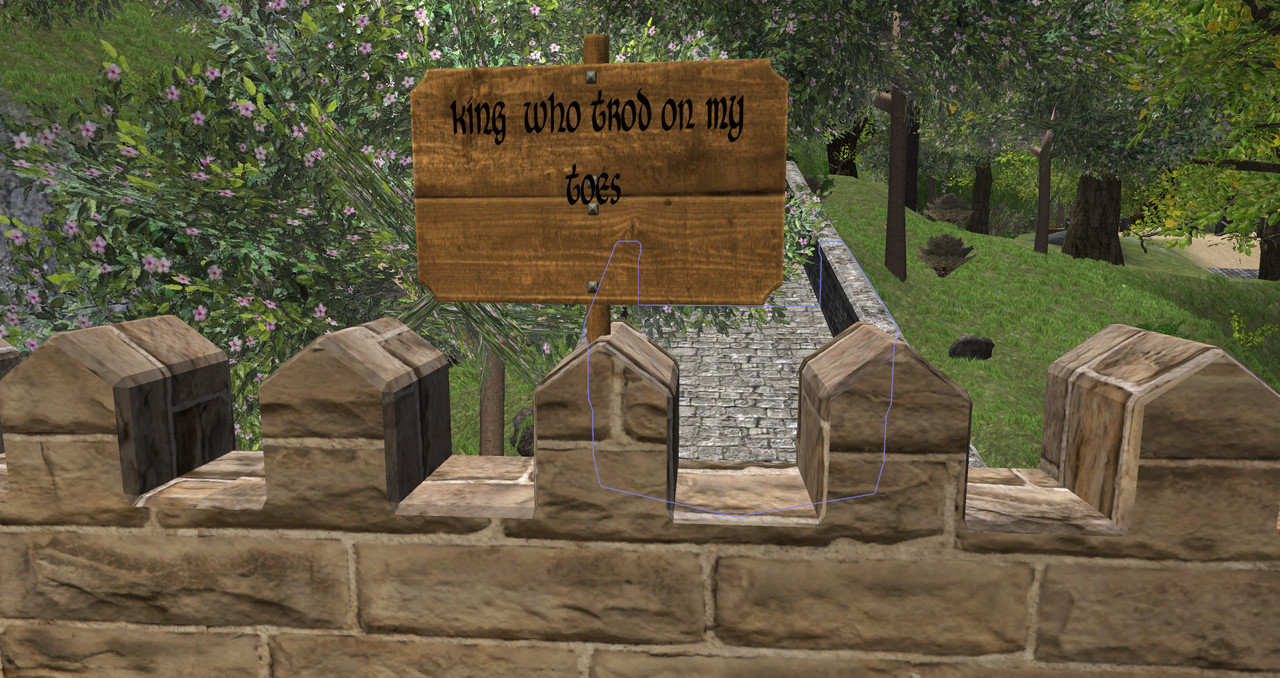 Arbi showed us her sun balcony. Displayed were the gorillas that had killed her special 5 speed traited Hell Horses.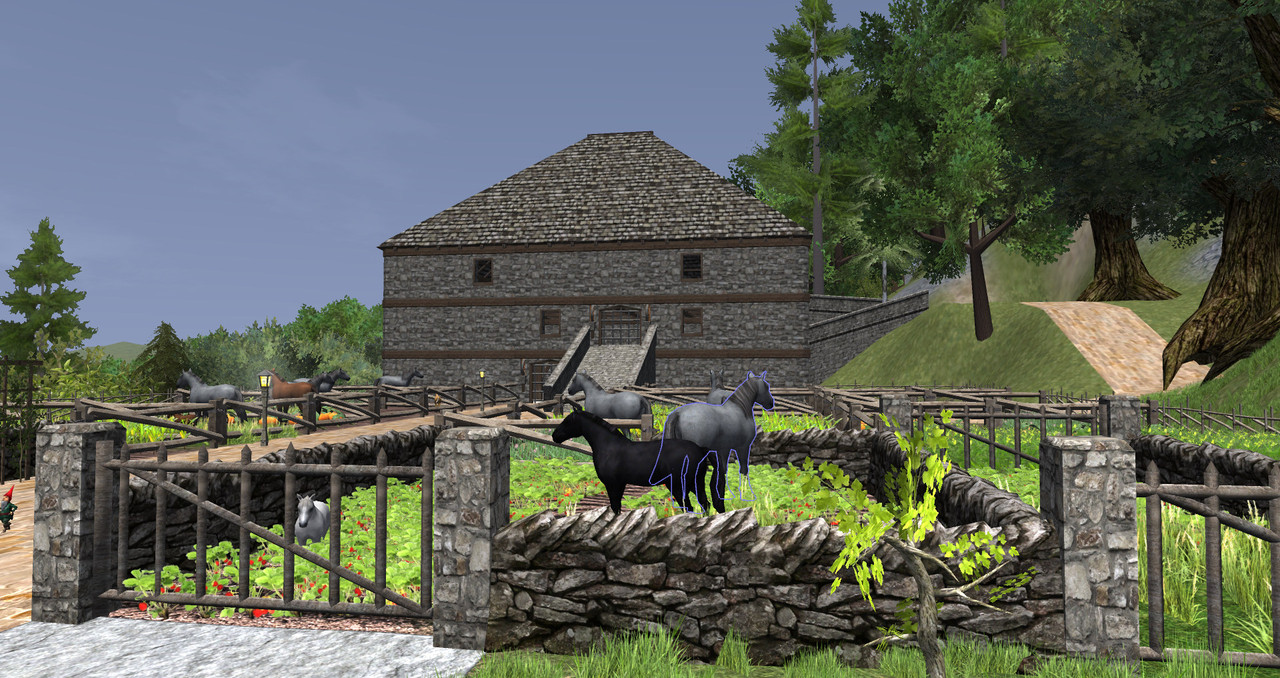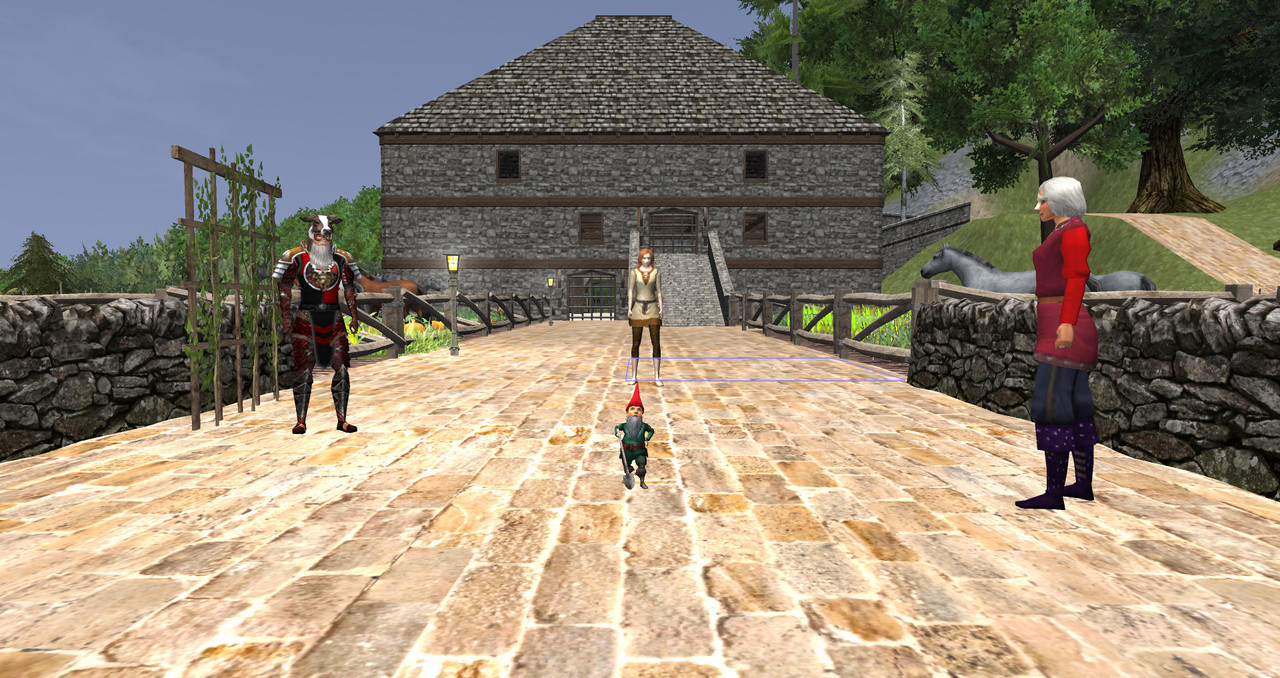 Onto her storage house which is always guarded.........by a gnome.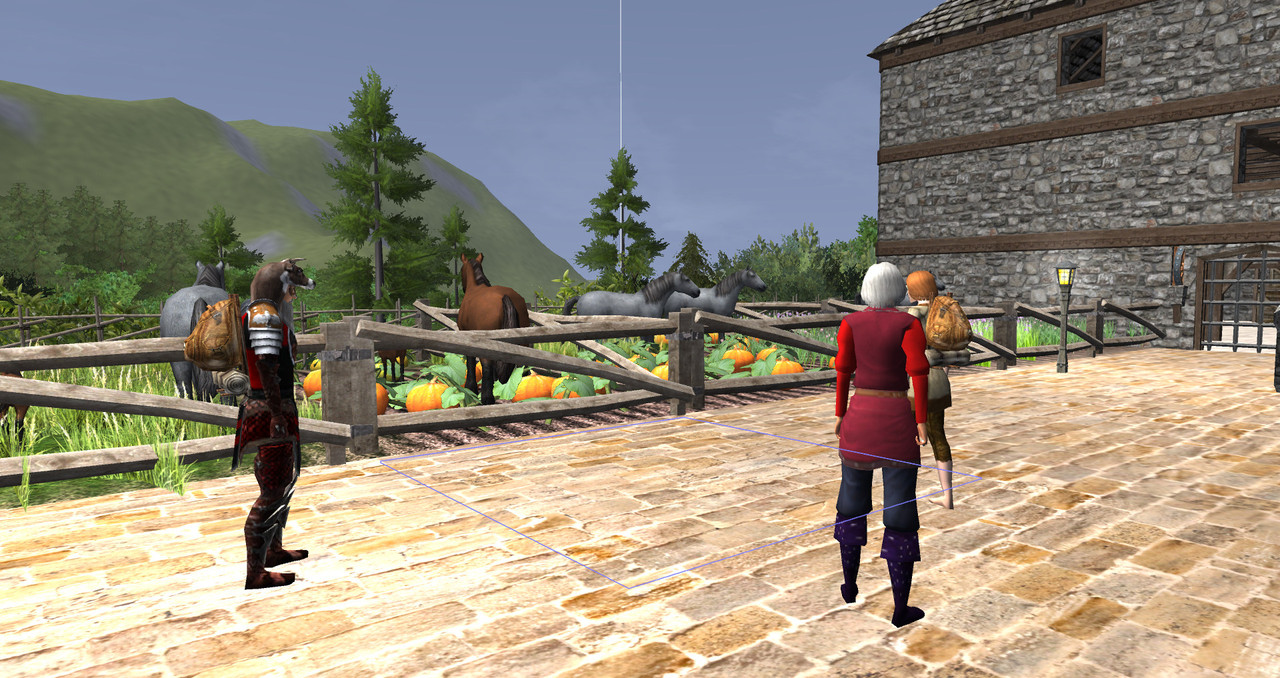 We pasted the 'fierce' horses Arbi has found on the server.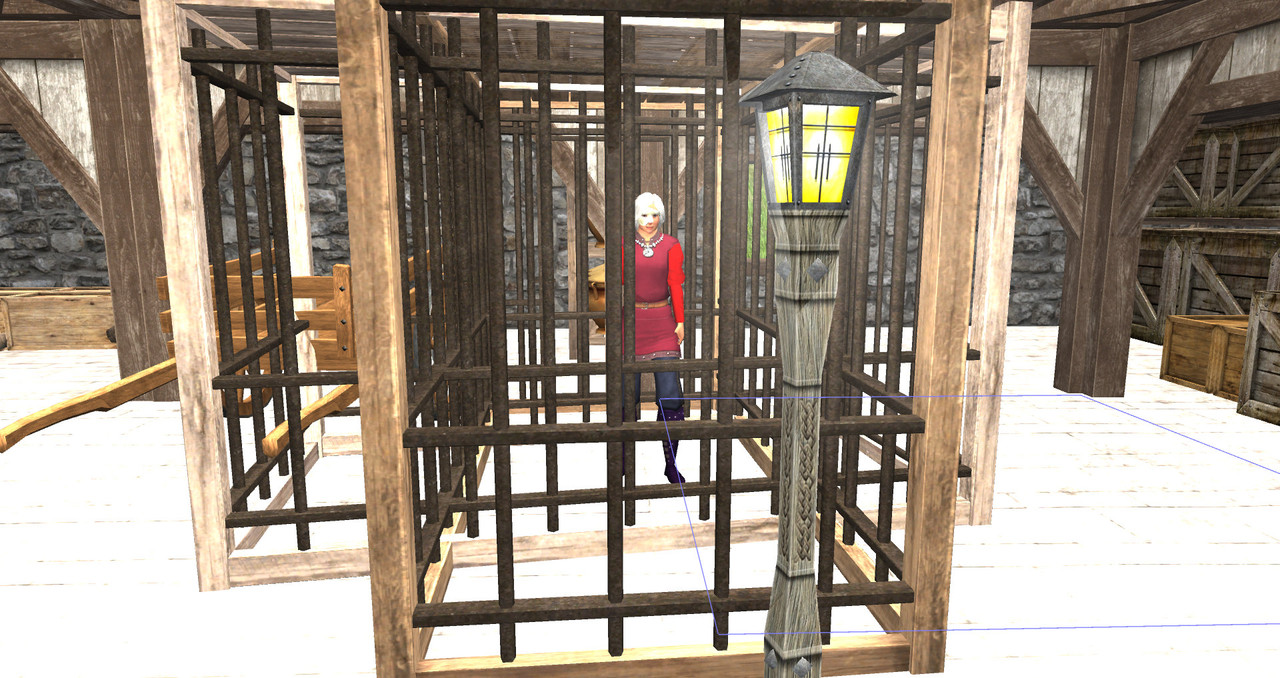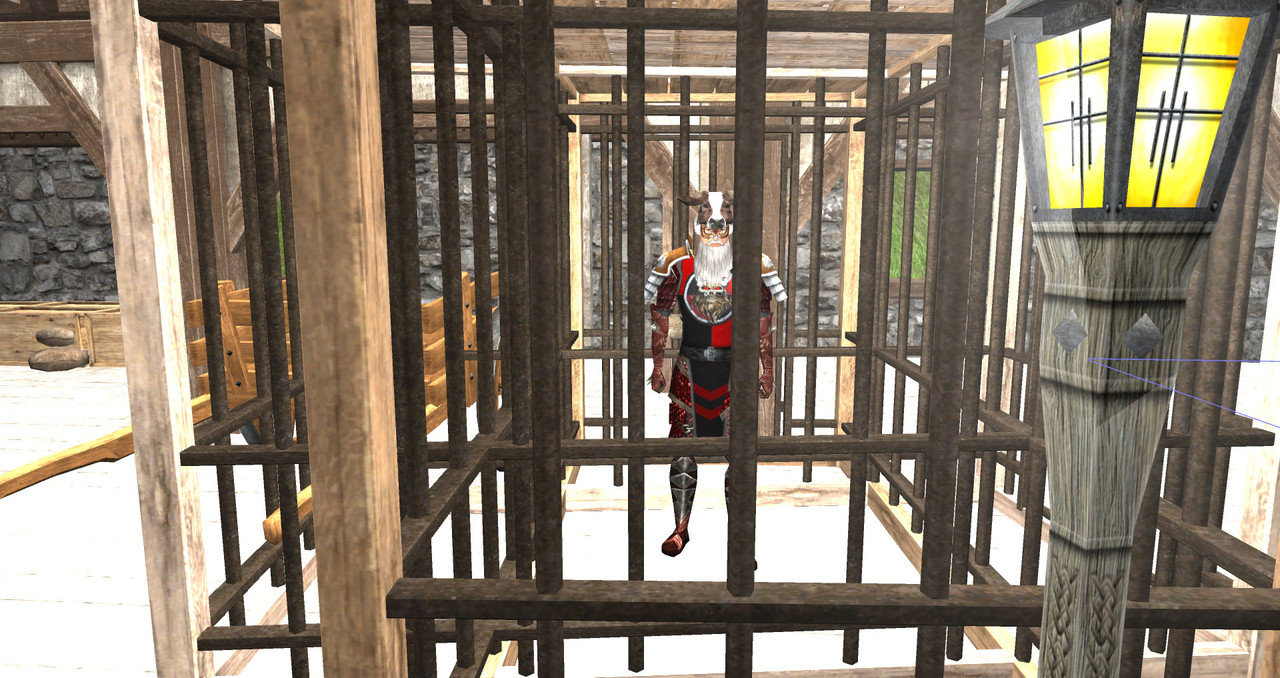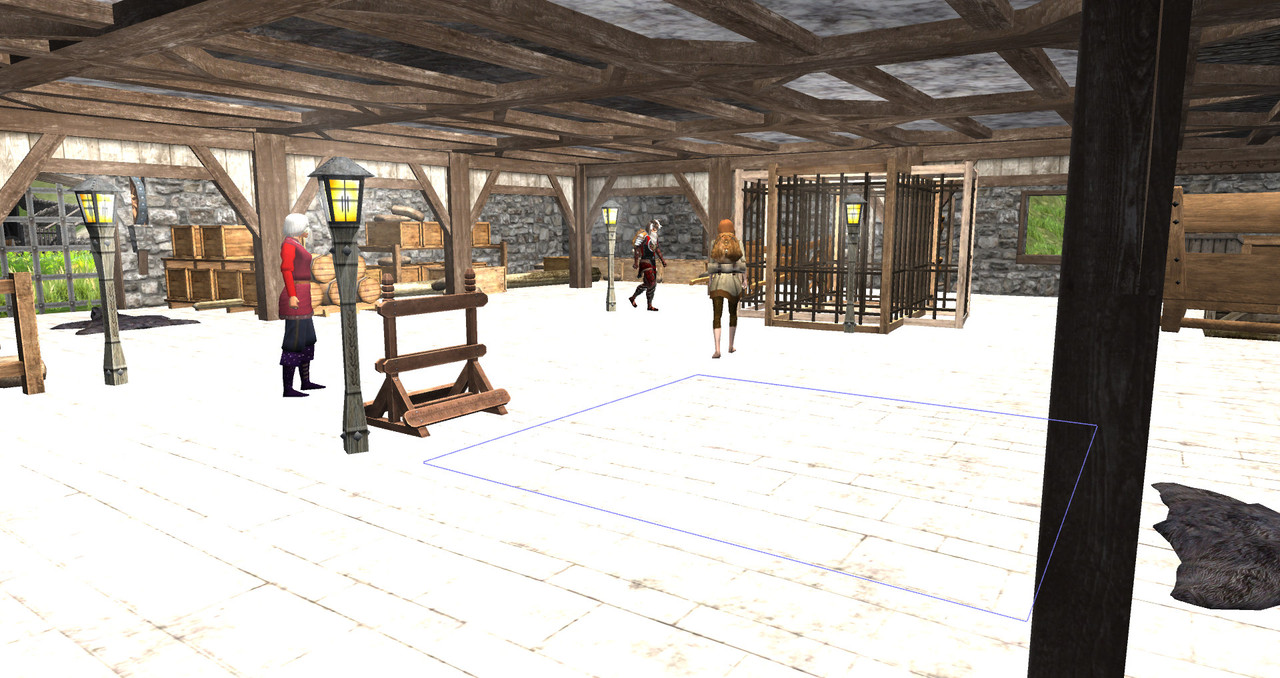 The storage building Arbi built alone and has already built some creature cages.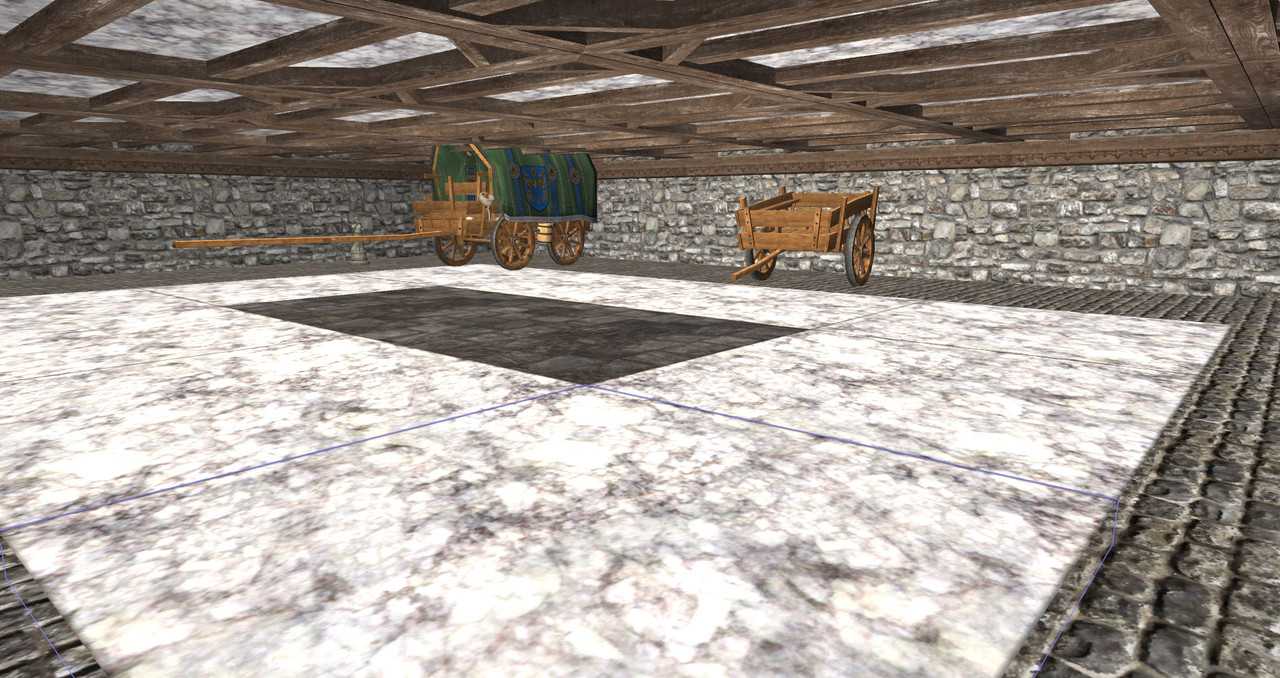 On the second floor she will be storing all wagons, carts and transporters.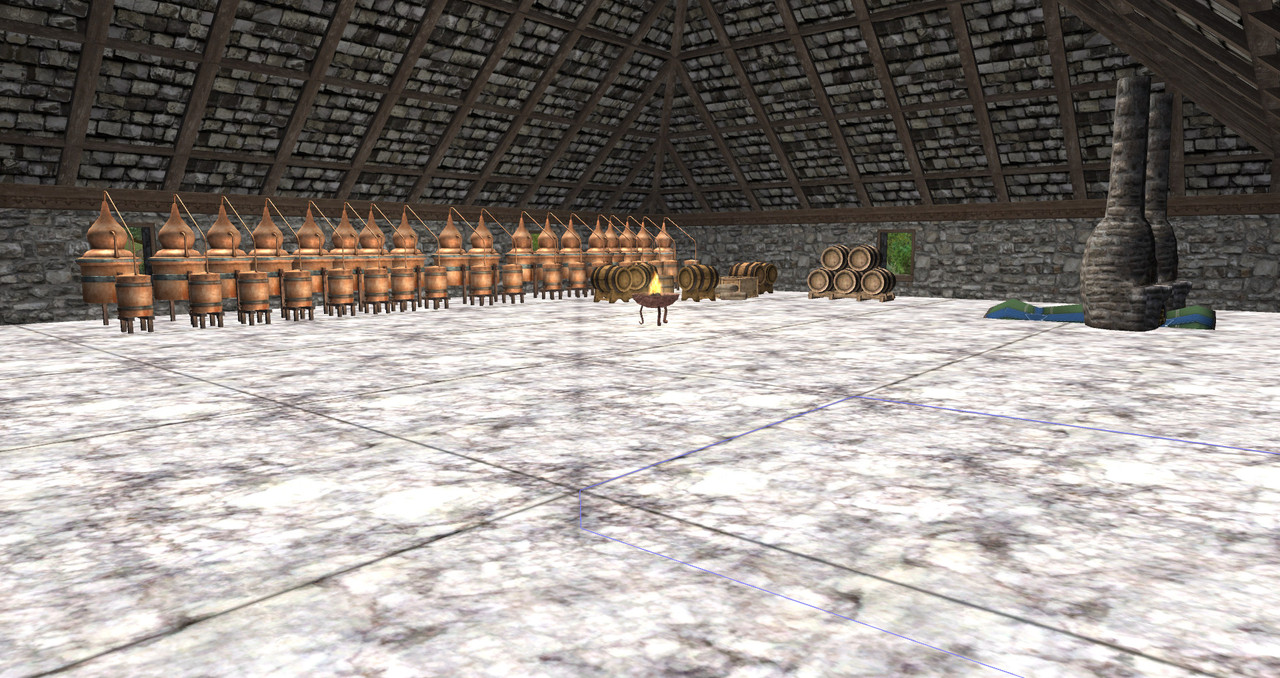 Arbanka: "Here finally I have stored my stills. Too many stills for me I feel. My first still turned into a rare one."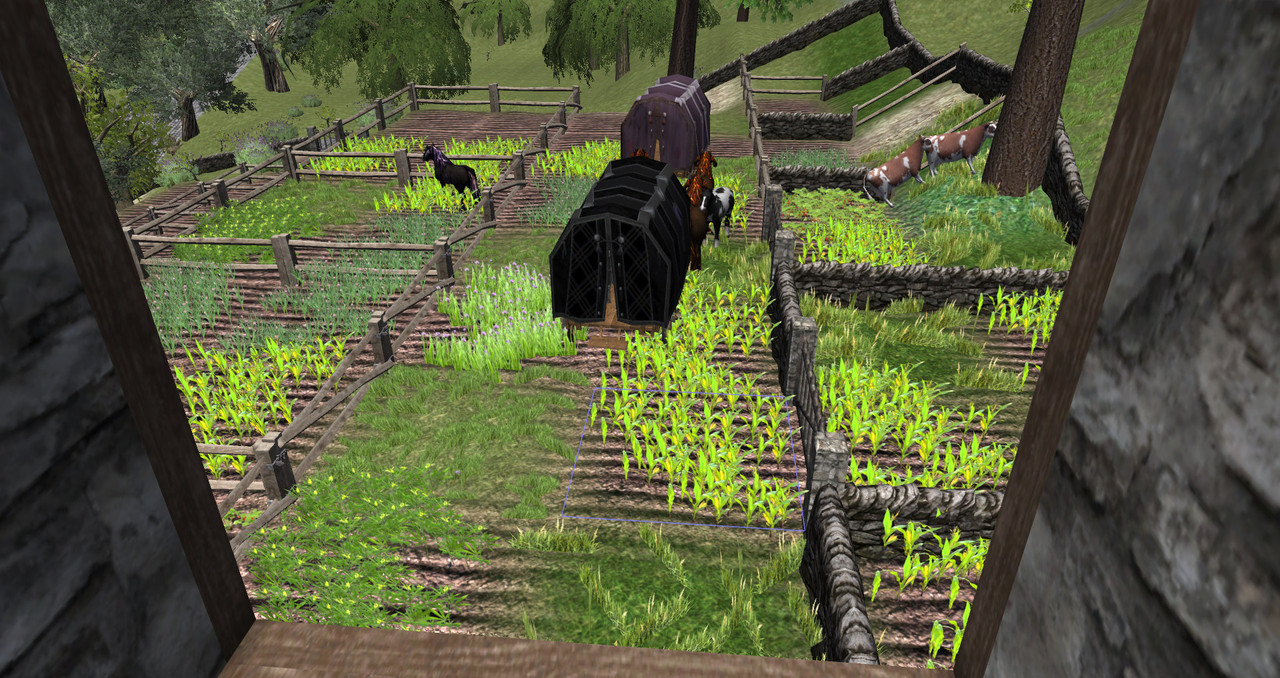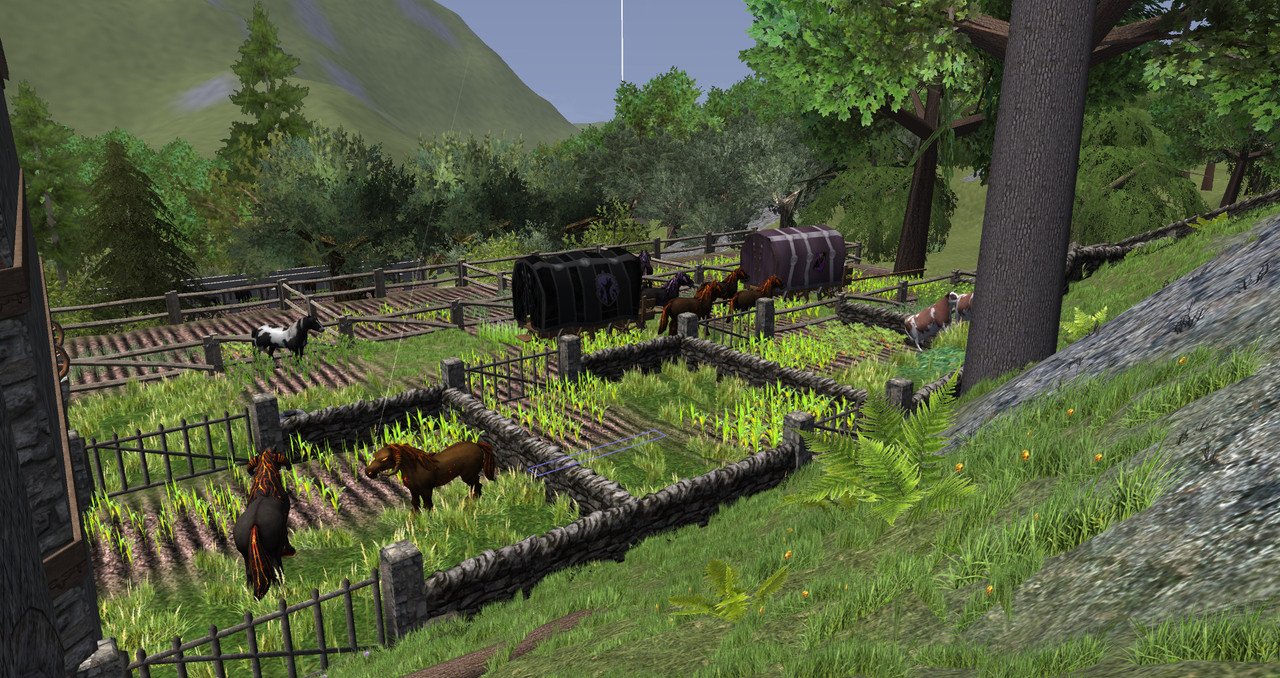 Her last set of pens were all filled with good animals. She hopes to rebuild the fences soon.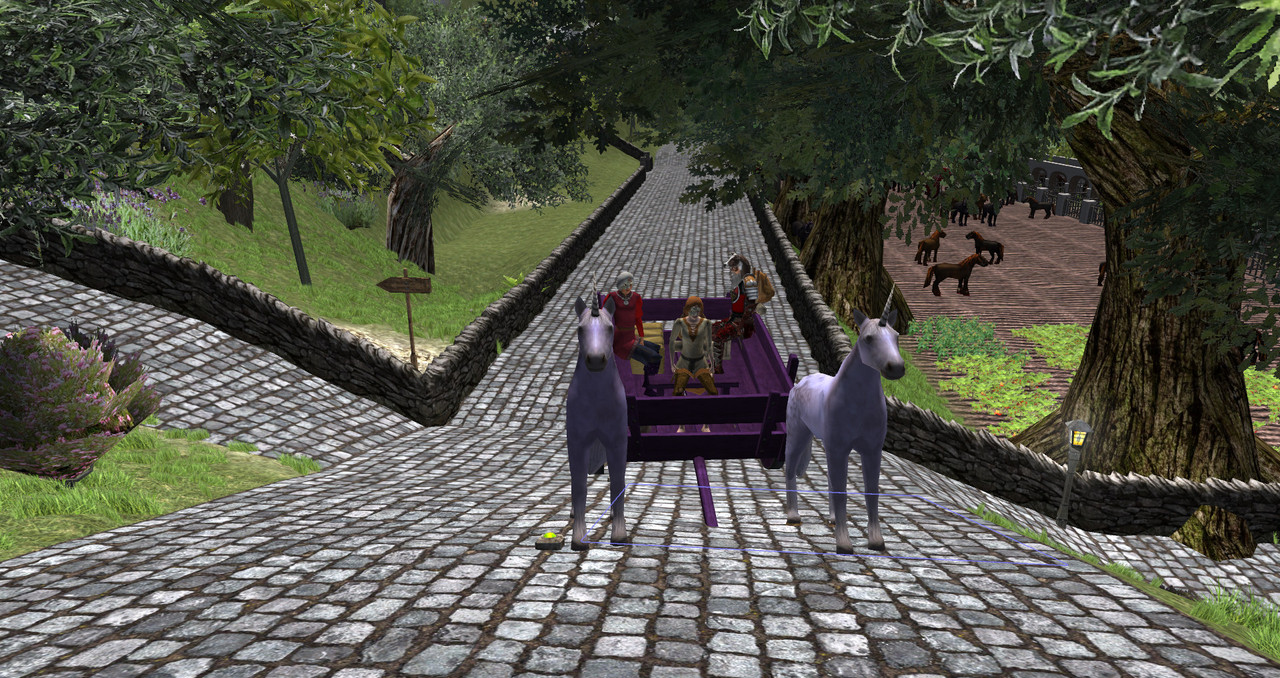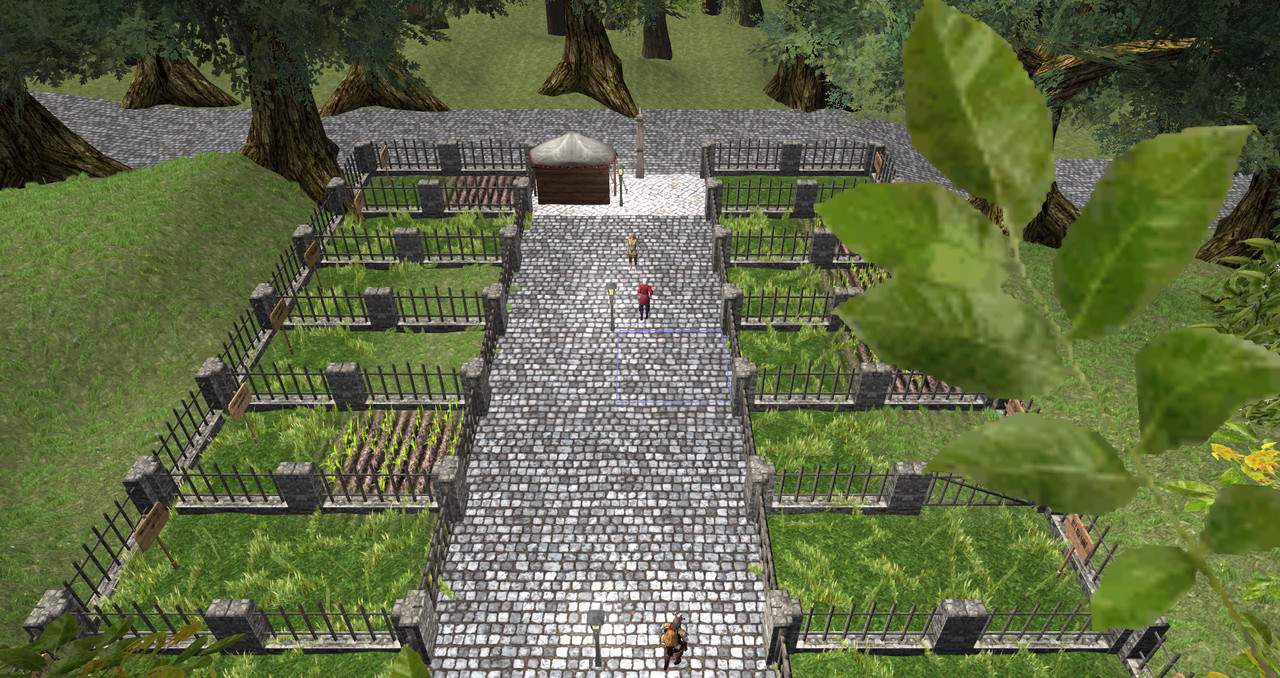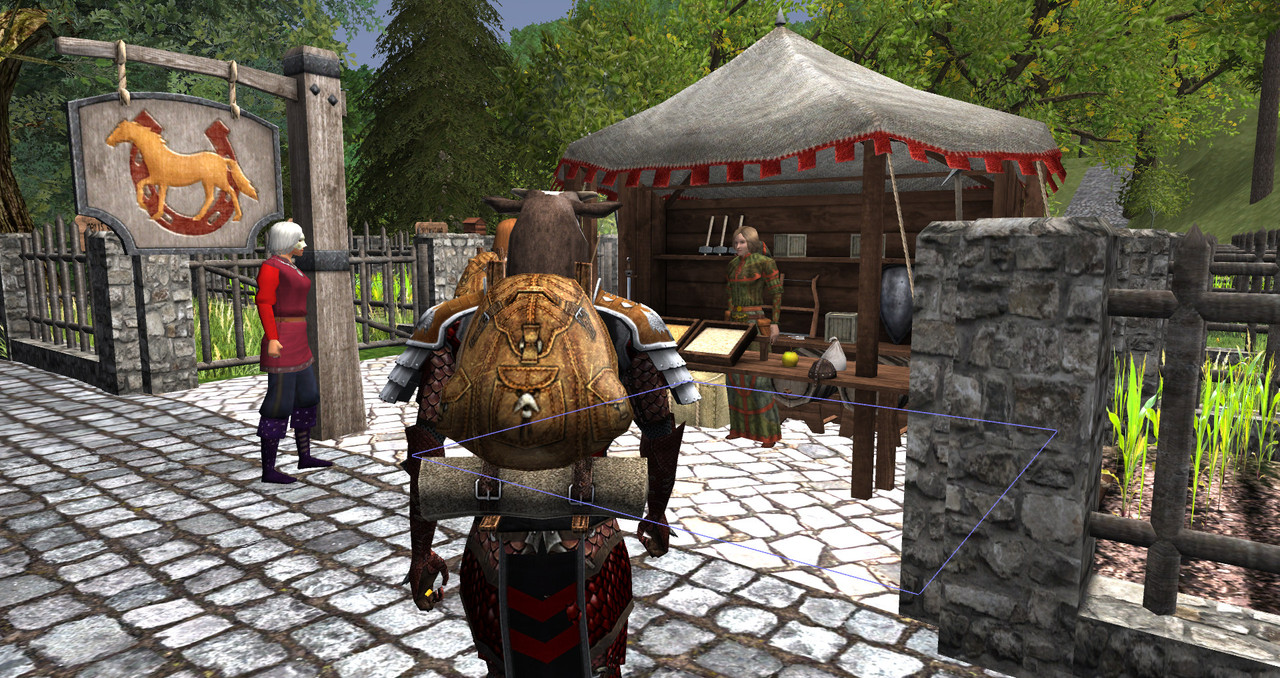 Down the road and around a corner were the self sale pens. Empty at the moment. Soon to be filled.
Arbanka: "The market area. Here I have my self sale pens."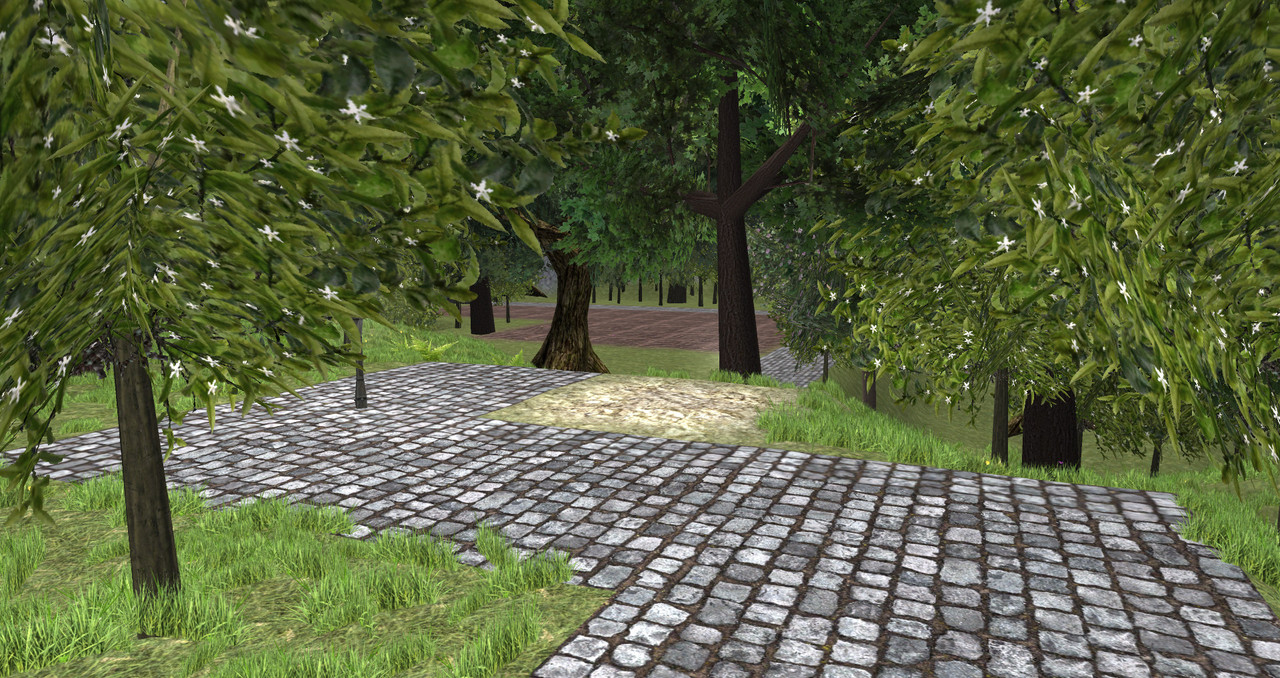 Arbanka: "In the west I have my clay, peat and sand tiles now. All self made."
Iamyourfather: "Wow a lot of transmute work."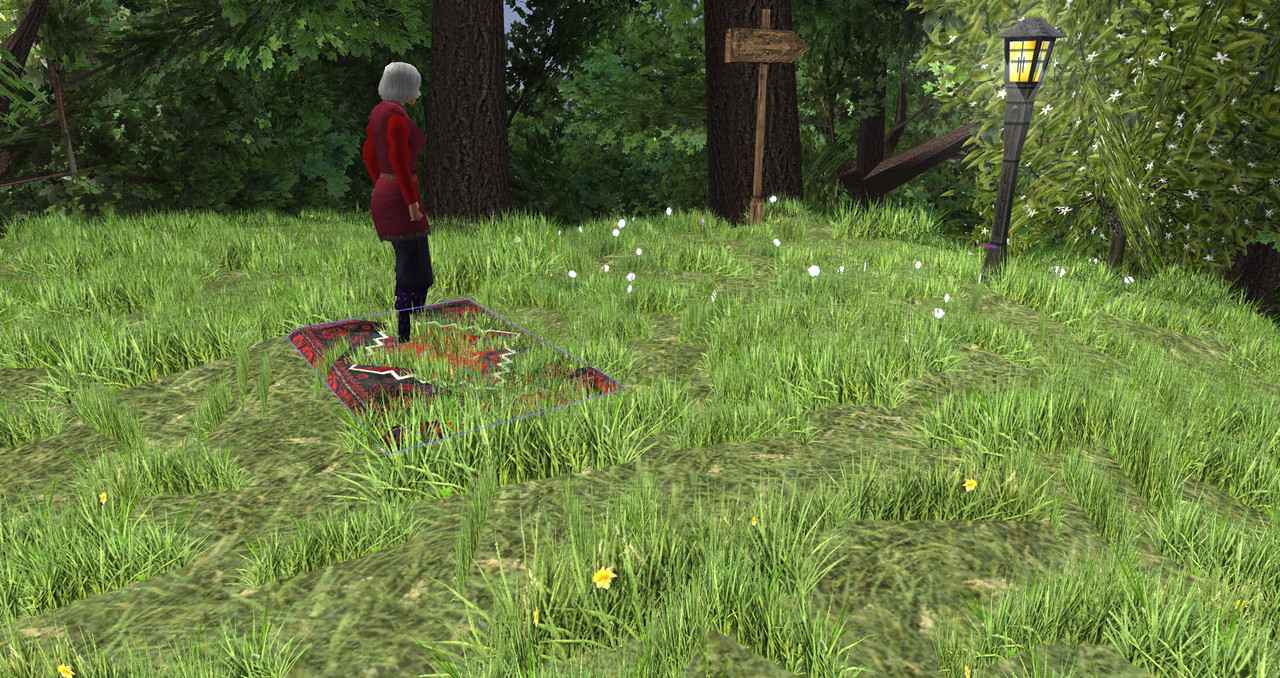 Arbanka: "This is my path of power. 2004high and its works very well. I need to add it to the map I think."
Iamyourfather: "Over 2000 up."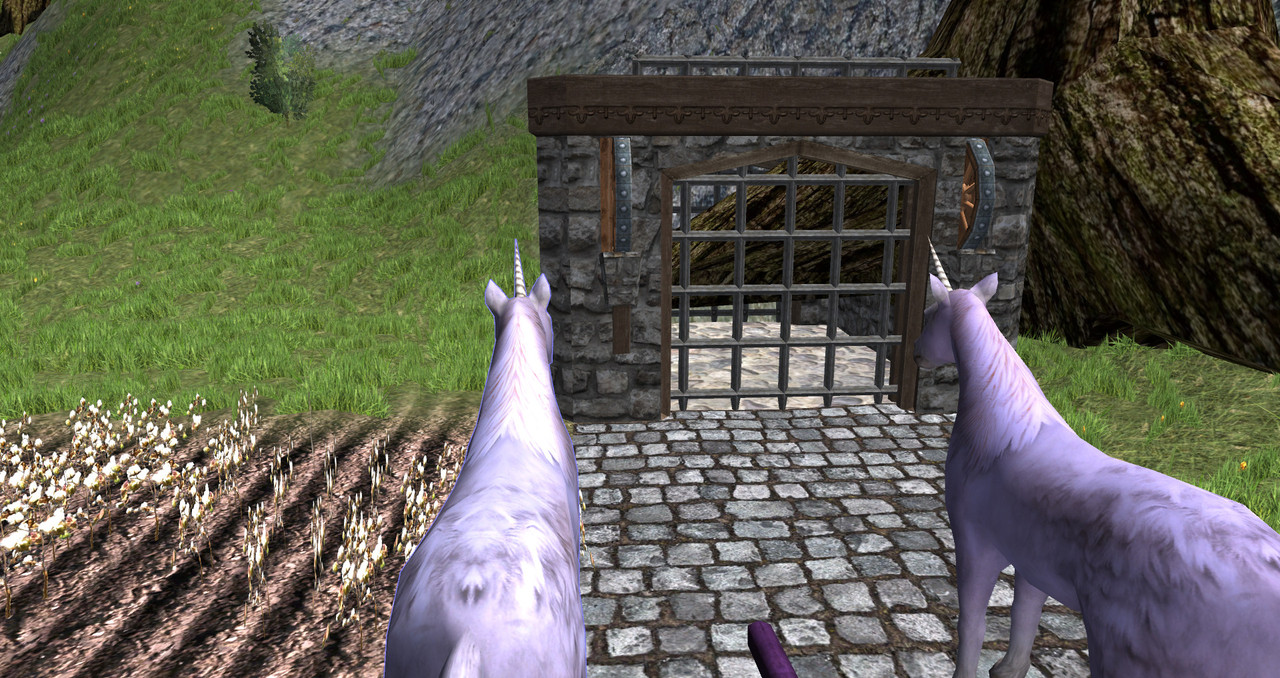 Arbanka: "This old mine entrance no longer works due to the collapses. I must also repair it soon."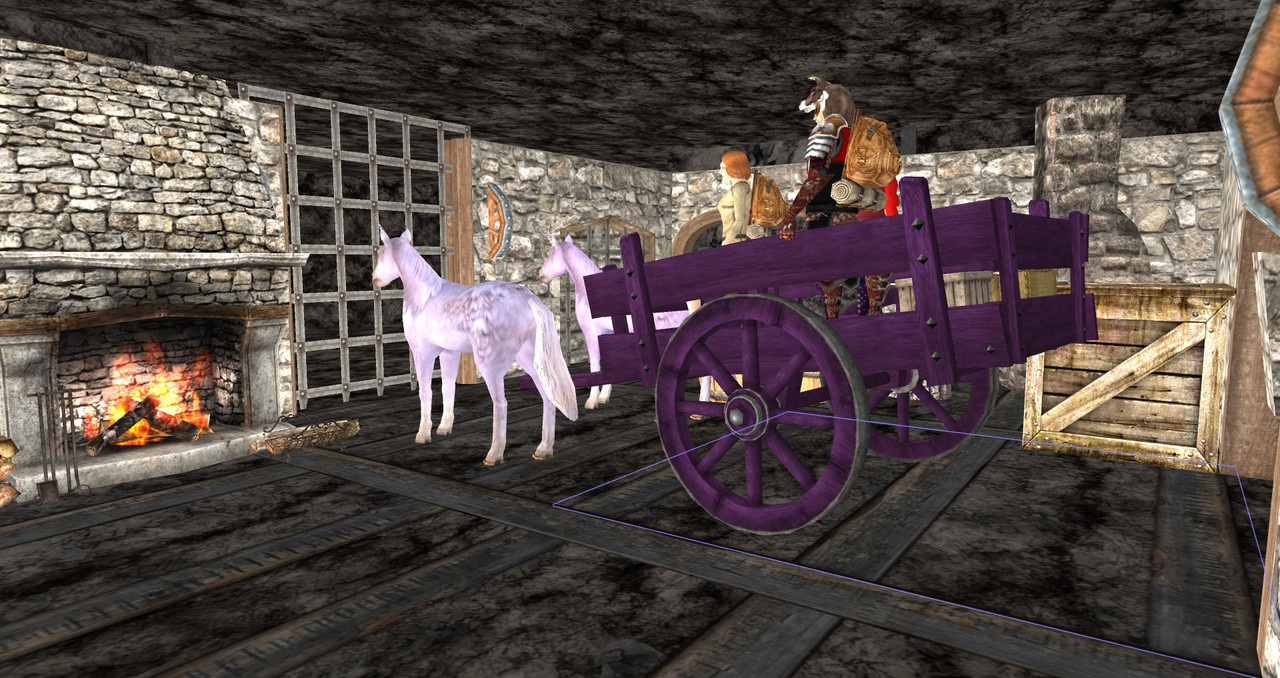 Arbanka: "Now we can check last mine that I have built with Lumi and Elfin. Here we have begun to make a tunnel to the west. I use the fireplaces for light as they burn brightly and I like that they turn on at night."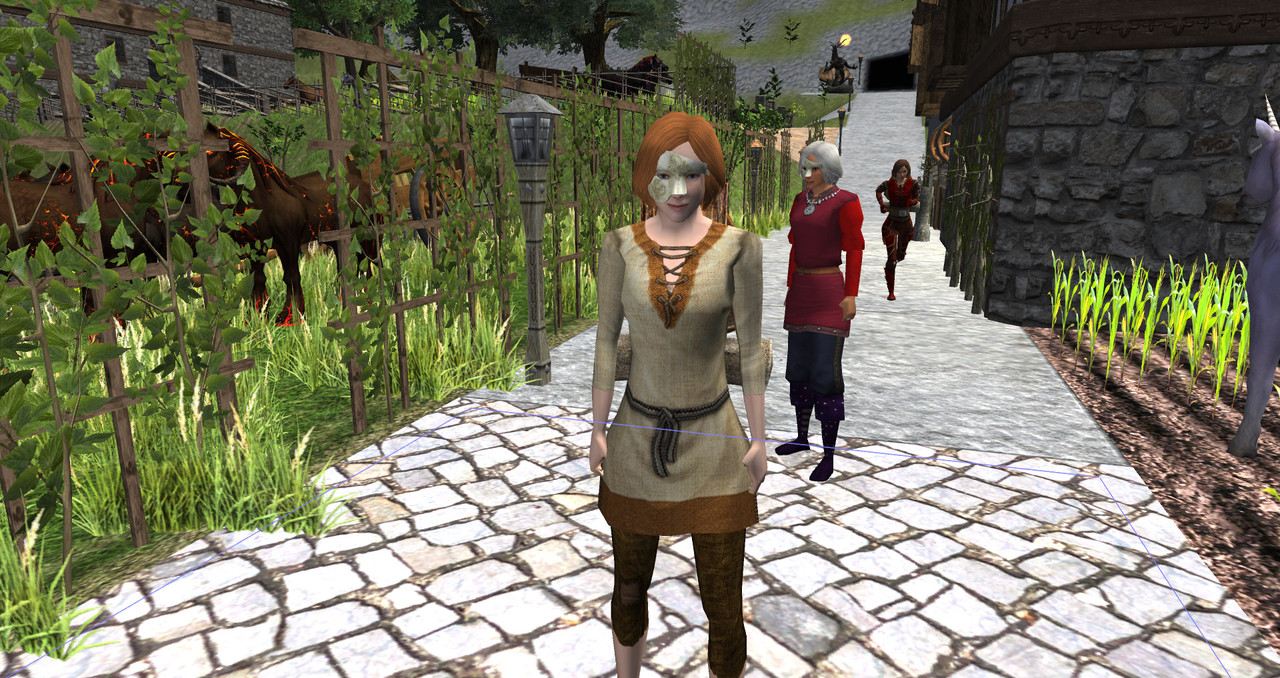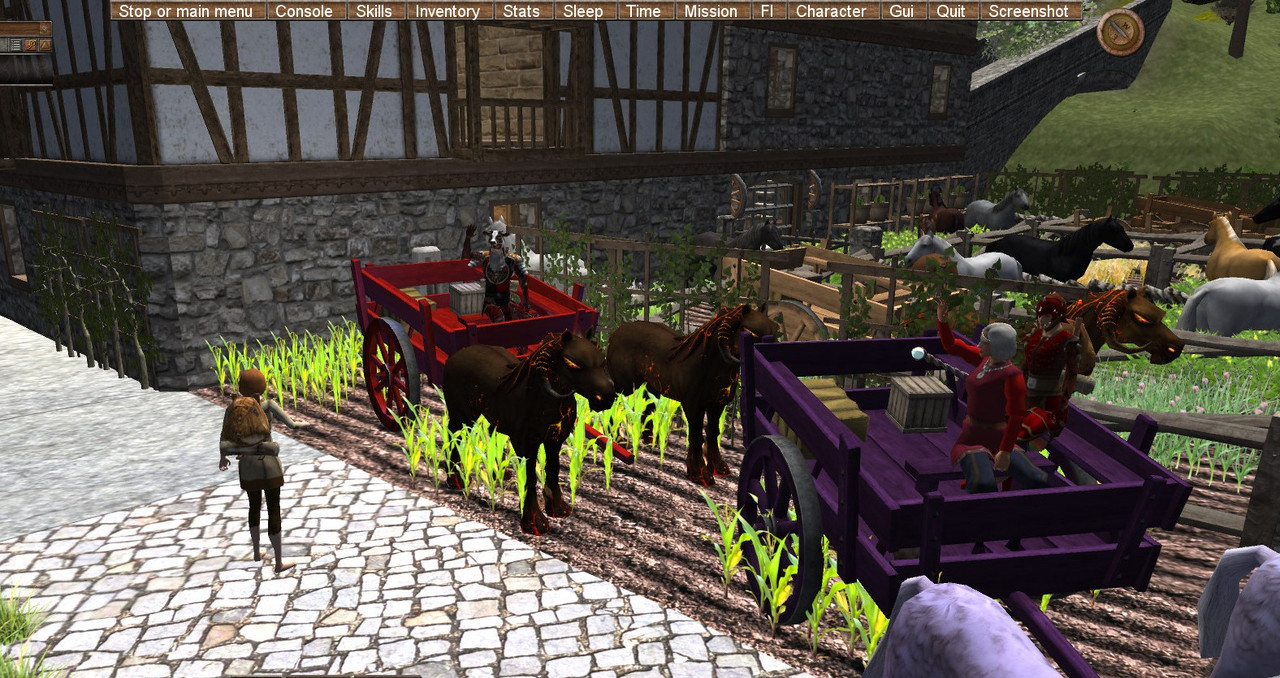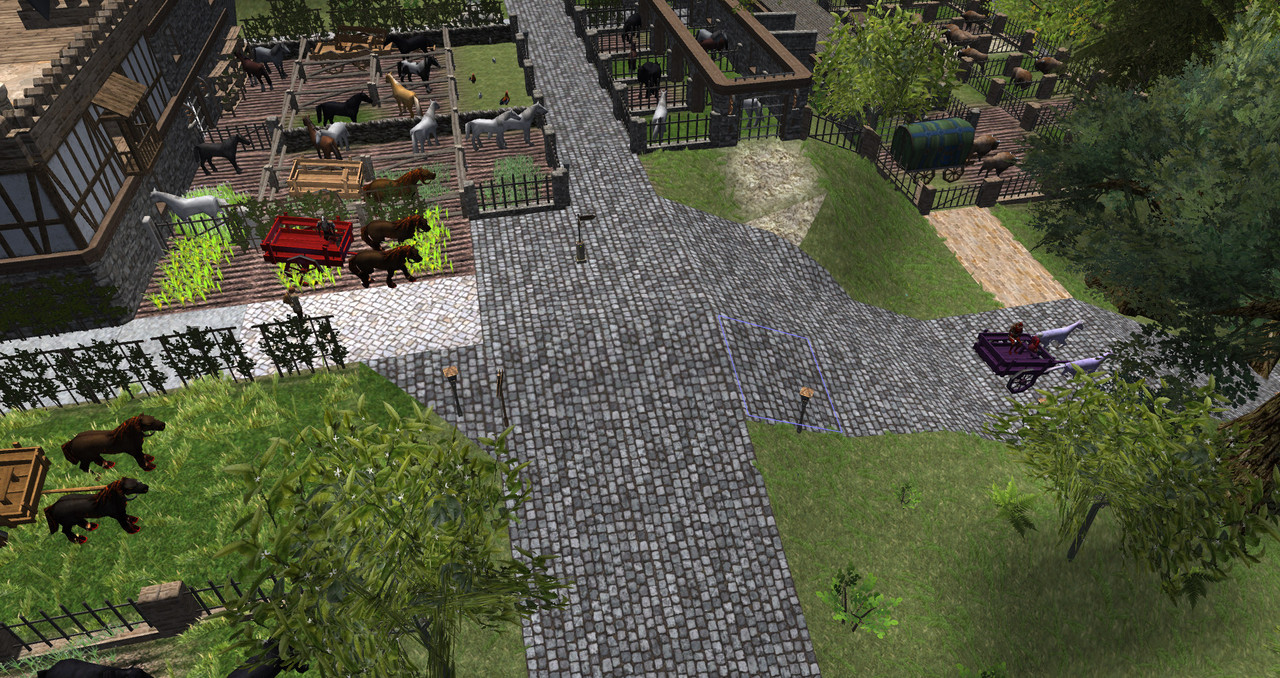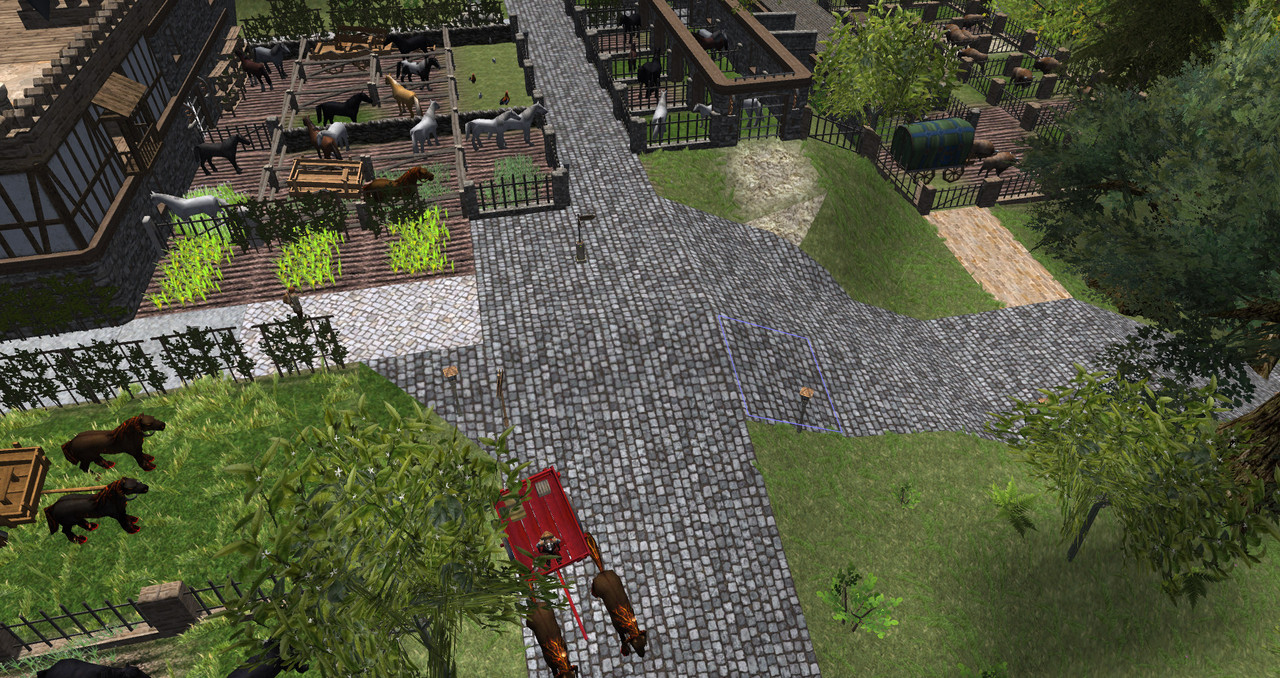 Iamyourfather: "Very a nice place Arbi. Thank you for the tour it was fun"
Elfin: "That has been good tour Arbi, thank you so much."
Arbanka: "This place need a lot of terraforming soon and surface mining I feel."
Arbanka: "Thanks and safe travel all."
Iamyourfather, Goodgirl and I left leaving Arbi to ponder how she was going to reshape the entrance and driveway - one day....
Another unique deed and a very special player.
Editor Elfin and Elfin team
Photographer the Roving eye-in-the-sky, Goodgirl
Roving accomplice, Iamyourfather

Concept fromTomservo